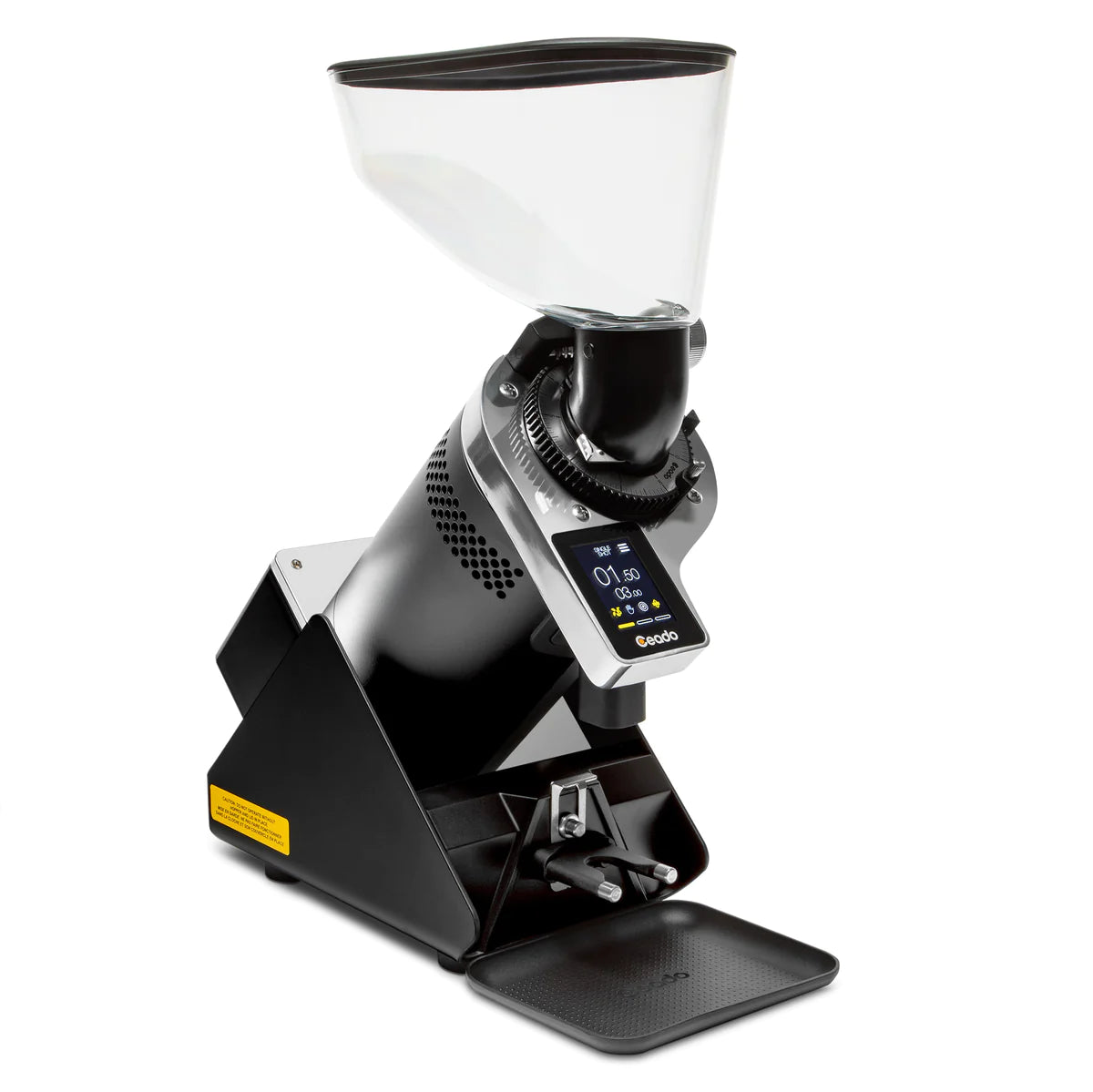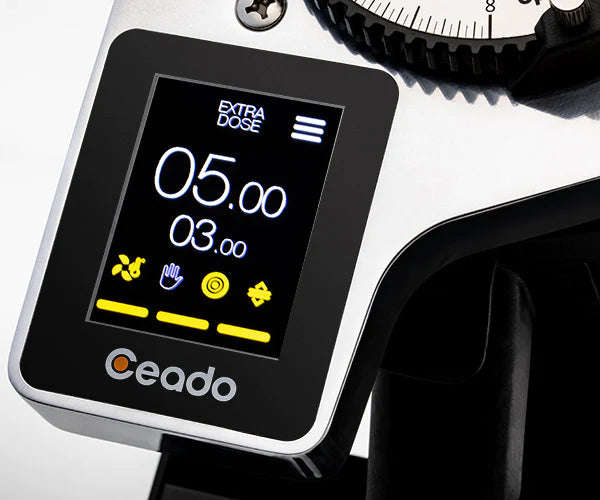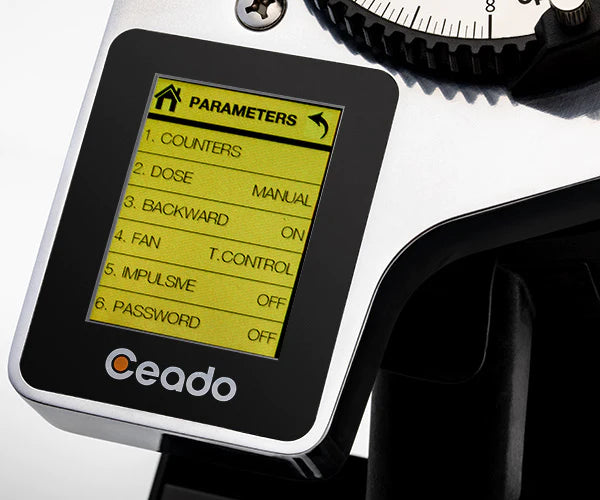 CEADO E37Z Barista Low Retention Grinder
Use this great grinder your way. single with bellows or grind or on demand with hopper
he Ceado E37Z Barista is a revolutionary high-capacity commercial espresso grinder that achieves Zero Retention thanks to the patented Sweep Out Dual-Spin technology that reverses the motor after grinding to clear out any retained coffee before your next shot.
• The E37Z-Barista embodies Ceado's mantra of "Think Strong Work Better." In a coffee landscape where single-dosing and zero-waste grinding has become the standard
They have crafted a grinder that is both a high-capacity coffee house workhorse and a precision instrument. The precision and stability of the Quick Set Gear combined with the revolutionary Sweepout Dual-Spin technology guarantees perfect shots back-to-back, all day, every day.
• Ceado E37Z-Barista Overview 
The Ceado E37Z-Barista is a commercial oriented entry in their E37Z series, inheriting their angled design and grinding chamber while innovating with new zero retention technology.
A monster of a grinder with proprietary 83mm burrs, the E37Z-Barista features robust programming, incredibly precise grind adjustment, and introduces Sweepout Dual-Spin which reverses the motor after grinding to clear out any coffee left over from the grind cycle.
Features and Performance: To achieve zero retention on a grinder with a hopper, Ceado invented a solution in the form of Sweep Out Dual-Spin technology, a feature that reverses the motor after grinding to clear out the chamber. The Sweepout feature can be toggled on or off and allows users to program the duration of the reverse spin according to their needs. As a result, the grinding chamber is cleared between each shot before a new dose is ground.
• Grinding is handled by a 900W motor that operates at 1,700 RPM. With a set of 83mm steel burrs of proprietary design that have been optimized for low friction and high uniformity, the E37Z-Barista has an output of up to 5g/sec when grinding for espresso.
The bean hopper holds 1,200g (over 2lbs) of whole bean coffee and the grinder can be programmed with three unique shot times that are set within 1/10 of a second.
Grind adjustment is handled by Ceado's Quickset Gear which locks in your setting with threaded teeth while allowing for simple and subtle adjustment.
The E37Z-Barista's performance is matched by equally impressive programming. Mounted on the left side of the hopper,
The color touch display gives you access to the grinder's myriad features.
Shot times and backspin duration are all programmable.
You can also modify the operation of the grinding microswitch, toggle thermal control for the temperature regulating fan and password protect your settings from overeager baristas.
Why You Should Get It • Sweep-Out Dual-Spin Achieving zero retention can be difficult on a grinder with a hopper as the design of the grinding chamber often retains coffee. The E37Z Barista solves this problem using Ceado's patented SweepOut Dual Spin technology. By running the motor in reverse after grinding, leftover coffee is freed from the burrs and deposited into your portafilter.
Robust Programming Quick Set Gear The Quick Set Gear is a Ceado staple that ensures precise grind adjustment with no drift during operation.
By isolating the gear assembly for simple removal from the grinder, you are able to open up the E37Z Barista for cleaning and maintenance without losing your grind.
Recommended Application Residential / Commercial
Display Type Color
Touch Screen Type of Controls Touch Screen
Frame Material Stainless Steel
Grinder Features
Programmable Dosing,
Auto-Temperature Regulation,
Manual Dispensing Grinder Setting Controls 
Adjustment Type Stepless
Burr Diameter (mm) 83mm
Grinder Burr Type Flat
Dispensing Method Doserless
Bean Hopper Freshness Lid Yes
Recommended Grind Selection All Grinds
Bean Hopper Capacity (Oz) 42 oz
Removable Bean Hopper Yes
Clearance Height for Portafilter (Inches)
Variable Programmable Grinding Single, Double and Triple Shot
Timed Programming,
Optional Timed Backspin Programming,
Manual Mode, Impulse Mode,
Temperature Regulation Property Value
Bean Hopper Material Plastic
Housing Color Black
Housing Material Stainless Steel
Maintenance Alerts Yes
Depth (Inches) 16.5" Height (Inches) 21.6" Weight (Lbs) 41.4 lbs Width (Inches) 7.8"
Number of Grinder Settings Infinite
 Manufacturer's Warranty Period 3-Year Parts and Labor

Before finalizing your purchase, please contact us
Allow one of our professional commercial machine experts the opportunity to help guide you through your buying process and make sure you have selected the proper machine and options that best meets your needs.
Please Call Toll Free:
866-711-3456
or
973-687-5090
Enjoy free shipping on orders above $49 in the lower 48 states.
Additional shipping charges may apply commercial machine to residential address, and/or tail gate delivery required.
Please call (866)-711-3456 for any questions.
Competitive price matching is available for all our products.
Please complete this form when inquiring about best price for your item.