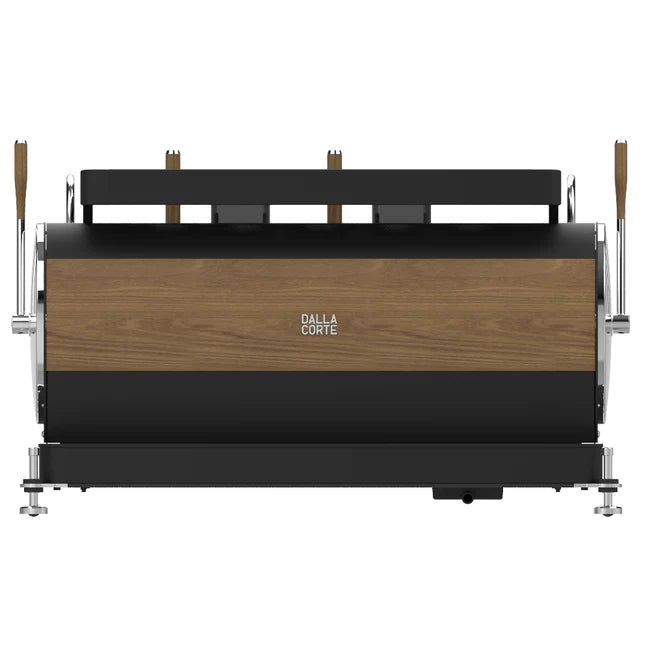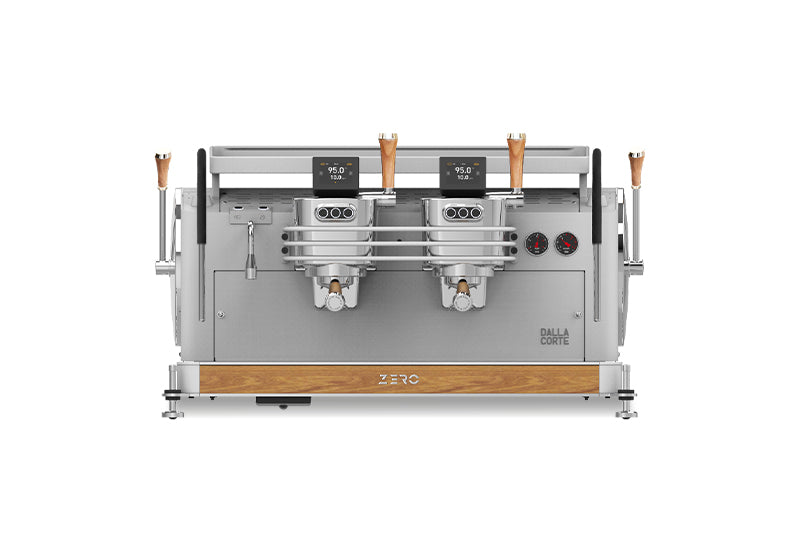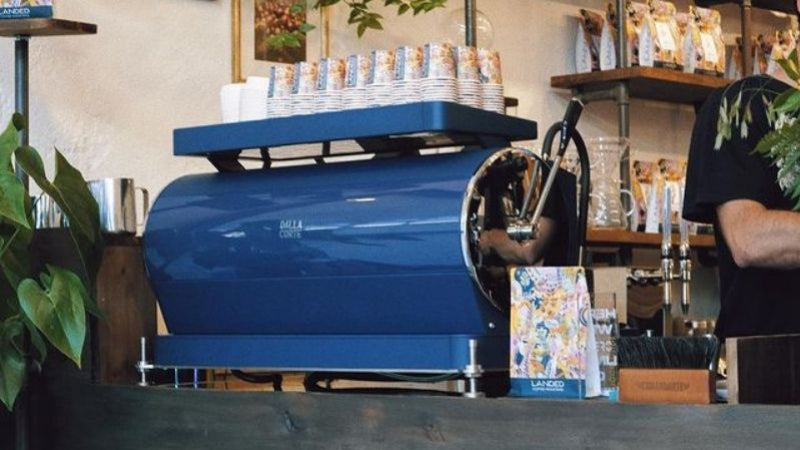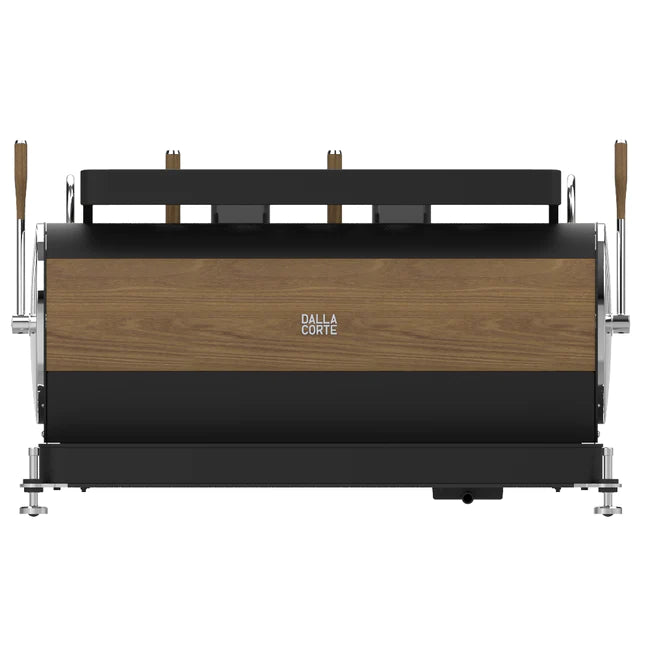 Dalla Corte Zero 3
Includes Free shipping & installation of your espresso machine with a trained, local representative. Includes, local installation to buyer made ready water & electric, drink set up, & demonstration. 2-year parts & 1 year labor due to defective parts.
Ask about our machine, grinder & water filter discount packages.
ZERO LIMITS Infinite Possibilities A time traveler from both the past and the future, the Zero Barista improves on core technologies like the Multi-Boiler System while exploring new frontiers of possibility with Digital Flow Regulation.
Zero delivers the capacity of multiple groups with the flexibility of flow control. The result is a machine with zero limits, a machine that achieves perfection.
Dial in coffees on a per-group basis. temperature, dose, and flow are yours to command, with freestyle flow control you can navigate between four unique water flow rates (3, 5, 7, 9 g/sec) using the lever at the group. You can also extract at a fixed flow rate with the precision of weight-based dosing.
Brew with an unparalleled level of customization for your espresso shots from the independently functioning group heads of Dalla Corte's Zero Barista Espresso Machine.
You can view your settings for the temperature, flow rate, and dose of each group easily with the full-color LED displays located on the face of each group.
Zero Barista Espresso Machine Overview: Dalla Corte's Zero Barista Espresso Machine allows you to customize the settings of each group with fully independent boilers and systems. You can adjust flow rates, water temperatures, and dose amounts of each group of your Zero Barista to pull shots just the way you want.
Dalla Corte kept the barista experience in mind when designing the Zero Barista, and you can tell from the easy-to-use interface, ergonomic features, and beautiful design.
Features and Performance:  One of the most unique features of the Zero Barista is the easily adjustable flow rates. You can choose to change the flow rate during the brewing process, choosing from 3, 5, 7, or 9 grams per second, and you can also lock in the flow rate so that it can't be changed during the brewing process.
Using the touchscreen on the front of each group, you can also control the water temperature and dose of your espresso.
The temperature stability on the .75L boilers of the Zero Barista means that you have precise control over the temperature settings, and since the flow rate is so accurate, the Zero Barista is able to tell you how much your espresso shot will weigh within a few tenths of a gram. With these features, you can be sure that you're extracting just the right amount of espresso for your shots with the exact settings you want to use.
The Zero Barista has fully independent groups, so you're able to brew at different temperatures, flow rates, and doses at the same time. This is possible because each group has its own boiler, and this independent function also means that you can program each group to perfectly extract for different coffees you're using to brew.
This also means you can perform maintenance on one group while the others are still in use.
When you look at the Zero Barista it's clear why it won an iF design award in 2021. The striking modern design of the Zero Barista Espresso Machine was created in partnership with the Emo design firm. Not only is the Zero Barista aesthetically pleasing, it is also ergonomically designed for the best experience for your barista.
The oversized steam wands allow for hands-free steaming to keep the brewing process moving when things get busy, and the touchscreens and backlit buttons make it easy to view your settings and pull your shots.
Why You Should Get It If you're looking for a commercial espresso machine that is unique, thoughtfully designed, and allows you to fully customize your shots for the ideal espresso brewing experience,
3 Group Specifications
Depth (Inches) 21.65 Height (Inches) 20.12 Width (Inches) 34.25
Weight (Lbs.) 193.14 lbs  
Boiler Configuration
Multi-Boiler Number of Boilers 4
Steam Boiler 7,5 liter
Brew Boilers 3 -0.75 Liter 
Brew Group Size (mm) 54mm / 58 mm optimal 
Boiler Features Rapid Heating,
Independent Temperature
Control Brew Boiler Auto-Fill Yes
Brew Boiler Heater Location Internal
Brew Boiler Material Brass
Brew Boiler Type High Volume
Multi-Boiler Brew Boiler Volume (Oz) 0.75 L
Brew Group Features Automatic Back Flushing
Brew Unit Material Brass Three-Way Valve Yes
Back Flush Capable Yes
Property Value
Brew Group Size (mm) 54mm
Pressure Gauges Pump,
Steam Type of Controls Push Button,
Brew Lever,
Steam Lever
Frame Material Steel Housing
Color Black Housing
Material Stainless Steel
Steam Boiler Auto-Fill Yes
Steam Boiler Volume 7.5  Liter.
 Protect your warranty & investment.
Protect your factory warranty and machine from harmful hard water minerals that cause calcium build up, & damage to your boiler, heating elements, water passages, and moving parts. This all in 1 filter is the answer for most hard water conditions.
Help the taste of your coffee with a BMT Bestmax premium 5 stage filter with magnesium for improved coffee taste or the standard 4 stage protection filter. When selecting the premium line with magnesium, we recommend a water meter so you know when it's time to change your filter as magnesium will show as a solid on a test strip.
Dial in the setting 1, 2 or 3 on the BWT filter head to match your water hardness and brew system needs. to get the proper protection & longest life based on degree of water hardness. Just twist the all in one cartridge out of the self-closing valve in head and spin the new replacement one in when needed, no water to shut off or turn on before changing,
The BWT 0.5-micron cartridge can lie sideways, set on its base or hang from the wall bracket included,
Recommended sizes based on water hardness and usage.
See our compete BWT accessories discount packages.
Before finalizing your purchase, please contact us
Allow one of our professional commercial machine experts the opportunity to help guide you through your buying process and make sure you have selected the proper machine and options that best meets your needs.
Please Call Toll Free:
866-711-3456
or
973-687-5090
Enjoy free shipping on orders above $49 in the lower 48 states.
Additional shipping charges may apply commercial machine to residential address, and/or tail gate delivery required.
Please call (866)-711-3456 for any questions.
Competitive price matching is available for all our products.
Please complete this form when inquiring about best price for your item.