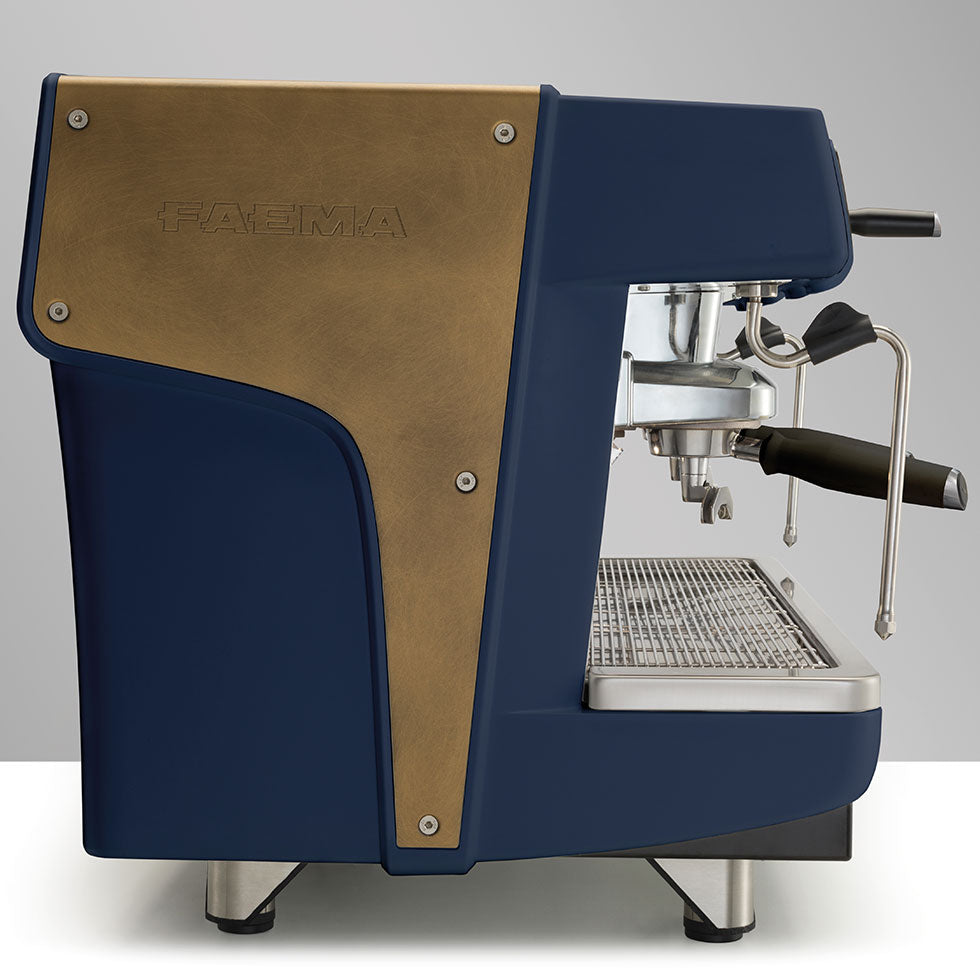 Faema 2 & 3 Group Prestige Plus
---
Before finalizing your purchase, please contact us
Allow one of our professional commercial machine experts the opportunity to help guide you through your buying process and make sure you have selected the proper machine and options that best meets your needs.
Please Call Toll Free:
866-711-3456
or
973-687-5090
Enjoy free shipping on orders above $49 in the lower 48 states.
Additional shipping charges may apply commercial machine to residential address, and/or tail gate delivery required.
Please call (866)-711-3456 for any questions.
Competitive price matching is available for all our products.
Please complete this form when inquiring about best price for your item.
Prestige Plus 2 & 3 Group Tall Cup Turbo Steam
Includes: Free shipping & installation of your espresso machine with a trained, local representative. This service includes, local installation, to made ready water and electric & drink set up, demonstration. 1-year parts & 1 year labor due to defective parts
Ask about our machine, grinder & water filter packages.
The Prestige + is the top of the Prestige line it features a digital operating system with user touch pad adjustable temperature control for boiler and brew water temp., and for a verity of machine settings.
Prestige Plus 2, & 3 group machines feature the adjustable thermal balancing system (patented) which allows the adjustment of the brew water temperature of each coffee group easily so as to adapt it to any coffee blend and any different consumption habits without making boiler water temperature changes that can affect over all machine performance at busy times.
A PID thermostat controller in place of a Pressure stat for more precise brew water temperatures. Blue tooth system for self-adjusting grinder interface connection.
A distinctive design with special finishes and sides. The machines are enriched with stainless steel panels.
Prestige Plus features an indigo blue matte finishing, a front panel with a central service display, and backlit buttons. The machine is also equipped with an ambient light and includes the option to add a second one in order to make it really stand out.
The new design combined with the possibility of customizing the side panels with valuable and trendy finishes such as denim, copper and brass ensures perfect coordination with the style of each coffee shop.
Faema Traditional Thermal System PRESTIGE+ features the traditional Faema thermal system which can be externally adjusted thanks to adjustment knobs, one for each group. This makes for more functional and easier to access. The system guarantees thermal brew water temperature flexibility and constant quality for all coffees produced.
Smart Boiler The Patented Smart Boiler technology increases the performance levels of hot water and steam while optimizing the water level in the boiler. This ensures thermal balance for maintaining proper coffee water temperatures so you can consistently have a perfect cup even under conditions of maximum use.
Auto steam The Auto steam is a steam wand equipped with a patented system that simultaneously delivers steam mixed with air from air pump to heat or froth the milk without manual intervention. The air and steam delivery stops when the programmed temperature is reached. Simple to use and clean, the Auto Steam consistently produces a dense and velvety milk cream guaranteeing excellent results without sacrificing the typical baristas rituals. Ergonomics and Comfort
Prestige+ is equipped with new brass filter holders with a "soft touch" handle. The shapes have been designed to ensure the best ergonomics and a correct grip.
A chrome-plated steel insert, perfectly coordinated with the steam levers, has been added to PRESTIGE+ to enhance the aesthetics product. It also features an innovative micrometric spout, which guarantees the two cups. Every portafilter holder comes with a screw that enables users producing drinks.
Features of the Prestige+:
• Adjustable thermic with knob
• Smart boiler • Green machine
• Auto steam • Tall cup
• New adjustable filter holder
• New LED interface
• Group lights
• Cup warmer • Front LED lights
• Economizer
• Optional: Kit additional Back Led Bar (add $260) •
Optional: Kit lateral panels DENIM (add $475)
• Optional: Kit lateral panels COPPER (add $410)
• Optional: Kit lateral panels BRASS (add $410)
Specifications A 2
Width (in) 30.7 x Depth (in) 22.2 x Height with tall feet (in) 24
Weight (lb) 168
Power at 220V~ 60Hz (W) 4200 - 5,000
Boiler capacity (liters) 10
Hot water economizer YES
2 steam wands.
1 hot water wand
Specifications A3
Width (in) 40.7 x Depth (in) 22.2 x Height with tall feet (in) 24
Weight (lb.) 225
Power at 220V~ 60Hz (W) 6000 - 7,000
Boiler capacity (liters) 17.5
Hot water economizer YES.
2 steam wands.
1 hot water wand.
Protect your warranty & investment

.

Protect your factory warranty and machine from harmful hard water minerals that cause calcium build up, & damage to your boiler, heating elements, water passages, and moving parts. This all in 1 filter is the answer for most hard water conditions.
Help the taste of your coffee with a BMT Bestmax premium 5 stage filter with magnesium for improved coffee taste or the standard 4 stage protection filter. When selecting the premium line with magnesium, we recommend a water meter so you know when it's time to change your filter as magnesium will show as a solid on a test strip.
Dial in the setting 1, 2 or 3 on the BWT filter head to match your water hardness and brew system needs. to get the proper protection & longest life based on degree of water hardness. Just twist the all in one cartridge out of the self-closing valve in head and spin the new replacement one in when needed, no water to shut off or turn on before changing,
The BMT 0.5-micron cartridge can lie sideways, set on its base or hang from the wall bracket included,
Recommended sizes based on water hardness and usage.
See our compete BWT accessories discount packages.
Share