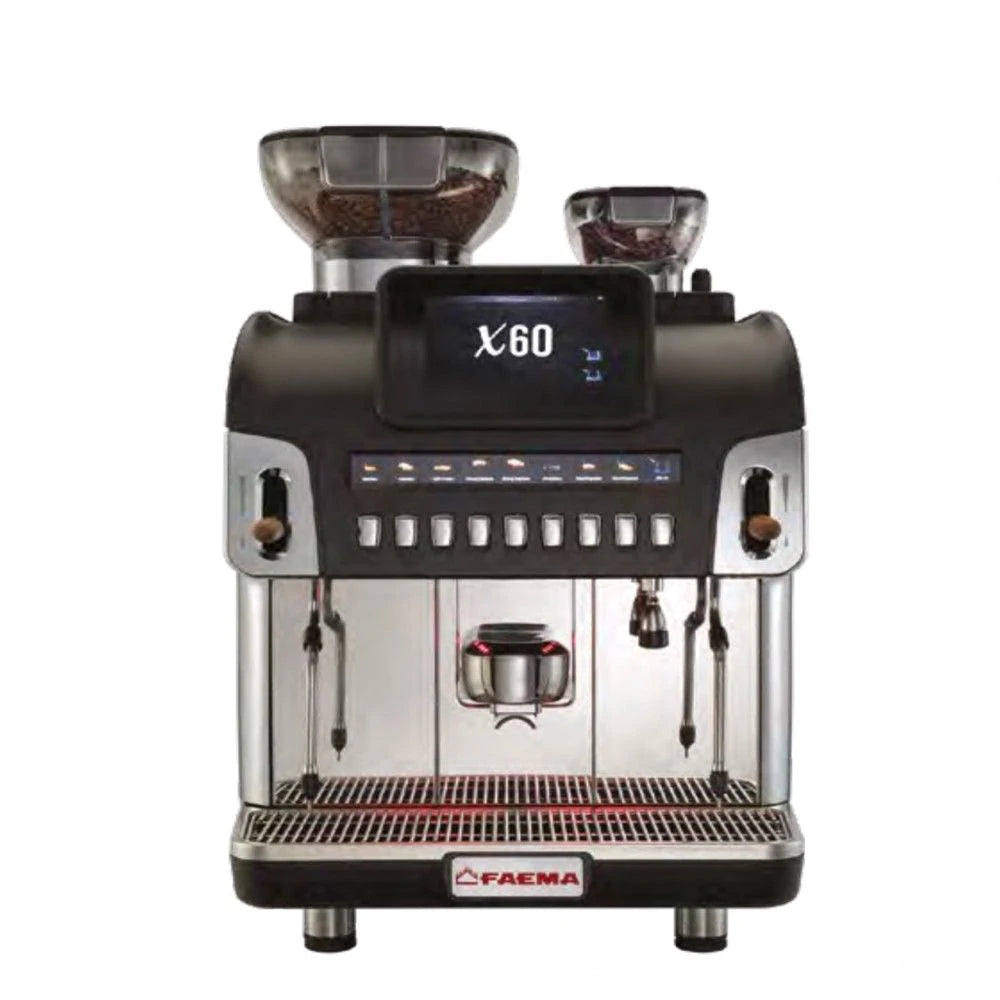 ---
Before finalizing your purchase, please contact us
Allow one of our professional commercial machine experts the opportunity to help guide you through your buying process and make sure you have selected the proper machine and options that best meets your needs.
Please Call Toll Free:
866-711-3456
or
973-687-5090
Enjoy free shipping on orders above $49 in the lower 48 states.
Additional shipping charges may apply commercial machine to residential address, and/or tail gate delivery required.
Please call (866)-711-3456 for any questions.
Competitive price matching is available for all our products.
Please complete this form when inquiring about best price for your item.
FAEMA Not a buying page 

What's the right Super Automatic Model for Me?
for today and tomorrow?
See our complete line of Faema Machines.
With a super automatic model, just choose the drink you want, and the machine will grind, tamp, brew, and steam milk for you from the touch
 

screen

 selection or with an auto steam wand for the milk portion.
How Do I Choose the Right One?
The 1 Step produces a completed drink from the touch of a drink selection on the keypad for both espresso and milk-based beverages like Cappuccino. This model needs a cold milk source, and the completed drink comes through the dispensing head. Some brands have the ability to have 2 different milks come through the 1 touch system, some come standard with automatic steam wands for steaming selected milks, some have optional automatic wands in place of manual wands. 
The 2 steps where the coffee comes from a drink selection on the keypad for espresso or Americana through the dispensing head and the milk is steamed in a pitcher with an automatic steam wand. 
Picking the best super automatic espresso machine for your particular business is a detailed process. There are several aspects you should consider, such as the following topics:
Your budget

Your employees' experience.

Your drink menu

Your drink volume per hr. at busy times

your Cup Size,6, 8, 10, 12, 16, 20, 22 & 24 oz. 

Cafes and coffee house serving to go paper cups of 12,16 & 20 oz. need more power & capacity then set down restaurants serving 6 & 8 oz. cups. 

Restaurants serving breakfast have need for more capacity than those serving lunch and or dinner only. 

All commercial machines need an inbound water supply line for incoming filtered soft water. An out bound drain water line going to a drain or catch container. a 2,5-inch hole is generally need in the counter. for the water lines. 

Models' production per Hr., From light, Medium, Medium

Heavy-, and Heavy-duty

 service.

Light Duty

 

X15-

150-Day

, Plastic Brew Group medal insert for brew heat temperature stability. 

Medium Duty

 

X20-125 drinks per Hr. Medal Brew Group, Titanium coated burrs, heat exchanger 3,500 watts.

Medium Heavy Duty

x30 -200 drinks per Hr. Medal Brew Group, Titanium coated burrs,2 

Self-Adjusting

 Grinders, Twin Boilers, 4,500 watts.

Heavey Duty

 

X60 -260 drinks per Hr. Medal Brew Group, Titanium coated burrs, Twin Boilers,

 3 

Self-Adjusting

 Grinders 5,500 watts. 2 Steam wands, Pre ground coffee turn table ready to go for faster delivery times between shots.