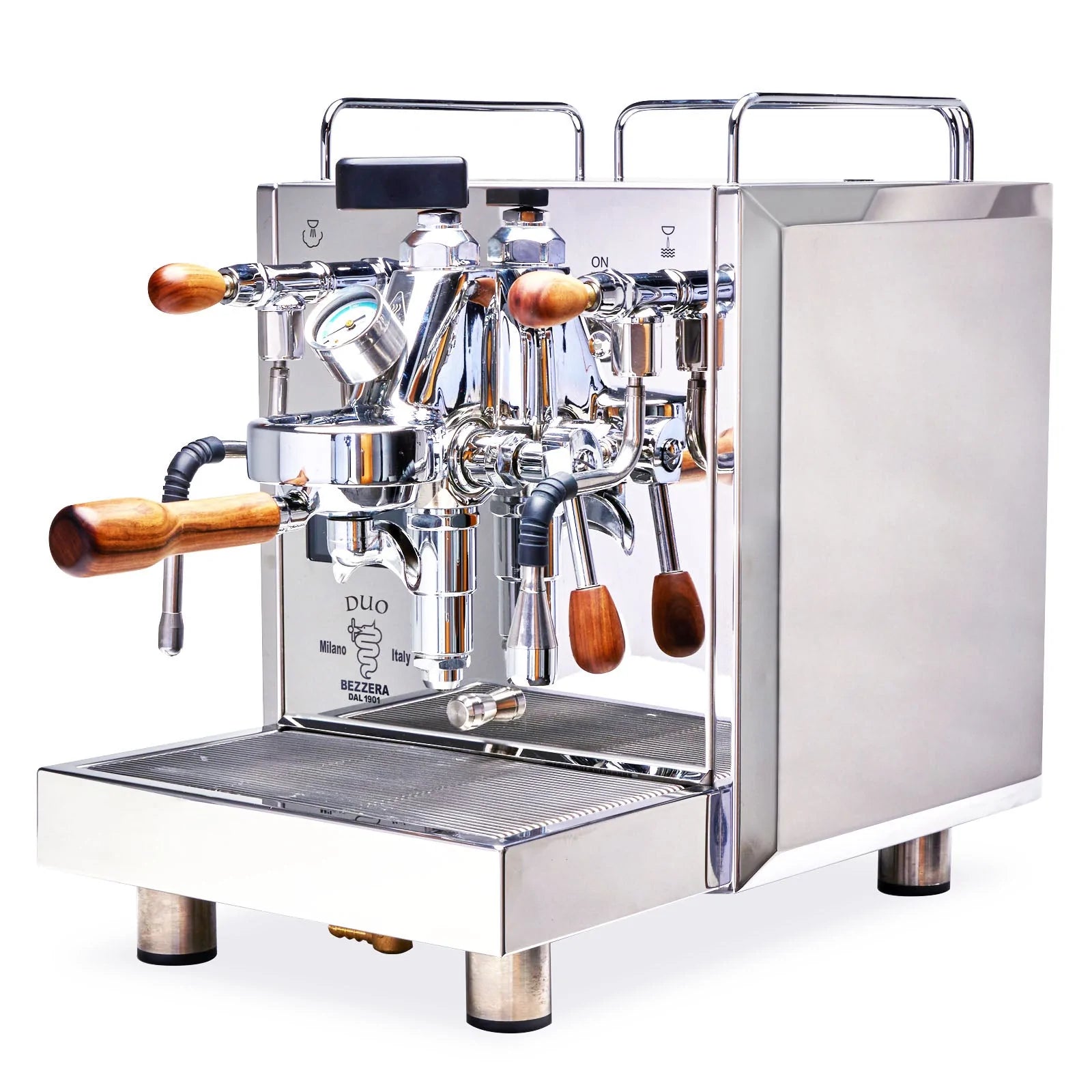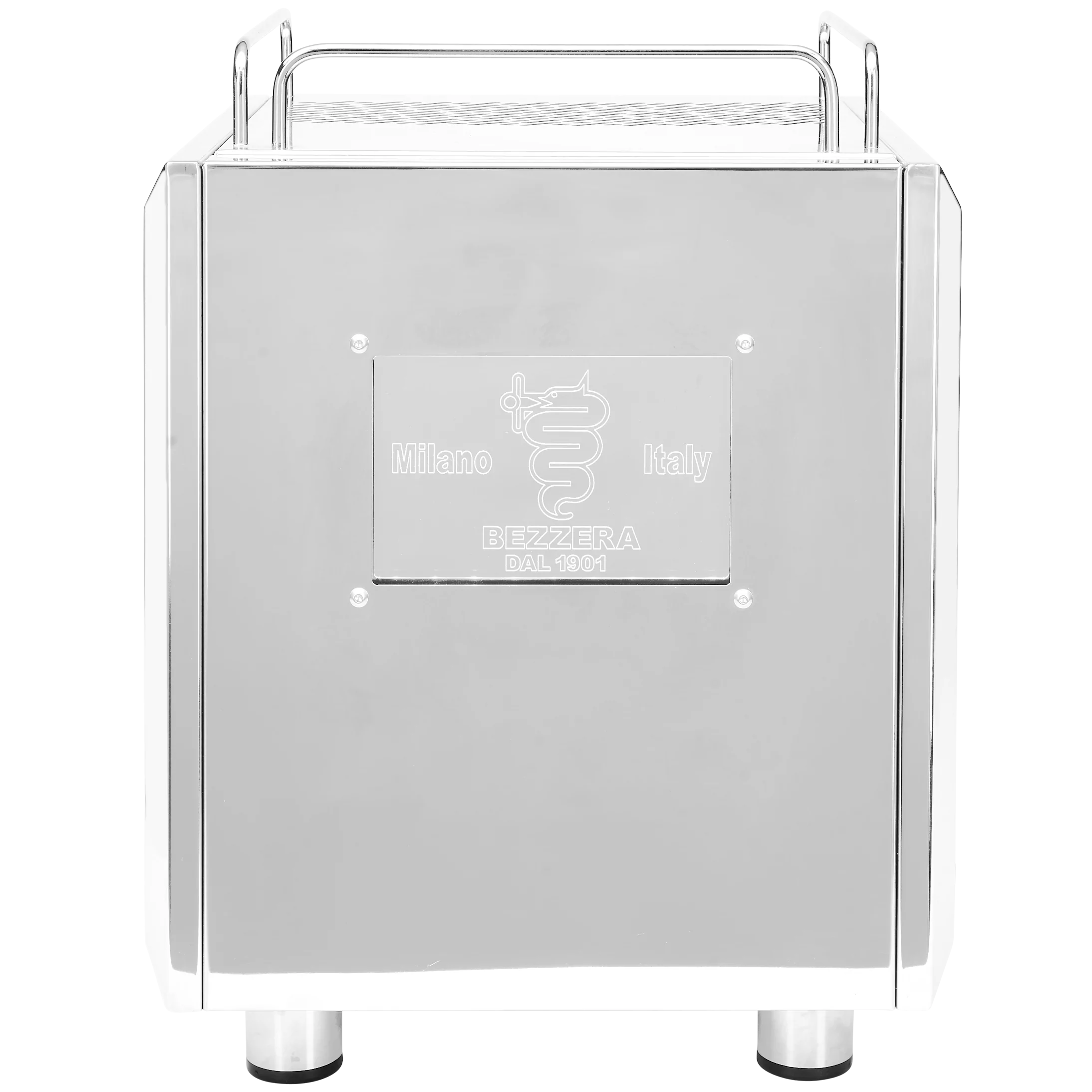 Bezzera Duo MN Flow Control
---
Share
---
Bezzera's DUO MN with Flow Control 
This is a stunning dual boiler machine that features an intuitive touch screen display, triple PID thermostats, pre-infusion, dual boiler, Rotery pump, portable or direct water and an E61 Brew Group with Thermosiphon heating plus a flow control feature providing the operator the ability to change your coffees taste profile to better suit your taste.
The Bezzera DUO MN ,and its programmable pre-infusion. and the E61 group head and dual PIDs control both brew and steam boiler temperatures, for the ultimate in temperature stability.
What is it?
The Bezzera Duo MN is an Italian dual boiler espresso machine with a rotary pump, E61 group head, and touch-screen for PID temperature control. It can be plumbed in directly or run of its internal 4L reservoir. 

This unit includes the

 LUCCA Flow Control

 device pre-installed on the group head, providing an easy way to improve your extraction. 
Who is it for?
You're not the average espresso lover. You've set the bar high for your dream machine. Reliability is important, but truly, you're looking for all of the convenience of innovative technology. You're eager to dive into the touch screen control panel and explore all of the custom options available to you. Technology aside, you're after top-tier steam pressure and café-quality shots every day without question. The premium Rosewood accents are just the icing on the cake. With the added LUCCA Flow Control gauge, you'll be able to enhance the quality of your espresso and unlock new flavor profiles.
Why do we carry it?
Easily one of the most reputable manufacturers in the industry, Bezzera's ingenuity and designs have influenced many of the machines we see on the market today. By casting parts from raw materials at their facility onsite, every touchpoint feels premium. On the Duo MN specifically, what caught our attention was the vibrant touch screen. Programming temperature, pre-infusion, and an auto-on schedule can easily be accessed from the control panel. The machine's performance internally is equally impressive. With 2 bar steam capabilities, the Duo can easily keep up with back-to-back drinks for those who love to entertain. Outfitted with stunning Rosewood accents, the Duo MN is a beautiful addition to any kitchen.
Bezzera DUO MN Overview
The Bezzera DUO MN espresso machine is an instant classic with its wooden detailing and crisp stainless-steel body. It's puffed upside panels immediately cued us in to the punch packing dual boilers residing inside.
Features and Performance
The DUO MN is a sister machine to the Matrix MN, and as such they share many of the same features. The most impressive of which is the vibrant touch screen display that can be used to adjust the dual PIDs which control the individual temperatures for both the brew and steam boilers. The display rests on the PID, with the brew temp on the left and the steam temp on the right.
With a few clicks you can program the machine to turn on and off at particular times, change from reservoir to plumbed operation, and access maintenance cycles. The display will also alert you to a low amount of water in the reservoir and to replace or recharge your water filter as necessary. To avoid refills altogether, plumb the machine directly into a water line. With the Bezzera DUO MN you can brew more, think less, and sip cup after cup of premium espresso.
This machine is geared toward the traditionalist aesthetically, but the inclusion of a 3.5" touch display is all modern. A traditional E61 group syphons water in a circuit from the brew boiler, through the group head, and back, for even greater temperature stability. We love the DUO MN's automated pre-infusion cycle, programmable using the touch screen, that pre-wets the grounds for maximum flavor, before brewing with a traditional lever system.
Brewing is easy using the intuitive push button and toggle operation; each function designated by a stylized icon. Steaming too, the DUO MN's steam wand toggles on for powerful steaming, and flipping it up locks it into place for an uninterrupted stream.
Technical Specifications
| | |
| --- | --- |
| Boilers: | 2 |
| Steam Wand: | 1 |
| Hot Water Dispenser: | 1 |
| Reservoir: | Yes |
| Direct Water Line: | Yes |
| Grey (Waste) Water Line: | Yes |
| Display Touch Screen: | Yes |
| RGB Body Panels: | Yes |
| Volumetric Programming: | No |
| Manual Brew Button: | Yes |
| PID Temperature Controllers: | 3 |
| Digital Bar Pressure Gauge: | Yes |
| Digital Boiler Pressure Gauge: | Yes |
| Warming Trays: | 1 |
| Portafilter 58mm: | 2 |
| | |
| --- | --- |
| Power Supply: | 110v |
| Width: | 12.83 inch |
| Depth: | 18.50 inch |
| Height: | 16.73 inch |
| Net Weight: | 67 lbs |
| Gross Weight: | 73 lbs |
| Amps | 1400 watts |
| Water Tank Capacity: | 4.0 L |
| Coffee Boiler Capacity: | 0.45 lt |
| Steam Boiler Capacity: | 1.5 lt |
Water Filter Systems

Protect your factory warranty and machine from harmful hard water minerals that cause calcium build up, & damage to your boiler, heating elements, water passages, and moving parts.

Help the taste of your coffee with a BMT Bestmax standard or premium with magnesium 4 stage filter or our standard system.

When selecting the premium line with magnesium we recommend a water meter so you know when its time to change your filter as magnesium will show as a solid on a test strip.

Dial in the setting for your water hardness and brew system needs. based on degree of water hardness

This all in one filter system is the answer to most espresso machine water condition problems.

Just twist the all in one cartridge out of the self closing valve in head and spin the new replacement one in when needed, no water to shut off or turn on before changing,

BWT valve in head, 4-stage water filter system with filtration to 0.5 micron. Cartridge can lie sideways, set on its base or hang from the wall bracket included, recommended sizes based on water hardness and usage recommended.

See our compete BWT accessories package discount package.

Before finalizing your purchase, please call toll free 877 711 3456 or 973-687 5090 to allow us the opportunity to make sure you have selected the machine and options that best meet your needs and budget
Before finalizing your purchase, please contact us
Allow one of our professional commercial machine experts the opportunity to help guide you through your buying process and make sure you have selected the proper machine and options that best meets your needs.
Please Call Toll Free:
866-711-3456
or
973-687-5090
Enjoy free shipping on orders above $49 in the lower 48 states.
Additional shipping charges may apply commercial machine to residential address, and/or tail gate delivery required.
Please call (866)-711-3456 for any questions.
Competitive price matching is available for all our products.
Please complete this form when inquiring about best price for your item.