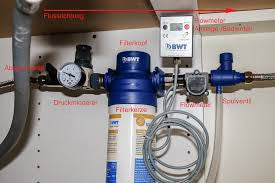 BWT Bestmax Filter Head
Product Description:
The BWT filter head makes life so easy. Just set the filtration # you need, 1, 2 or 3 to get the proper protection and the longest life from your BWT filter.
When its time to put in a new filter, just twist out the old one and turn in the new one No water to shut off and turn on with this self-closing and opening valve in head system
NOTE: All equipment, including but not limited to espresso machines, water softeners, filters, and hoses have the potential for leaking when directly plumbed to a water source (well water, rusty water, etc.). Please properly install water leakage equipment to shut off the water supply if any leakage occurs.
Leakage can occur from lack of proper maintenance and/or too high-water line pressure.
Absolute Espresso Plus is not responsible for any loss, incidental or consequential damages from water leakage The BWT best head filter head is a smart technological solution that can be fixed to any BWT water more filter, so you only have to purchase it once!
The bypass is easy to install, can be used repeatedly, and is safe. A non-return valve on the inlet side prevents any ingress of water into the drinking water system and a similar valve on the outlet side seals the filter off from the end device (e.g. coffee machine). Both non-return valves close if there is a sudden drop in pressure, which prevents leakage and water discharge during replacement of the filter.
The dual system is rounded off by the BWT best lush bleed valve, which is what makes this technology unique.
Benefits of the BWT best head at a glance:
• Universal head for all BWT water optimization systems for fixed water connections
• Easy to install
• Reliable and low maintenance
• Extremely safe and fully compliant with legal standards
Before finalizing your purchase, please contact us
Allow one of our professional commercial machine experts the opportunity to help guide you through your buying process and make sure you have selected the proper machine and options that best meets your needs.
Please Call Toll Free:
866-711-3456
or
973-687-5090
Enjoy free shipping on orders above $49 in the lower 48 states.
Additional shipping charges may apply commercial machine to residential address, and/or tail gate delivery required.
Please call (866)-711-3456 for any questions.
Competitive price matching is available for all our products.
Please complete this form when inquiring about best price for your item.