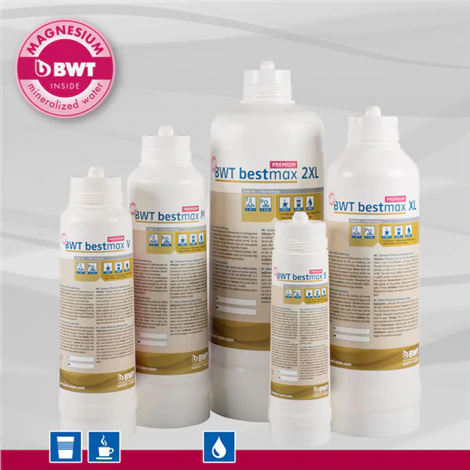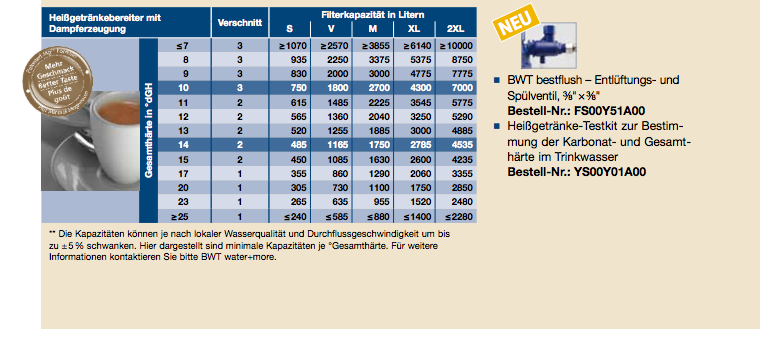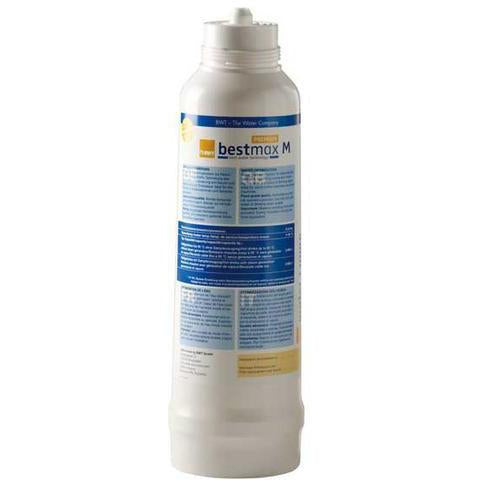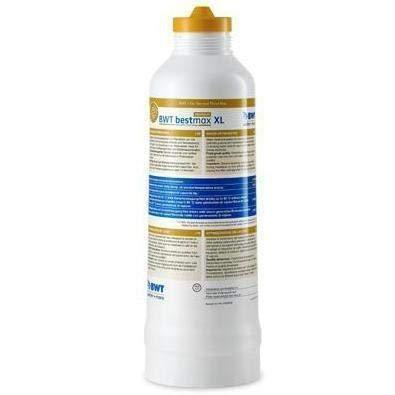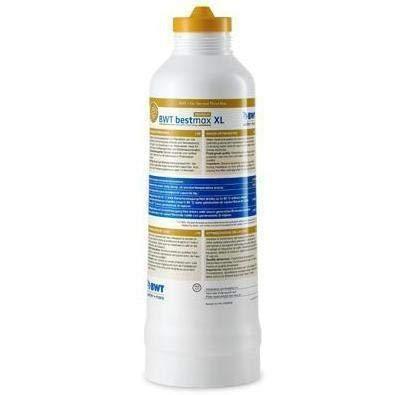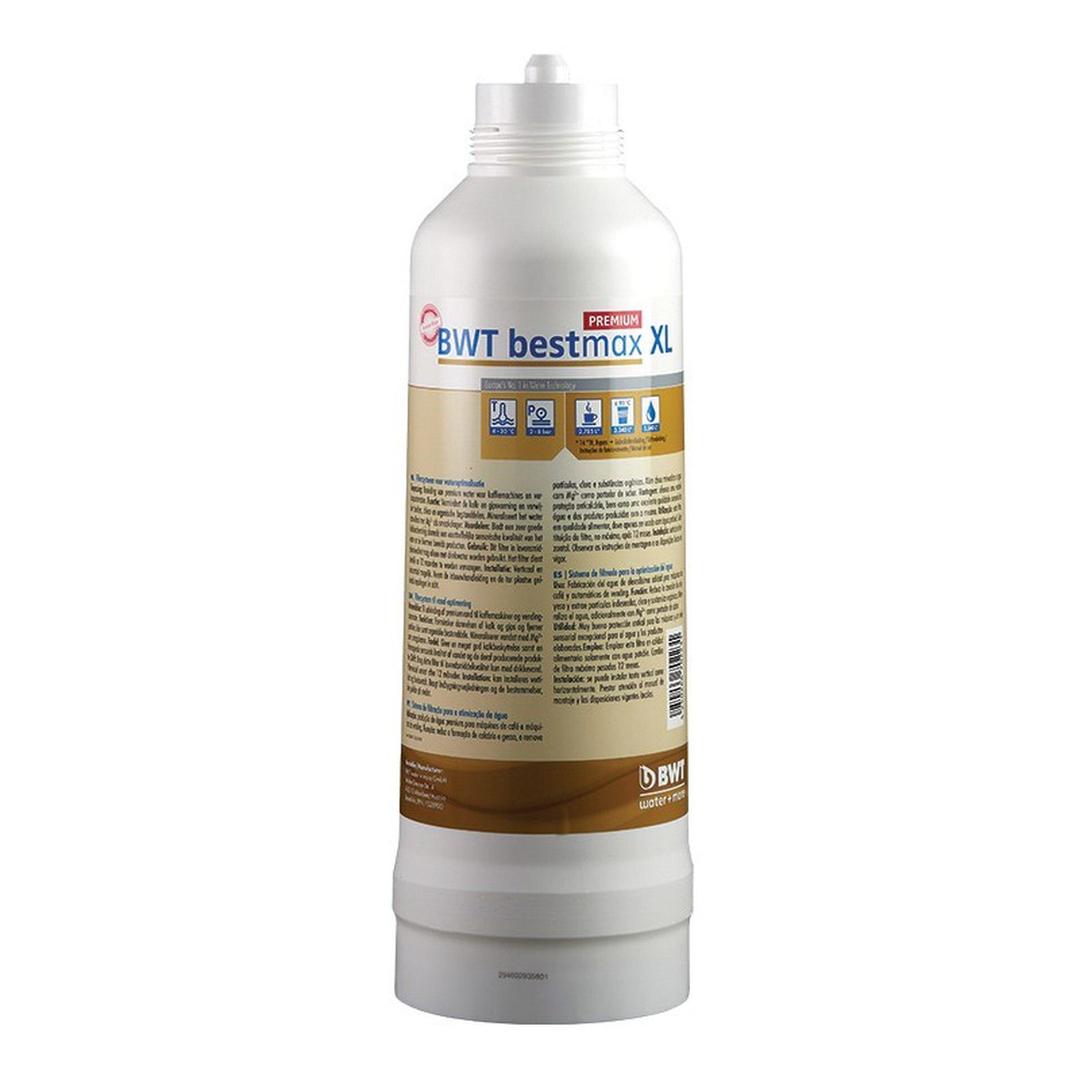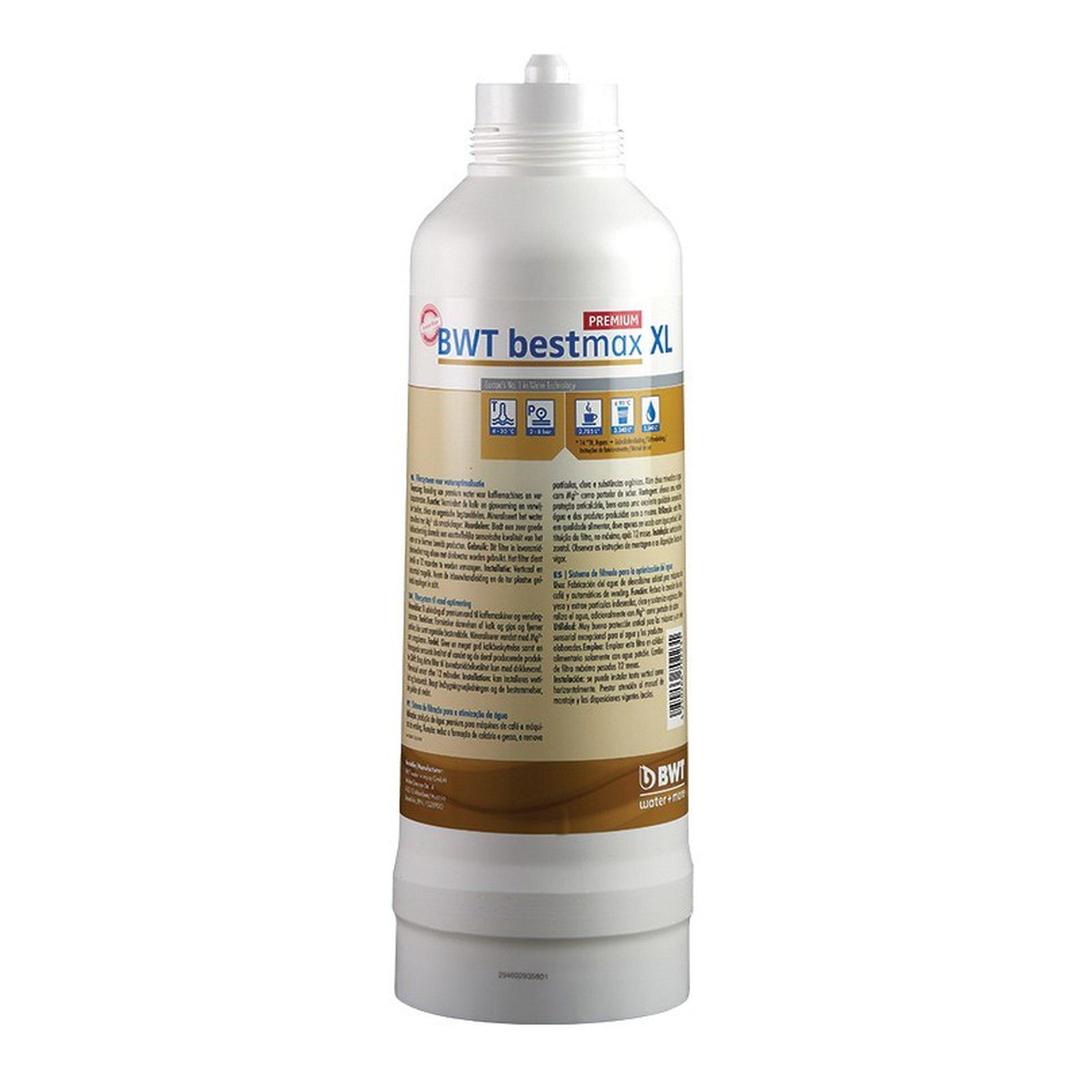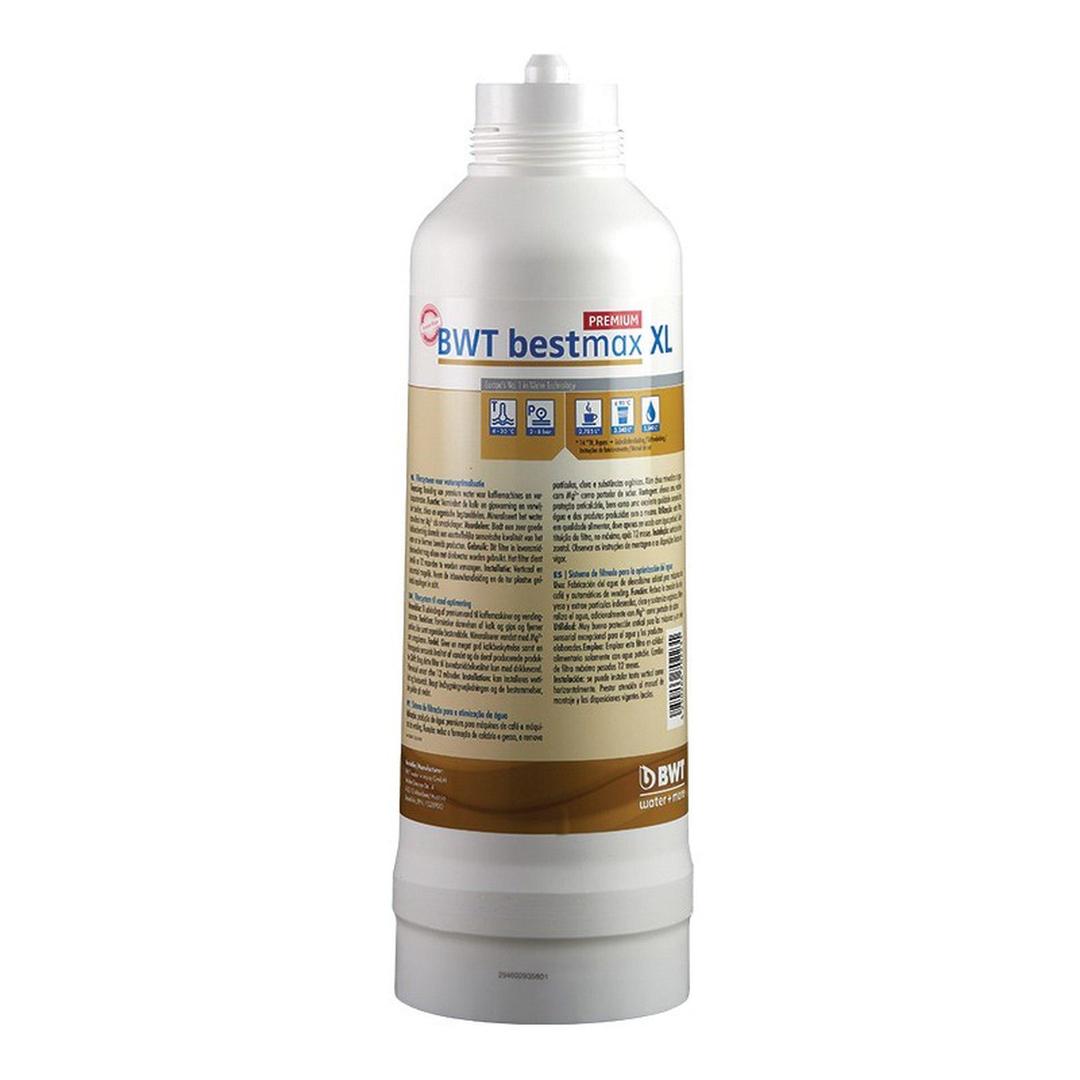 BWT Bestmax Premium Filters XL & XXL-save on multiple
---
Share
---
Bestmax Premium Espresso Water Filter
Premium Filter provides Limescale & Gypsum Protection + adds Magnesium. For improved coffee taste 
XL & XXL Sise -Save on 2 and 4 filters.
BWT BESTMAX PREMIUM WATER FILTER AND SOFTENER SYSTEMS
Product Description
BWT bestmax PREMIUM with Magnesium removes Jepson & Limescale 
When coffee or tea tastes flat or flavorless, the fault does not necessarily lie with the beans or variety of tea. The water or rather, an imbalance of the minerals in the water, can also be responsible for this. BWT bestmax PREMIUM is an innovative filter system for optimizing water especially for all hot beverages from coffee and vending machines.
This filter reduces all undesirable components such as limescale, particles, off-flavors such as chlorine, and organic compounds from the raw water.
• BWT Bestmax PREMIUM is magnesium-enriched
• Includes the patented Mg2+ technology
• Magnesium is a valuable flavor carrier that also balances the acid-base level of the water
• A filtration system for water optimization in the foodservice sector
• Reliable limescale protection and high sensory water quality
• Perfect water for all hot drinks and a pleasant-tasting cold drink
• Reduces scale buildup within espresso machines and coffee systems, dramatically reducing the need for descaling
BWT bestmax PREMIUM and its Aroma PLUS formula can change this for you immediately. This groundbreaking innovation for water optimization from BWT water + more returns the mineral content in the water to an acceptable equilibrium. In particular, the essential mineral magnesium benefits from this. It brings out the full aromas of coffee, tea or cocoa.
But BWT bestmax PREMIUM water tastes just as great when served pure. Well cooled, served in a jug, it is the perfect match: free from particles and odor, with a balanced mineral note, it is a great pleasure for gourmets.
BWT bestmax PREMIUM ensures that you reliably remove the carbonate hardness and protect your machine against scale deposits Because the Premium filter has magnesium to sweeten the water.
We recommend a flow meter to monitor your water flow usage, as the magnesium will provide a mineral reading on your hardness test stick that is not harmful, and you could not be getting the full usage out of your filter or waiting to long and damaging your machine. We recommend you check your total water hardness then set your meter to the recommended BWT chart that comes with every filter.
Reading from the BWT chart based on your total harness reading ,you can set the filter head to the proper setting for the % of protection you need and proper amount for your meter and it will tell you when its time to change your filter Flexible – only one connecting filter head (not included see options) for all filter types C
apacity sufficient for 5440 l of perfectly mineralized water Simple – quick filter change, simple disposable system Cost-effective – ideal for compact catering appliance
We offer a full range of accessories from BWT When is it time to change your filter? Get the most out of your filer with out harming your equipment. with a usage meter to tell you when its time Set the meter based on your BWT filter guide for you water hardness and filter size and forget it until the meter says time to change.
BWT's Bestmax Premium filter cartridge is an all-in-one water filtration solution. Outstandingly suited for the filtration of water for hot beverages like coffee, espresso, the Bestmax Premium is a modular multi-stage filter that uses patented BWT Mg2+ technology. This unique feature mineralizes the filtered water with magnesium, a known flavor enhancer that may be lost using other filtration methods.
The Bestmax Premium uses the five layer filtration process detailed below:
1. Particle Pre-Filter - Separation of coarse particles such as sand and rust.
2. Activated Carbon Pre-Filter - Elimination of oxidants, protection of the ion exchanger against aging. 3. High-performance Ion Exchanger - Removal of hardening substances, adjustment of mineral balance. 4. Activated Carbon Nonwoven - Elimination of organic substances, chlorine, foreign odor and foreign taste. 5. Particle Fine Filter - Separation of fine particles and suspended matter.
The Bestmax Premium Filter also reduces scale buildup within espresso machines and coffee systems, dramatically reducing the need for descaling. However, we still recommend semi-regular descaling to protect the longevity of your machine.
Filter Capacity Depending on the hardness of your water, the total capacity of your filter will vary. The capacities below are approximations for a filter used for an espresso machine.
• Max Capacity: 49.98 ppm / 7 °DTH (degrees total hardness)
Water at bypass setting 3 - 6,140 Liters
• Min Capacity: 178.5 ppm / 25+ °DTH (degrees total hardness)
Water at bypass setting 1 - 1,440 Liters
Please Note: Regardless of the total water volume run through the cartridge,
BWT recommends replacing your filter after a maximum of 12 months of use.
BWT bestmax PREMIUM Type

S

V

M

XL

2XL

Connection thread (in/out)

3/8"

3/8"

3/8"

3/8"

3/8"

Intake pressure
min –max in bar

2 – 8

2 – 8

2 – 8

2 – 8

2 – 8

Water temperature
min – max in °C

4 – 40

4 – 40

4 – 40

4 – 40

4 – 40

Ambient temperature
min – max in °C

4 – 60

4 – 60

4 – 60

4 – 60

4 – 60

Total height without bracket (A)Â in mm

360

420

475

500

574

Total height with bracket (B)Â in mm

385

445

500

530

600

Connection height (C) in mm

310

370

425

450

520

Distance from floor (D) in mm

65

65

65

65

65

Installed length (E) in mm

125

125

125

125

125

Filter cartridges Ø (F) in mm

88

115

130

145

185

Weight in kg, approx.

0.9

2.3

2.8

4.0

7.8
Before finalizing your purchase, please contact us
Allow one of our professional commercial machine experts the opportunity to help guide you through your buying process and make sure you have selected the proper machine and options that best meets your needs.
Please Call Toll Free:
866-711-3456
or
973-687-5090
Enjoy free shipping on orders above $49 in the lower 48 states.
Additional shipping charges may apply commercial machine to residential address, and/or tail gate delivery required.
Please call (866)-711-3456 for any questions.
Competitive price matching is available for all our products.
Please complete this form when inquiring about best price for your item.