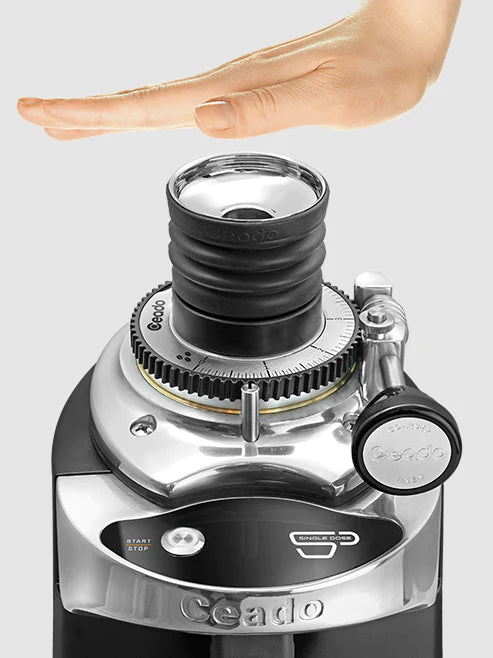 CEADO E37SD Single Dose Grinder
The E37SD is a dedicated single dose grinder from Ceado designed for use with all methods of coffee preparation.
Its massive 83 mm titanium coated burrs produce consistent grinds with near zero retention.  designed to eliminate static for perfect dosing.
Ceado's E37SD is capable of rapidly switching between coarse for French press and fine for espresso with predictable results. It's surprising how mutually exclusive those two things can be. With many grinders, you can have the full grind range or you can have consistent results, but not both.
With the E37SD, Ceado has managed to accomplish both. To do this, the E37SD uses a unique design which eschews both the bean hopper and programmable timed dispensing common to grinders of its caliber, opting instead for a strictly manual user experience. Included with each SD is a suite of barista tools that handles all the blind spots.
The RDT (Ross Droplet Technique) sprayer eliminates static while grinding. A WDT (Weiss Distribution Technique) cup makes for easy transfer of grounds to your brewer.
The zero-retention bellows removes any remaining coffee from the grinding chamber, and an espresso funnel catches grounds as they fall into your portafilter. Lastly, but perhaps most importantly, the Quick Set Gear system allows you to make precise adjustments with ease and can be pivoted out of the way for wider adjustments to the grind using the adjustment collar. This alone is a big step up from other grinders, which typically don't have the tools to accommodate for the full spectrum of coffee brewing.
On the inside, the grinder houses a 400 W motor and a set of 83 mm titanium-coated burrs. This powerhouse combination grinds beans quickly and consistently so you can make rapid adjustments when experimenting with different brew methods.
To operate the grinder, simply press the "Start/Stop" button located on the display and the E37SD will do the rest. The SD's E37 genetics also mean that it inherited the Steady Lock and Silent Systems which guarantee silent grinding and a fixed distance between the burrs.
Your grind settings will also be retained if you ever need to remove the top burr for cleaning.
KEY SPECIFICATIONS
• Voltage 110-120 V • 60 hz
• Power 400 W
• Net weight 13,2 kg • Gross weight 14,7 kg
• Dimensions 212x309x370h mm
• Burrs Flat ø 83 Titanium
 • Start Pulse button
• Rpm 50hz / 60hz 960 / 115
• Ceado E37SD Zero-Retention Bellows
When you look at the Ceado E37SD, you may have noticed that it has something on top that almost looks like an accordion. This is one of the other innovations the grinder has. The part on top of the grinder is its bellows. You can push down on it to clear any lingering coffee grounds from the inside of your grinder, simultaneously cleaning it and preventing any old grounds from getting mixed with your new ones.
Ceado E37SD Weiss Distribution Technique Cup Another upgrade the Ceado E37SD makes is the addition of its Weiss Distribution Technique (WDT) cup. This is the metal cup that you can place on the portafilter fork as opposed to the portafilter. The cup promotes hands-free grinding, allowing you to push on the bellows to dispel any lingering coffee grounds and ensure you get every last granule of coffee you put into the grinder. It can also help promote balanced extraction.
The Ceado E37SD was clearly designed for specialty coffee shops that want to focus on minimizing waste and increasing precision. Furthermore, it would be a great addition to an experienced home barista.
Before finalizing your purchase, please contact us
Allow one of our professional commercial machine experts the opportunity to help guide you through your buying process and make sure you have selected the proper machine and options that best meets your needs.
Please Call Toll Free:
866-711-3456
or
973-687-5090
Enjoy free shipping on orders above $49 in the lower 48 states.
Additional shipping charges may apply commercial machine to residential address, and/or tail gate delivery required.
Please call (866)-711-3456 for any questions.
Competitive price matching is available for all our products.
Please complete this form when inquiring about best price for your item.