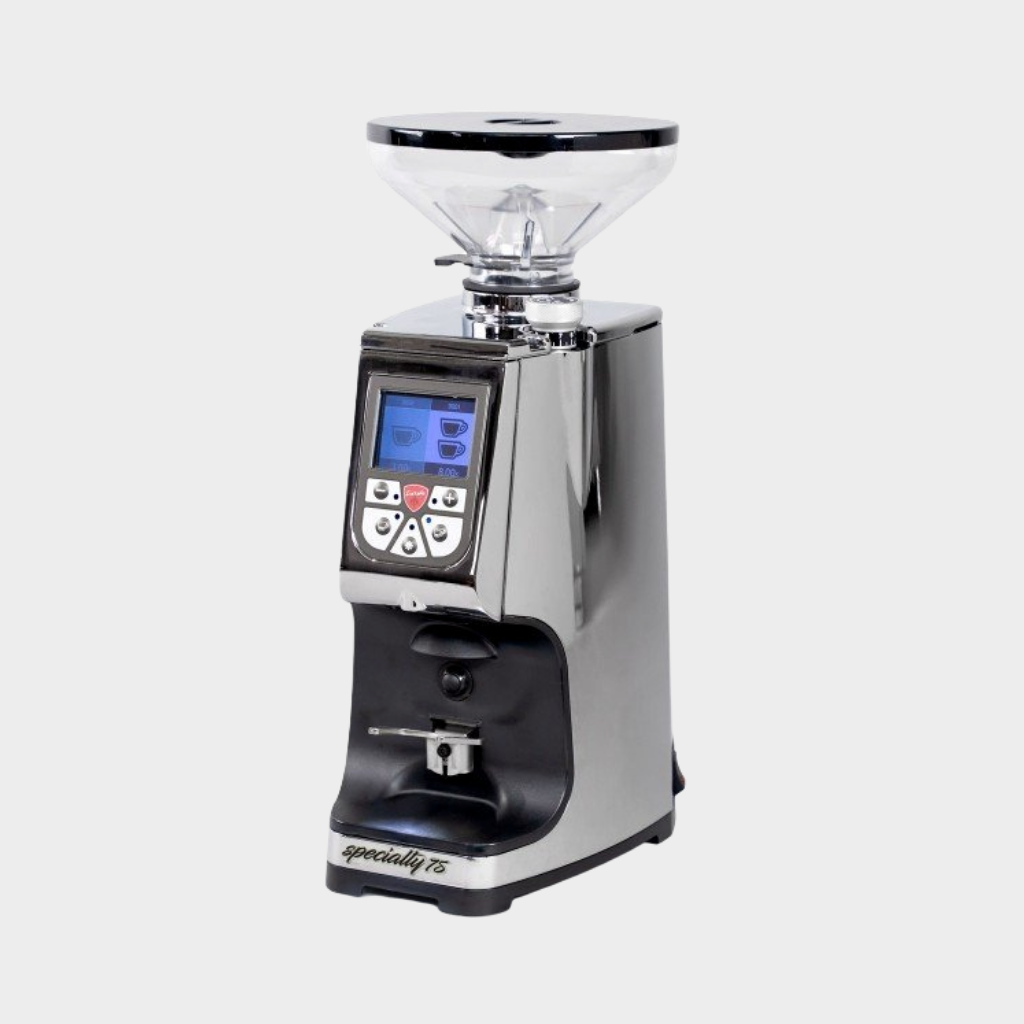 Eureka  Atom 75 Espresso Grinder 
The Eureka Atom 75 espresso grinder is well suited to far more than just espresso!
Featuring 75mm flat stainless steel burrs, a massively powerful motor, tons of insulation inside a heavy-duty aluminum casing to keep the noise down, and electronic dosing via a gorgeous color control screen, the 75 is perfect for home or commercial use. It's stepless adjustment will easily allow you to brew for any method. Built for espresso, the Atom 75 can go coarse as well for French press, drip, pour-over, etc. 
Eureka brand grinder's engineers conceive their burr sets to offer grinding abilities suitable for the preparation of both espresso and filter coffee brew methods.
It is hard to achieve this kind of versatility at this price point, but somehow, the Atom 75 and other Eureka grinders produce this exceptionally well! While incredibly versatile we suggest the Atom grinder be used for the following brewing methods:
Espresso
Moka
Drip
French Press
THE LOOK
The Atom offers an incredibly small corpus of a grinder with its abilities. The Atom's body style takes up less than nine square inches on your countertop and is just over 17 inches in height, making it suitable for kitchens no matter how small. Generally speaking, when espresso grinders reduce height they sacrifice hopper capacity. With a bean hopper capacity of over a half a pound or 300 grams, you'll keep the rest of that bag of coffee fresh!
75MM FLAT STEEL BURRS
Boasting large 75mm flat steel burrs, Atom espresso is well equipped with plenty of surface area to grind quickly and efficiently with a reduction in retention. The reduction of retention and the Atom 75 coffee grinder's engineered burrs create beautiful tasting espresso's carefully grinding 1.90 to 2.50 grams per second and 3.10 to 3.70 grams per second on a setting most commonly used for drip brewing methods.
ACE SYSTEM
The burrs large size isn't the only feature reducing retention, improving flavor, and providing incredibly fluffy grind. The ACE System by Eureka is an anti-clump and electrostatic system that prevents the development of clumps and eliminates electrostatic charge that's created while grinding coffee. Not only does the ACE system reduce static, retention, and clumps, but it is also a significant contributing factor in how clean the Atom 75espresso grinder is. Since the introduction of the ACE system, it is a virtually clean grinding experience!
ADJUSTING THE ATOM 75
Few grinders have the adjustment configuration that the Atom 75 has. The 75's near-infinite grind adjustments with its adjustment type, is incredibly easy to use and assists in easy dialing in for espresso and brew. The adjustment knob is located just to the right of the bean hopper. A minute burr adjustment counterclockwise for a coarser grind or clockwise for a finer grind is incredibly easy for anyone to do with the micro-metric infinitesimal worm gear knob.
Right out of the box, your Eureka Atom 75 will most likely be dialed in at a relatively coarse grind setting. You're looking for something that feels like something between table salt and flour. You'll want to dial in your grinder in manual mode, and on the Atom 75, it's easy! Press the center * button on the control panel once and then again when you're ready to grind.
ELECTRONIC DOSING
The Eureka Atom 75 is equipped with a full-color electronic dosing screen that is incredibly easy to use and program. Five "Barista Special" buttons allow for the home barista to: alter timed dosing (-/+), single-dose (1-cup), double-dose (2-Cup), and manual grinding mode. Once your grind setting is dialed in, adjusting your dose is easy. Press the single-dose or double-dose button on your Atom 75's control panel. Press the button again and get the desired dose - unlike many other grinders, you can use the -/+ button, and your dose is set! Generally speaking, adjusting the time by 0.50 seconds either reduces the output of ground coffee by two grams or increases it by two grams.
Specifications.
| | |
| --- | --- |
| Height     | 17.00 in |
| Width | 8.00 in |
| Depth | 9.00 in |
| Hopper Capacity | 300 g |
| Weight | 21 lbs. |
GRINDING
| | |
| --- | --- |
| Burr Size | 75 mm |
| Burr Material | Steel |
| Flat or Conical | Flat |
| Grinding Adjustment Type | Micro Worm Gear |
| Average Output | 4.50 - 5.50 g/s |
| Dosing | Single, Double, Manual |
| Dose Setting(s) | 2 |
| | |
| --- | --- |
| Motor Speed | 1400 RPM |
| Power | 800 W |
| Outlet Rating | 60Hz / 110V (Some Exceptions Apply) |
| Equipped with Fan | No |
| Start | Portafilter |
WARRANTY
| | |
| --- | --- |
| Warranty Period | 1 Year Parts & Labor |
 The learning curve for great espresso is largely in dialing the grinder, but Absolute Espresso techs are ready to streamline your setup. We will walk you through your grinder set up teaching you how to dial it in for This minimizes wasted coffee and time this is the fastest way to achieve the Absolute Espresso Recipe of 18-19 grams in, 1.3/4 to 2.5 oz. out or 30 to 38 grams out in 25-30 seconds, depending on coffee and taste preference.
Dial-in service is included at no charge to you when you purchase an espresso machine and a grinder! 
This dial-in service is included at no charge to you when you purchase an espresso machine and a grinder! 
Before finalizing your purchase, please contact us
Allow one of our professional commercial machine experts the opportunity to help guide you through your buying process and make sure you have selected the proper machine and options that best meets your needs.
Please Call Toll Free:
866-711-3456
or
973-687-5090
Enjoy free shipping on orders above $49 in the lower 48 states.
Additional shipping charges may apply commercial machine to residential address, and/or tail gate delivery required.
Please call (866)-711-3456 for any questions.
Competitive price matching is available for all our products.
Please complete this form when inquiring about best price for your item.