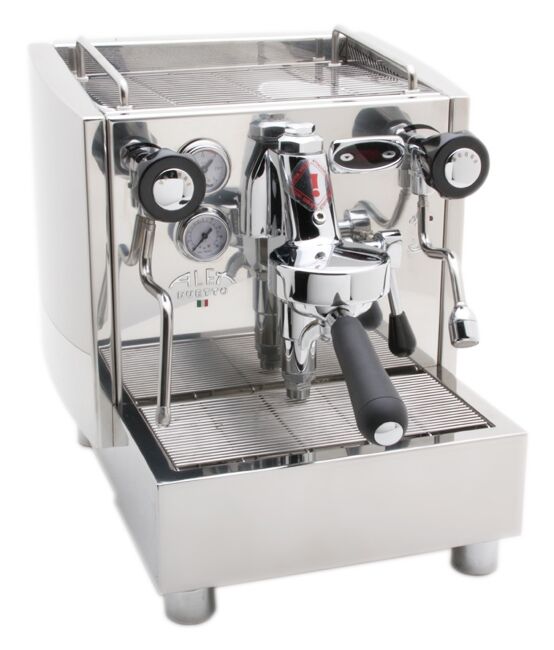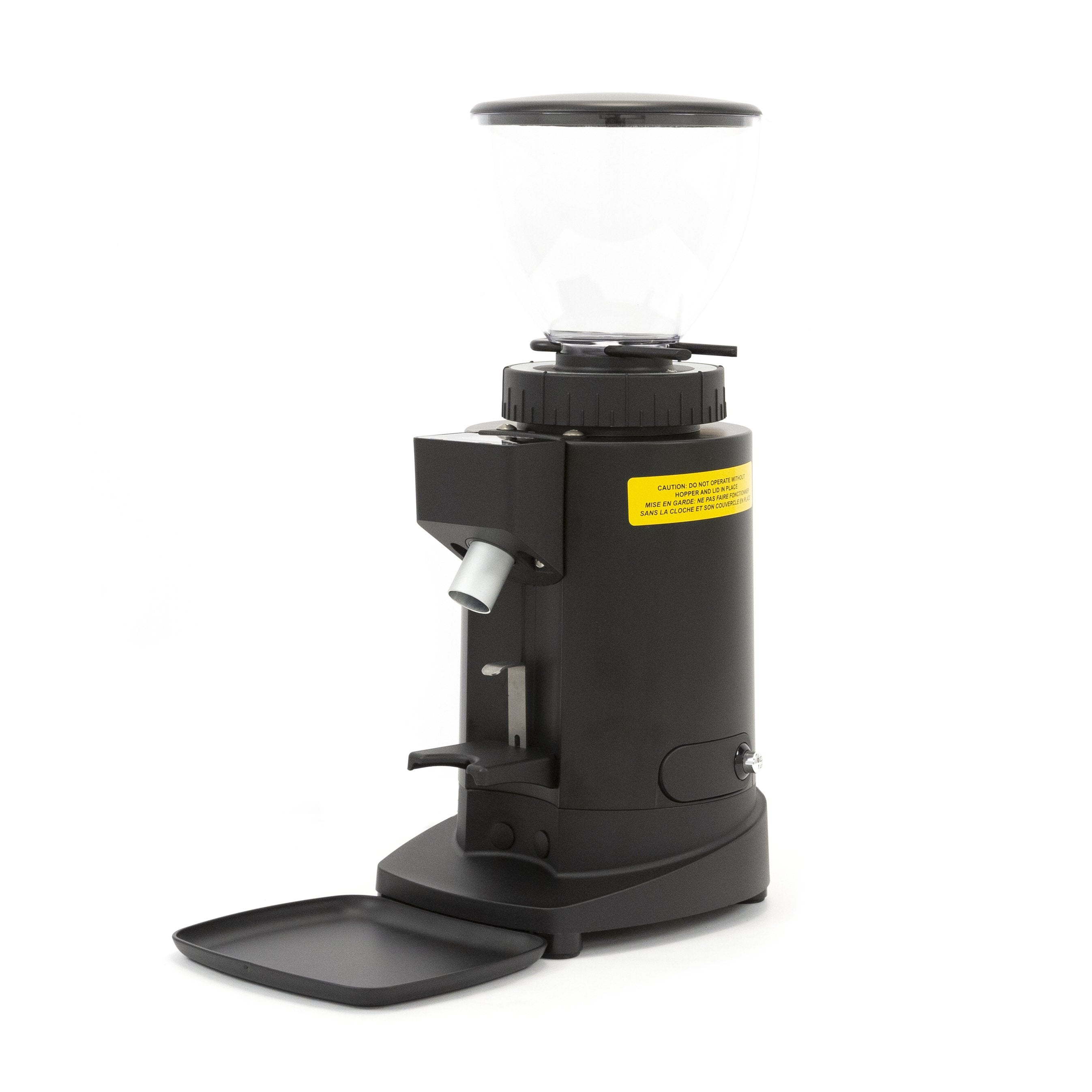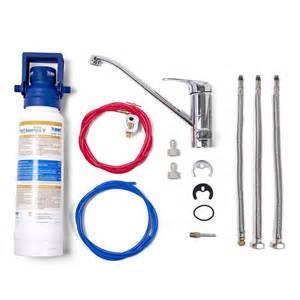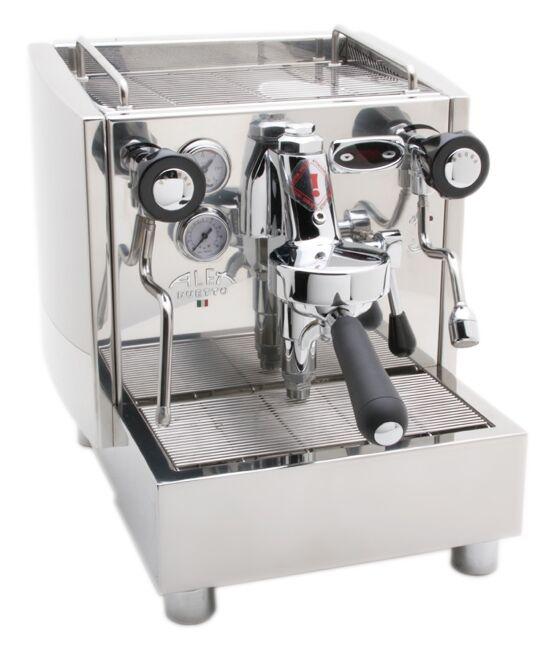 IZZO Alex Duetto IV Plus
One-year factory parts warranty on defective parts Plus 1 extra year
Ask about pur machine, grinder & water filter discount package.
Alex Duetto Plus The Izzo Alex Duetto IV Plus, features dual boilers with independent temperature adjustment by the PID controller with built in shot timer. With a rotary pump and an E61 brew group,
The Izzo Duetto espresso machine can be operated using either the portable water tank or connected plumbed to a water line.
OVERVIEW Izzo unwavering focus on quality from the stainless-steel frame, gorgeous industrial stainless-steel body, down to the bits that you won't see - like the stainless-steel mushroom and giclée.
The Alex Duetto not only stands out on the counter of your kitchen, but you'll be just as impressed as we are daily with the build quality for decades to come.
SIZE Plenty of room - nearly six inches of cup clearance even your favorite mug will fit under the group! Not only is the Alex Duetto an impeccably made dual-boiler home espresso machine, but it has an incredibly flexible feature set as well.
QUIET Alex Duetto 4 has updated the motor mounts to reduce vibration while activated. The pump and motor are where a majority of your machine's noise will stem from; in addition to the new motor mounts, an even quieter rotary pump has been installed. There is now also a solid-state relay (SSR) which is more reliable and quieter. The drip tray is equipped with two small magnets that reduce vibrations within the drip tray. PRE-
INFUSION What is Pre-infusion? Pre-Infusion is the act of introducing water to your puck of coffee inside your insert basket at a lower pressure, usually 1-4 bars, prior to full pressure. On an E61 group, automatic pre-infusion using residual pressure, either within your brew boiler, or your water source's line pressure. The benefit of pre-infusion is that it settles the coffee within your portafilter's insert basket reducing channeling and improves extraction.
FLEXIBLE FEATURES Switching water sources is made incredibly simple with the single toggle switch located behind the magnetic drip tray. Easily switch water sources from the nearly three-liter reservoir to direct-plumb.
The Alex Duetto also has the ability to easily switch between the most common configuration for the home kitchen, 15-amps, or 'full-power' mode with 20-amps. Quickly switch between the two with a couple of clicks of your built-in PID controller.
How do I choose between 15 or 20 amp on my home espresso machine? The main difference is how the espresso machine's power is distributed between each of the boilers. There are many benefits to each power mode, but the main thing to consider between the two is what your home set-up near your new home espresso machine is going to be…
Each boiler of the Alex Duetto is independently controlled and operated. If you're not using the service boiler, this is where your steam and hot water comes from, you can turn that boiler off while leaving your brew boiler on. This switch is located on the right side of the most recent model of the machine near the illuminated power switch.
CUSTOMIZATION With five distinct configurations available for the Izzo Alex Duetto IV Plus we at Absolute Espresso Plus want to offer "best in class" machines, ones that you'll have for many years to come! The ability to customize our curated selection of home espresso machines is imperative to making it your own. Like many of our espresso machines - joysticks can easily be added during bench testing at no additional charge.
You can also select between 3 unique accents in red, white, or wood if you choose to have knobs. When selecting your accessory kit you'll get the following set, in addition to the already included accessories:
• 1 Single and 1 Double Spout Portafilter with insert baskets
• 1 Matching Tamper • 1 Brew Lever Knob • 1 Steam Knob and 1 Hot Water Knob
• All original black knobs and portafilters included! • Free installation! We'll install your kit while we bench test!
• BUILD QUALITY The tried-and-true construction of the Alex Duetto has been brought to their latest model, the Alex Duetto IV Plus. T.E.A Coated insulated copper boilers ensure maximum heat retention, much greater than stainless steel boilers, as well as a considerable reduction in the price! With a copper boiler, you'll also have less susceptibility to chloride stress corrosions.
Izzo has reinforced the front panel to reduce flexing which further contributes to this substantial machine's commercial build quality for your home.
PID CONTROLLER Each boiler on the Alex Duetto IV+ is PID controlled to the degree in either Fahrenheit or Celsius which is easily changed right on the controller itself.
Also integrated within the PID is a shot timer.
EASY REPAIRS With almost all of our home espresso machines, they carry a two-year warranty This two-year warranty provides nearly everything that you'd need to fix flaws that may arise during this time period. After that time, however, you are not left out in the cold! Our service technicians are always available by phone for you.
Knowing that many of you will have to make some repairs yourself we have made the following adjustments to the Alex Duetto IV+ to make your life much easier while self-repairing.
• Heating elements and boilers anchored to prevent shifting; also rubber insulating boots cover key connections (similar to spark plug wires) for protection.
Specifications.
• Brew boiler: Copper and brass, .8L
Steam boiler: Copper and brass, 1.8L
Mushroom in group made of stainless steel
High grade stainless outer shell
Fame constructed of stainless steel.
Stainless steel adjustable feet
Extremely quiet rotary pump
Lever action, E61 commercial group with automatic pre-infusion
PID controller for the group boiler (with 1.0-degree Fahrenheit adjustment)
PID controller also controls the steam boiler temperature (and thus pressure)
Lever control to allow switching water source from direct plumb to water tank.
 Rubber insulating boots over heating element ends for safety.
PID Controls the temperature in the group boiler AND the steam boiler. (No Pressure stat)
Has a built in shot timer.
Has a built in 7-day programmable timer.
Easily changes the machines operational mode from 15 amps to 20 amps.
Temperature displays easily changed from Fahrenheit to Celsius.
Can program the offset settings for both boilers.
Default values for P, I, and D can be changed.
Either boiler can be turned off. (save energy and turn the steam boiler off if you only want espresso)
 Width 14. inches Depth 17. inches Height 16. inches Product Weight (lbs.) 82
Watts 800W Brew Boiler | 1200W Steam Boiler Volts 120V
• Warranty: Two-year parts and labor
Protect your warranty & investment.
Protect your factory warranty and machine from harmful hard water minerals that cause calcium build up, & damage to your boiler, heating elements, water passages, and moving parts. This all in 1 filter is the answer for most hard water conditions.
Help the taste of your coffee with a BMT Bestmax premium 5 stage filter with magnesium for improved coffee taste or the standard 4 stage protection filter. When selecting the premium line with magnesium, we recommend a water meter so you know when it's time to change your filter as magnesium will show as a solid on a test strip.
Dial in the setting 1, 2 or 3 on the BWT filter head to match your water hardness and brew system needs. to get the proper protection & longest life based on degree of water hardness. Just twist the all in one cartridge out of the self-closing valve in head and spin the new replacement one in when needed, no water to shut off or turn on before changing,
The BWT 0.5-micron cartridge can lie sideways, set on its base or hang from the wall bracket included.
Recommended sizes based on water hardness and usage.
See our compete BWT accessories discount packages.
Before finalizing your purchase, please contact us
Allow one of our professional commercial machine experts the opportunity to help guide you through your buying process and make sure you have selected the proper machine and options that best meets your needs.
Please Call Toll Free:
866-711-3456
or
973-687-5090
Enjoy free shipping on orders above $49 in the lower 48 states.
Additional shipping charges may apply commercial machine to residential address, and/or tail gate delivery required.
Please call (866)-711-3456 for any questions.
Competitive price matching is available for all our products.
Please complete this form when inquiring about best price for your item.