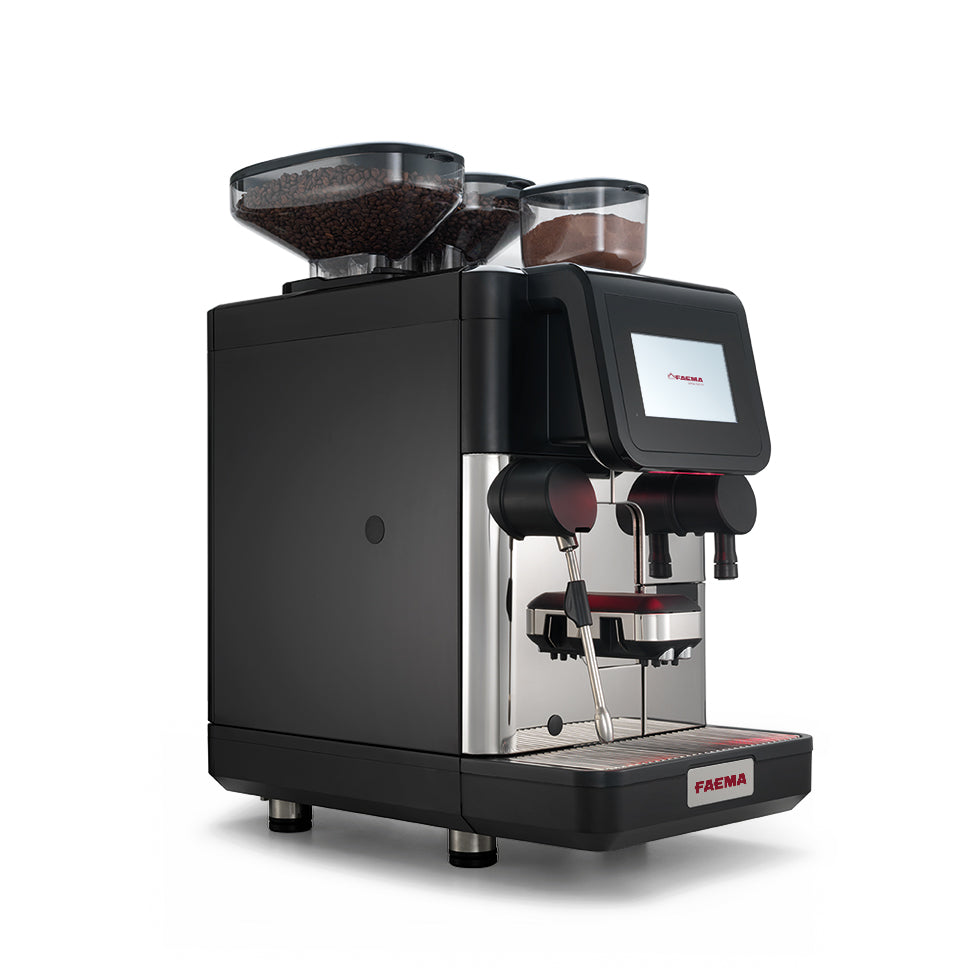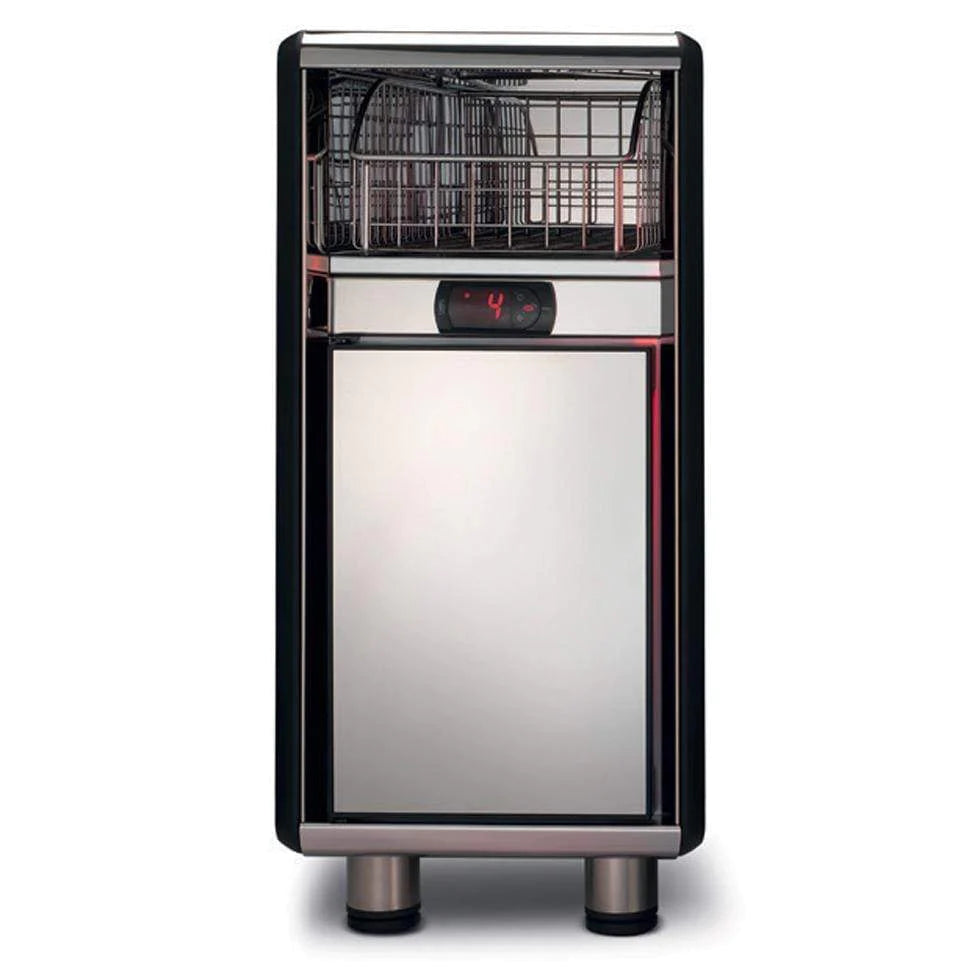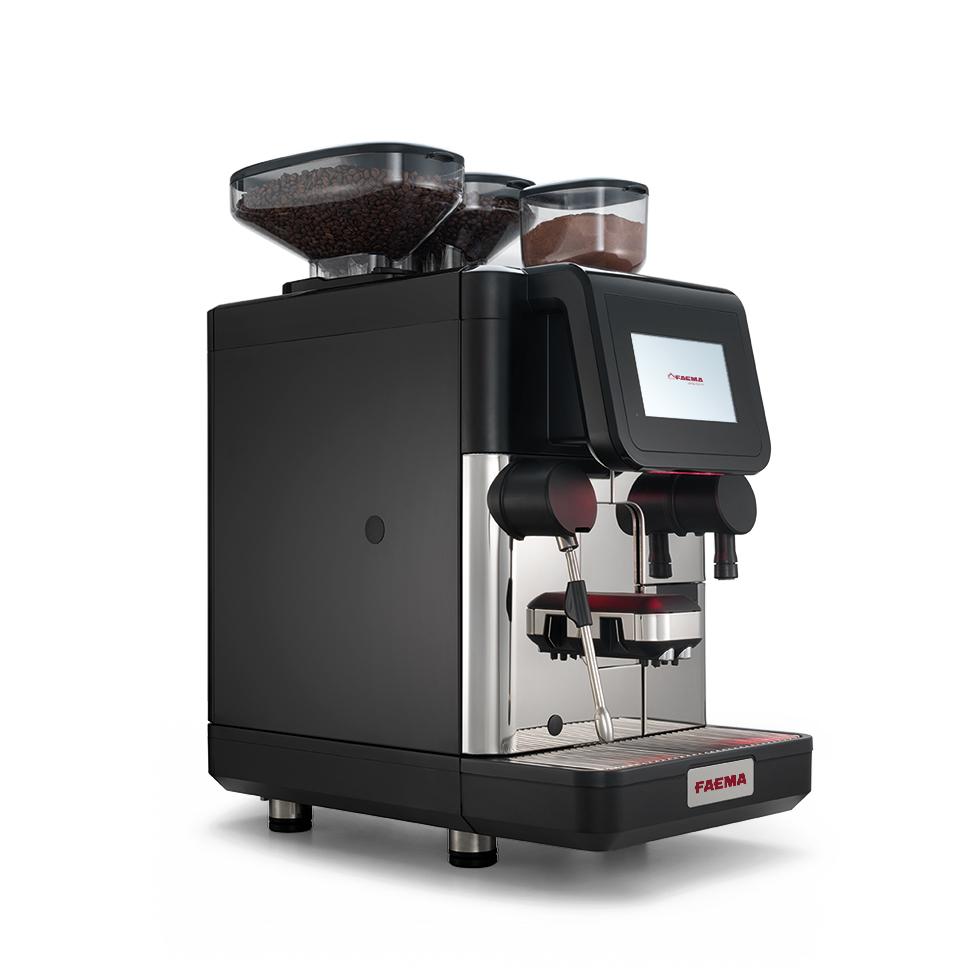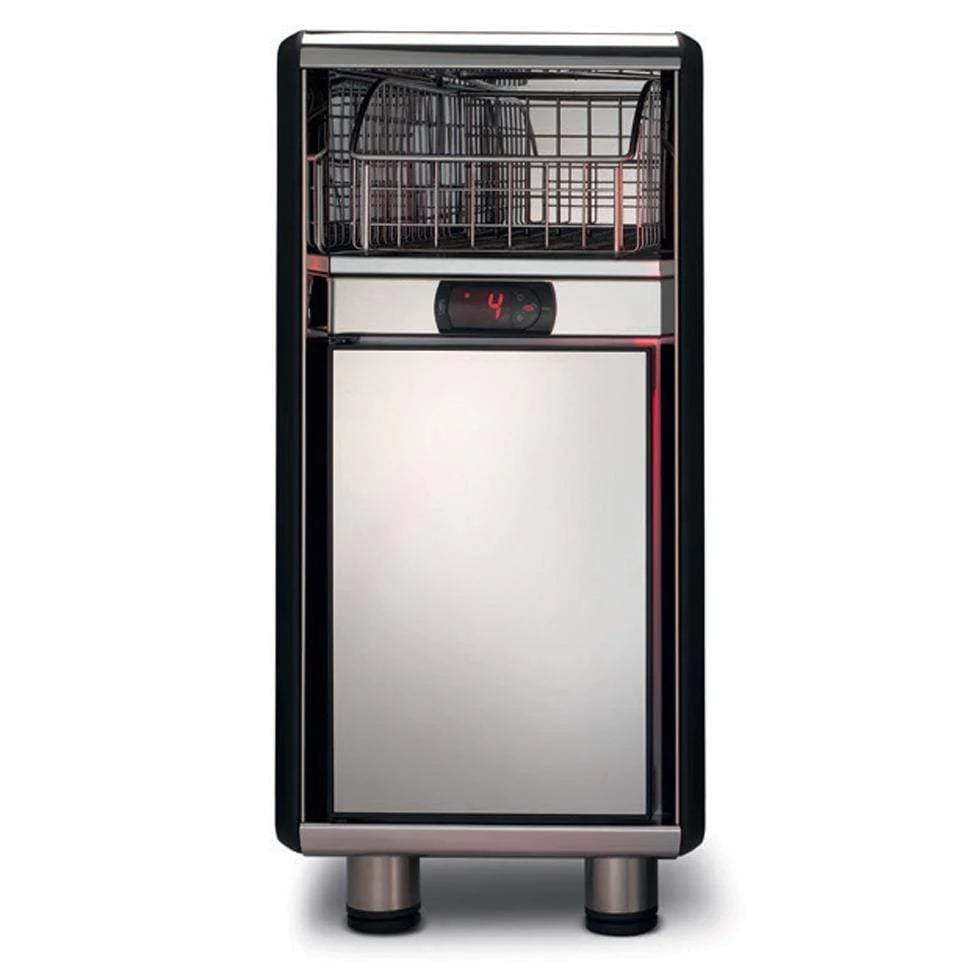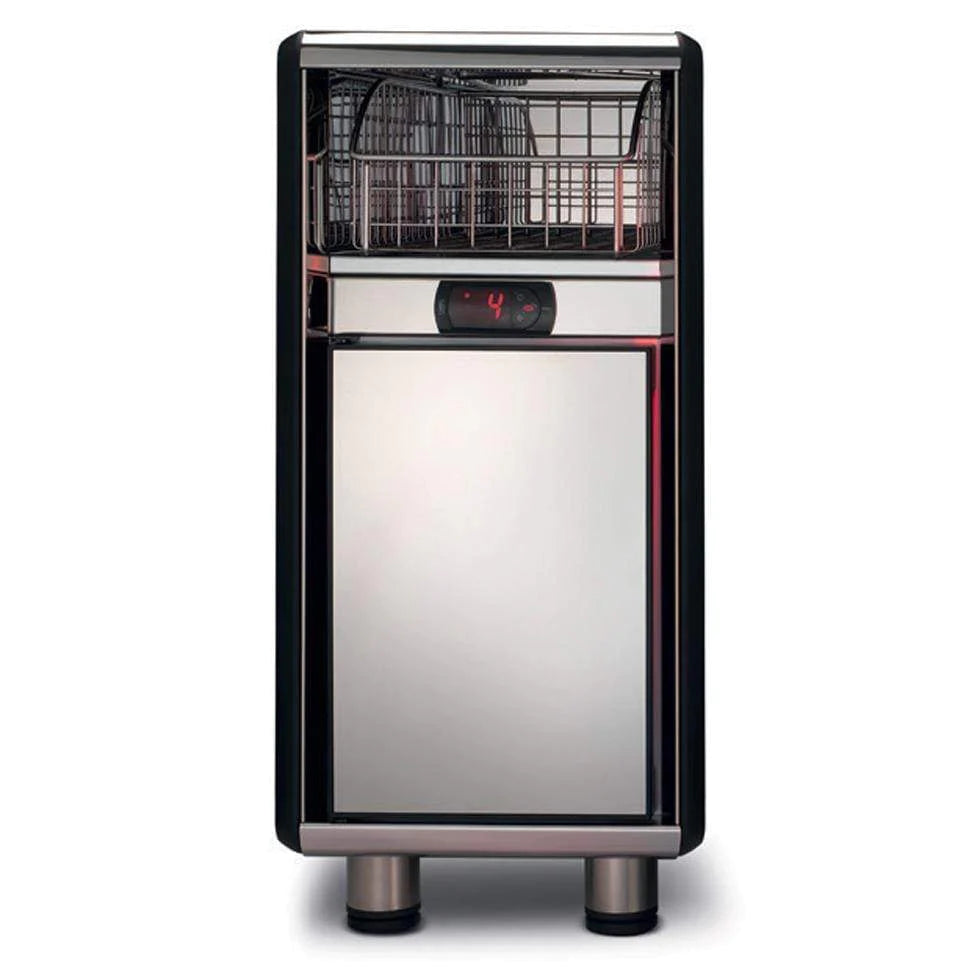 ---
Before finalizing your purchase, please contact us
Allow one of our professional commercial machine experts the opportunity to help guide you through your buying process and make sure you have selected the proper machine and options that best meets your needs.
Please Call Toll Free:
866-711-3456
or
973-687-5090
Enjoy free shipping on orders above $49 in the lower 48 states.
Additional shipping charges may apply commercial machine to residential address, and/or tail gate delivery required.
Please call (866)-711-3456 for any questions.
Competitive price matching is available for all our products.
Please complete this form when inquiring about best price for your item.
Faema 

X20 CP & X20 CS 1 Step
+ Hot Chocolate + Optional Refrigerators 
Absolute will coordinate the installation of your espresso machine with a trained, local representative. Includes, local installation to buyer made ready water & electric, drink set up, & demonstration. One-year parts & labor due to defective parts, 
The driving force behind the Faima's success is the value they place on tradition and innovation. From super automatic machines that can produce the perfect espresso with minimal input, to traditional machines where you can still customize each and every cup of coffee, the company ensures that each machine always produces the highest quality coffee in the cup.
Designed to work with a side refrigerator to produce a completed espresso-based drink the milk refrigerator holds a primary milk with a manual steam wand for steaming other secondary milks.  
Provide your customer with a wide selection of espresso-based specialty beverages to select from, Provide yourself with more sales at the push of a button. the complete drink selection is a touch away with the X20 CP or CS with the hot chocolate powder addition. 
The X20 CP & CS is a phenomenal espresso machine offering a unique and unforgettable taste experience. It is the result of combining the technological innovation of Faema machines and the espresso tradition. It enhances the Faema super-automatic range with a perfect solution for locations that produce around 200 cups a day.
It is a user-friendly, fully automatic espresso and cappuccino coffee machine that can offer a varied menu, thanks to its ability to use soluble cocoa and hot frothed milk.
Experience in High-Quality Coffee
The preheated, completely metal group head of the X20 helps achieve outstanding results with its consistent extraction, even for single-origin and specialty coffee.
Also, the built-in soluble hot chocolate system allows X20 to offer a wide and varied drinks menu to satisfy every palate while guaranteeing the highest quality.
Outstanding Performance in an Optimal Space
X20 can be configured in Power Station mode for a simultaneous supply of milk-based beverages from two adjacent machines, using only one fridge and thus optimizing the workspace. X20 Power Station allows you to maximize performance for optimal management of warm milk-based beverages.
Touchscreen Display
The X20's 7-inch touchscreen display is simple and intuitive to use. It allows you to see different options on the drink's menu (pre-selection and Group Mode) and to customize images displayed by the machine (such as screen savers and during beverage dispensing). You can also assist the customer when choosing their drink with video clips and animations.
Smart Boiler
X20 is fitted with a heat exchanger boiler that is equipped with the patented Smart Boiler technology. This increases the performance levels of hot water and steam while optimizing the water level in the boiler. Thermal balance is achieved so you can consistently have a perfect cup even under conditions of maximum use.
The X20 is the perfect tool for a busy establishment. Thanks to the innovative technical solutions that have always made Faema machines cutting-edge products, making coffee-based and milk-based beverages will be simple and intuitive every day, forever.
 Features of the X20:
Dual Titanium Grinders
The Titanium burrs, which are made of K110 steel with a PVD coating, are very robust and designed to last for a long time.Automatic Frothing
Milk PS system automatically draws and froths fresh milk on demand at the touch of a button.
Hoppers and Soluble
Dual 1/1.2 kg bean hopper and built-in soluble chocolate system. The X20 guarantees optimal soluble delivery, offering just the "heart" of chocolate. 
Integrated Bidirectional Wi-Fi System
You can remotely communicate with the X20 via the integrated bidirectional Wi-Fi system, which makes updating software, setting recipes, and customizing background images simple and intuitive.
Automatic Washing System (AWS)
Daily washing cycles are automatically managed by the AWS system. This innovative system provides thorough, efficient cleaning, ensuring maximum hygiene with just one touch.
capacitive 7-inch TFT Touchscreen Panel
Made of tempered glass with RGB lights on the supply area. Using a USB stick, you can add customized images of drinks, video clips, and screen savers.
Provide your customers with a wide selection of espresso-based specialty beverages to select from and provide yourself with more sales and your staff the tool to sell them easy, fast and consistent.
CHARACTERISTICS
| | |
| --- | --- |
| Dose Selection Keys | 24 |
| Hot Water Selections | 2 |
| Hot Water Wand | 1 |
| Steam Wand | 1 |
| Boilers and Capacity (liters) | 1 x 2.6 |
| Heat Exchanger Capacity (liters) | 0.25 |
| Grinder-Dosers | 2 |
| Coffee Hoppers and Capacity (kg) | 2 x 1.2 |
| MilkPS | Yes |
| Smart Boiler | Yes |
| USB | Yes |
| Technical Information | |
| Width x Depth x Height (in) | 14.6 x 24.4 x 30 |
| Weight (lbs) | 157 |
| Power at 220~ 60Hz (W) | 3400 |
| Performance | |
| Coffee Output (cups/day) | 200 |
Options Available 

Motorized delivery spout 
 Milk missing kit 
 Ground disposal kit 
 CSI/CCI computer interface kit (series connection) 
Installation Package includes up to 3 hours labor & 1 Hr. travel of certified technician service. 
Requirements:
Plumbing, drain, and electrical needs to be in place and complete per the manufacturer's installation specs prior to installation.
Water filtration is required and not included in the installation package.
Water Requirements - 3/8" dedicated cold-water line with shut off valve and compression fitting - water hardness must be between 3-5 grains per gallon or 50-85 ppm - water softener and/or filter must be installed if it exceeds the limits - Minimum incoming water flow rate of 35 GPH and the maximum line pressure of 70 PSI / 5 BAR Drain Requirements -Open gravity drain of minimum 1.25 inches within 4 feet of the machine. Extended length is posable at extra hose cost. 
The installation package does not include general construction services (including but not limited to electrical wiring, water and drain plumbing, drilling countertops, the installation of other equipment, etc.). Additional travel costs may be required for locations outside of 50 miles or 1 hr. travel time.
Water Filter Protection a Must
Protect your factory warranty and machine from harmful hard water minerals that cause calcium build up, & damage to your boiler, heating elements, water passages, and moving parts.
This all in 1 filter is the answer for most hard water conditions. 
Help the taste of your coffee with a BMT Bestmax standard or premium with magnesium 4 stage filter or our standard system. When selecting the premium line with magnesium we recommend a water meter so you know when its time to change your filter as magnesium will show as a solid on a test strip.
Dial in the setting for your water hardness and brew system needs. based on degree of water hardness
This all-in-one filter system is the answer to most espresso machine water condition problems.
Just twist all in one cartridge out of the self-closing valve in head and spin the new replacement one in when needed, no water to shut off or turn on before changing,
BMT valve in head, 4-stage water filter system with filtration to 0.5 micron. Cartridge can lie sideways, set on its base or hang from the wall bracket included, recommended sizes based on water hardness and usage recommended.
See our compete BWT accessories package discount package.