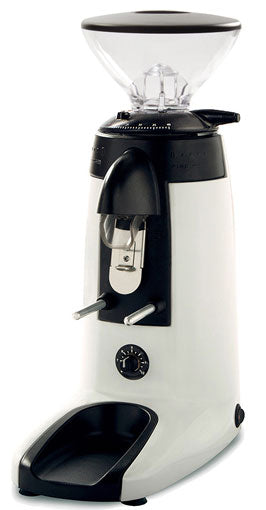 La Spaziale S1 Mini Vavaldi
---
Share
---
La Spaziale SI Mini Vivaldi 
 15 amp only needs 20-amp conversion adaptor. 
One-year parts & Bench labor due to defective parts this is considered a noncommercial machine by LaSpaziale
We offer a variety of makes & model grinders at great prices just ask a sales rep for more information

 
Water Reservoir:

A built in water reservoir, holds 3 liters of water and allows for a good deal of espresso experimentation before needing to refill. No need to drill holes in your kitchen counter
Single Boiler:

The single boiler system comes with new software technology that allows the machine to achieve automatic timer start up providing the temperature stability and energy efficiency 
Barista Lights:

Barista lights turn on when brewing is engaged, lighting up the drip tray and allowing you to see the beautiful colors of your espresso as it's brewing
Temperature Adjustment:

Temperature is adjustable using built in soft ware 
Dimensions:
The Linea Mini is only 14 inches wide taking up less horizontal counter space, fitting into your kitchen and looking amazing while doing it
Included Accessories:
1 Group 




53 mm portafilters




AV \ Auto-Volumetric




Group boiler (0.45 liter) 




Steam boiler Stainless Steel (1.2 liter)




1 Stainless steel steam arms 




1 Stainless steel hot water spigot




Reservoir (2.4 liter) 




Vibratory Pump




15 Amp \ 110 Volts




Black or Red
Water Filter System
Protect your machine with this 4-stage filter system. from harmful hard water minerals that cause calcium build up, & damage to your boiler, heating elements, water passages, and moving parts. removes particles & chlorine
Help the taste of your coffee with a BMT bestmax premium with magnesium it sweetens your water for improved coffee taste
Dial in the setting for your water hardness and brew system needs. based on degree of water hardness
This all in one filter system is the answer to most espresso machine water Condition problems.
Just twist the all in one cartridge out of the self closing valve in head and spin the new replacement one in when needed, no water  to shut off or turn on before changing, 
BMT valve in head, 4-stage water filter system with filtration to 0.5 micron. Cartridge can lie sideways, set on its base or hang from the wall bracket included, Sizes recommended S or V 
Before finalizing your purchase, please call toll free 866 711 3456 or 973-687 5090 to allow us the opportunity to make sure you have selected the machine and options that best meet your needs and budget
Before finalizing your purchase, please contact us
Allow one of our professional commercial machine experts the opportunity to help guide you through your buying process and make sure you have selected the proper machine and options that best meets your needs.
Please Call Toll Free:
866-711-3456
or
973-687-5090
Enjoy free shipping on orders above $49 in the lower 48 states.
Additional shipping charges may apply commercial machine to residential address, and/or tail gate delivery required.
Please call (866)-711-3456 for any questions.
Competitive price matching is available for all our products.
Please complete this form when inquiring about best price for your item.