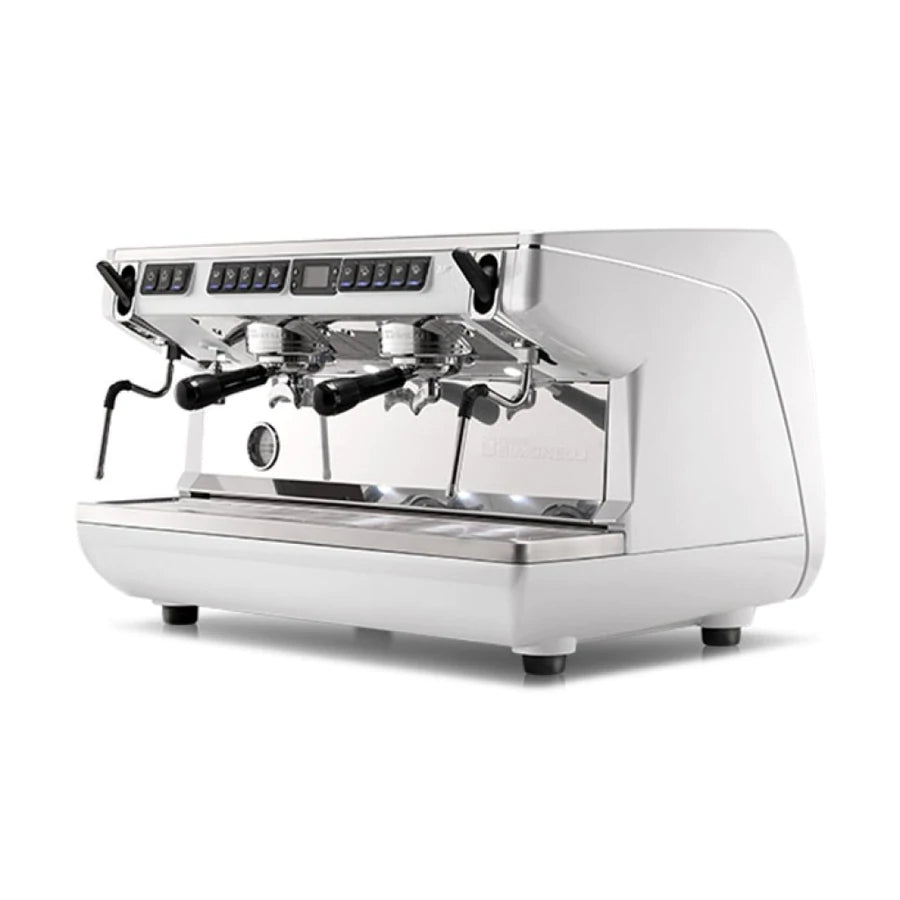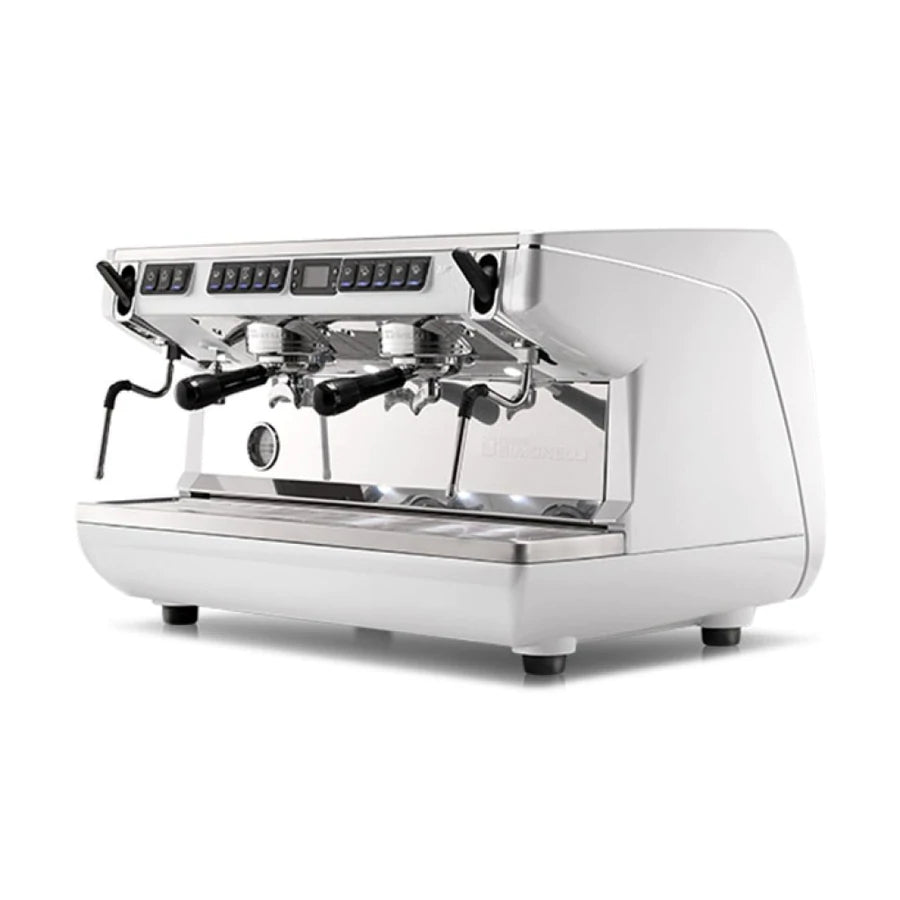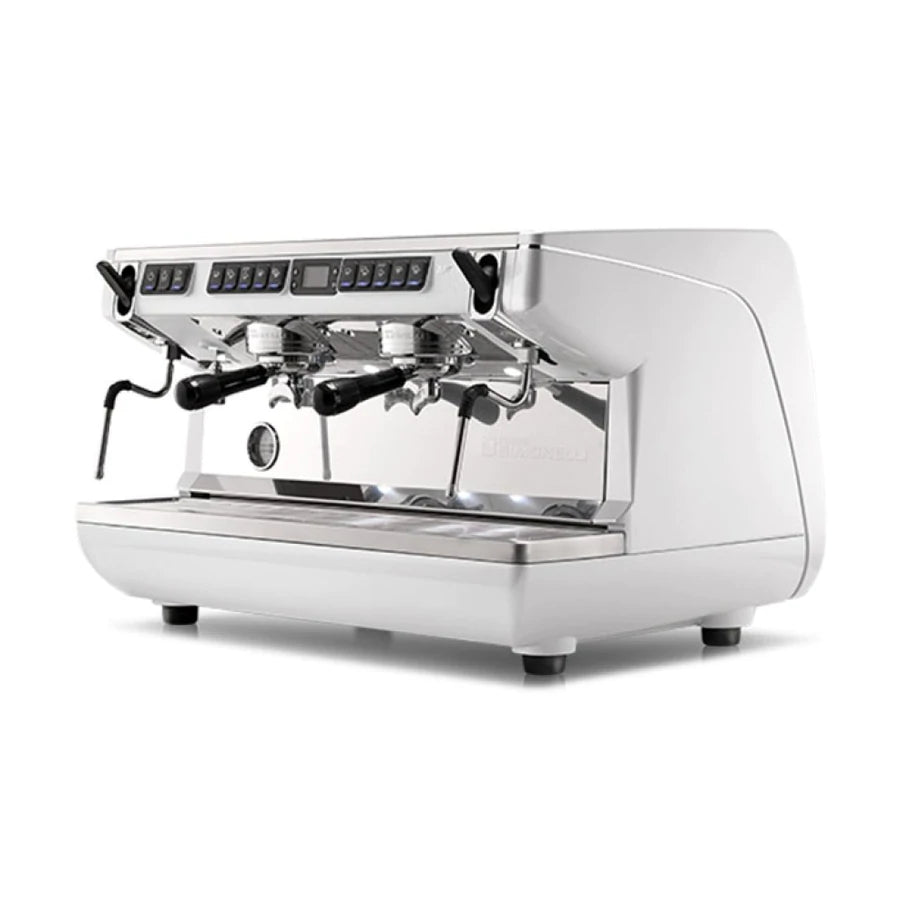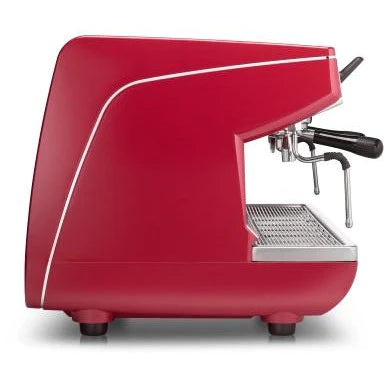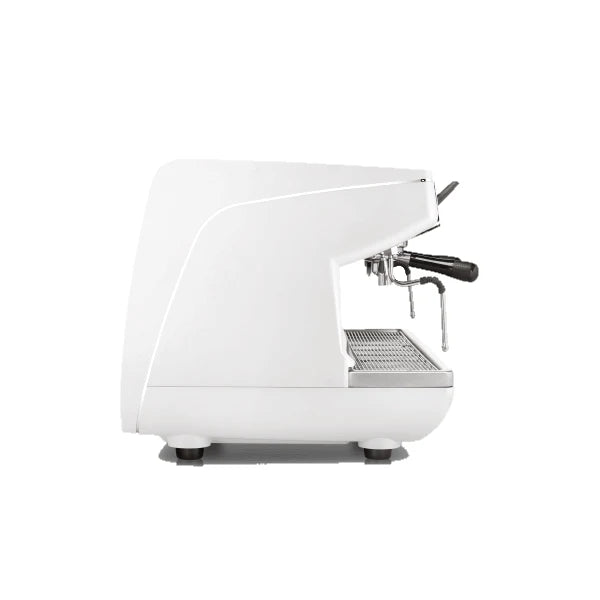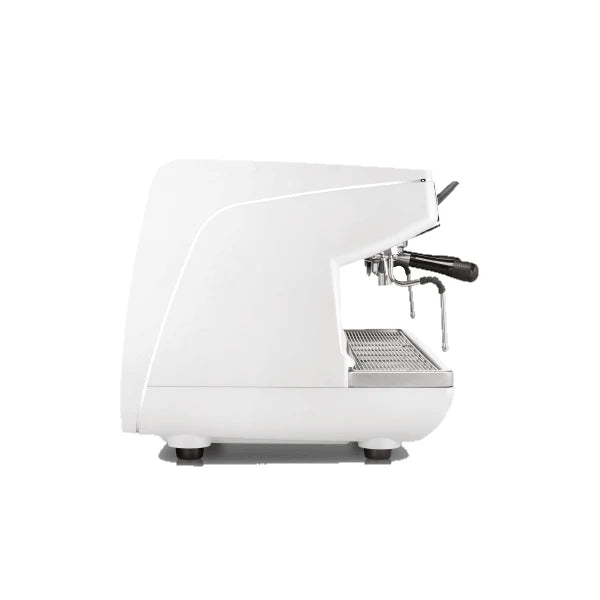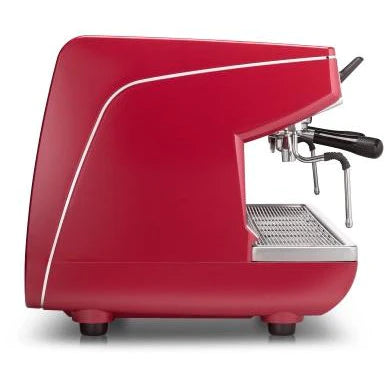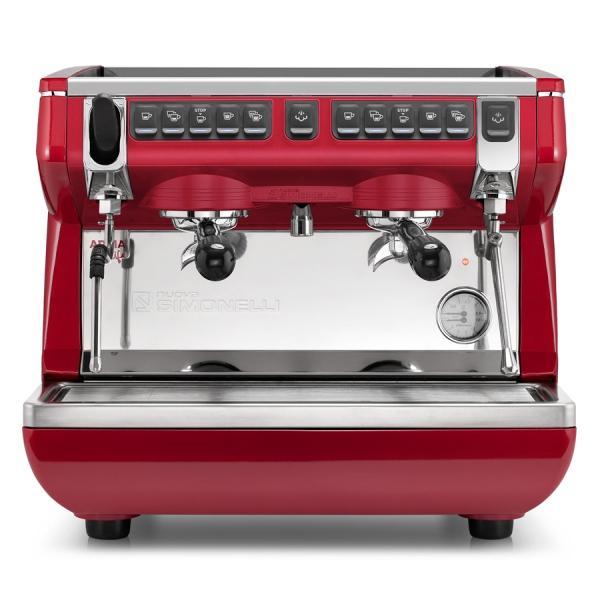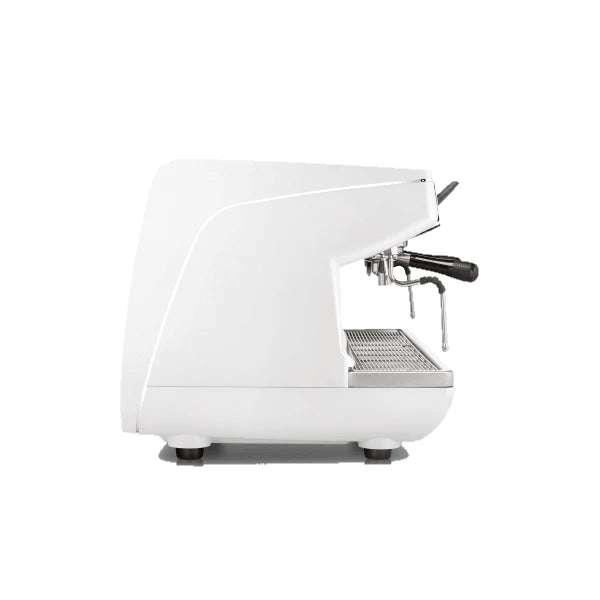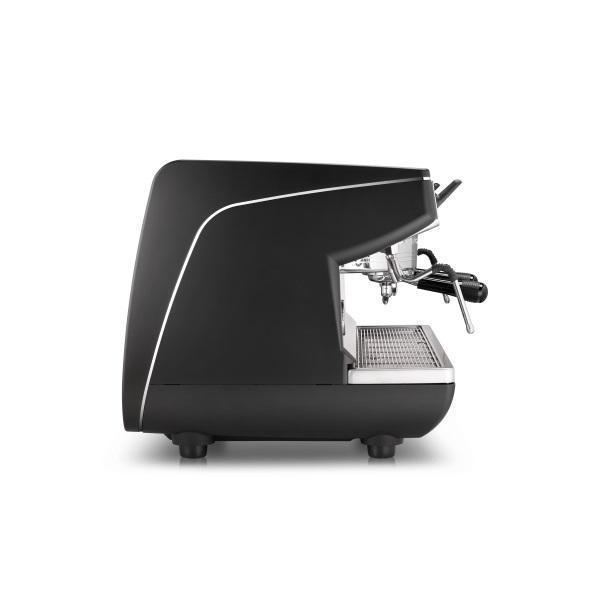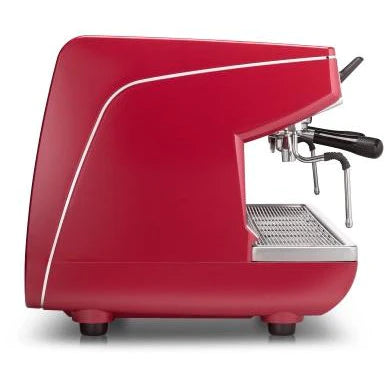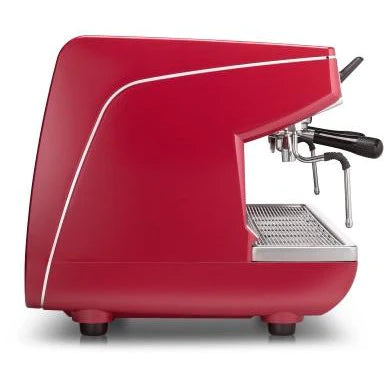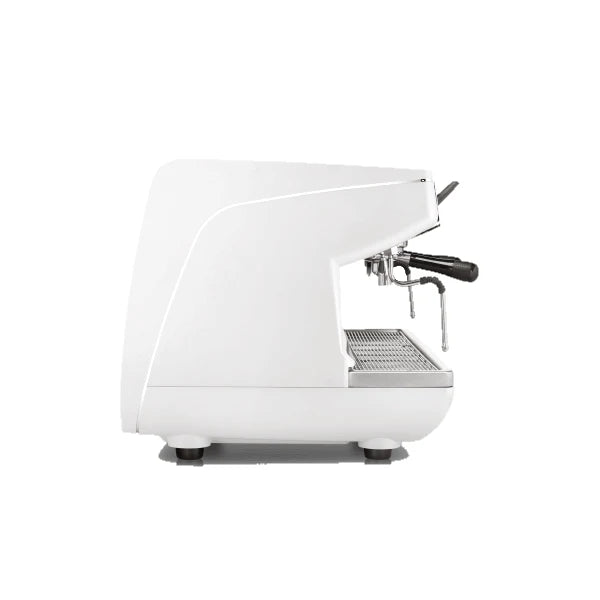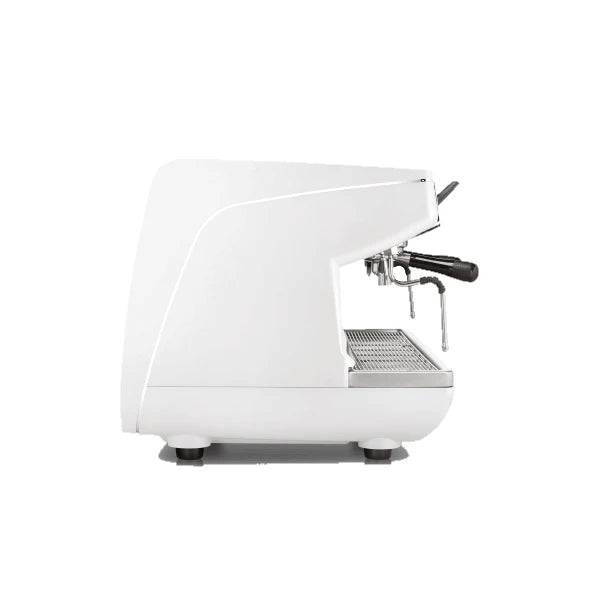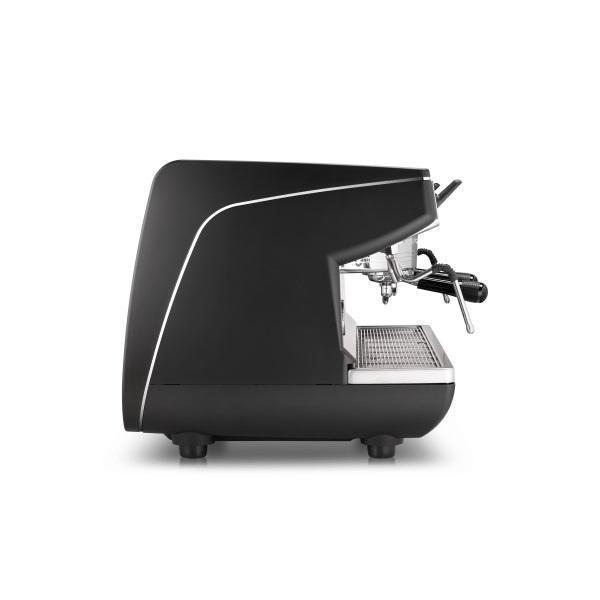 Nuova Simonelli 1, 2 & 3 Group Appia Life Auto Steam
---
Share
---
Appia Life 1-2 & 3 Group Auto Steam
Includes Free shipping & installation of your espresso machine with a trained, local representative. Includes, local installation to buyer made ready water, electric, & carpentry, drink set up, & demonstration. 2-year parts & 1 year labor due to defective parts.
Difference Between Nuova Simonelli Types of steam wands: Gooseneck vs Auto steam
Temperature Controlled Gooseneck Wand: A useful device that replaces one of your manual steam handles with a button. Once pressed the steam wand reads the temperature of the milk, the barista then textures the milk by moving the pitcher, when the milk reaches the desired (set) temperature the steam automatically turns off, leading to a more consistent drink and less brunt milk.
Auto-Steam Wand: Like the Gooseneck Wand, this modification replaces the manual steam handles with a button. However, Auto-steam requires no input from the barista to texture the milk. The barista can simply place the wand in the pitcher of milk and the Auto-Steam Wand will do the rest.
Features of the Appia Life Volumetric

:

Volumetric Dosing - allows the barista to program the dosage.

.Push Pull Steam - an ergonomic and more user-friendly upgrade to the turning steam wands.

Soft Infusion System - reduces the need for proper tamping, leading to a more consistent espresso and eliminating human error.

Automated Cleanings - the barista can use the digital display to select the desired group to be cleaned.

Reverse Mirror - backplate acts like a mirror allowing the barista to monitor every aspect of the brewing process.

Bar Pump Gauge - makes it easier to check pressure profiles.

Water Level Indicator – monitor boiler water levels easily

Nuova Simonelli Appia Life is ideal for those wanting excellent performance and reliability,

lower profile, improved features, and easier serviceability. 

Appia Life delivers a 13% energy savings, and a 20% less environmental impact.

BSuitable for: restaurants, hotels, low volume coffee shops,

 Portafilters are solid chrome-plated brass with an ergonomic molded handle & rubber grip for minimizing stress on Barista's wrist

Automated Back flushing for fast & easy group cleaning

Pressure Gauges display pump & steam pressure, making it easy to check pressure profiles and monitor machine performance
Features & Functionality of the Appia Volumetric Heat Exchanger:
The temperature will stay consistent through the boiler to brew group giving you that ideal shot every time.
Soft Infusion System: Guarantees soft and creamy espresso shots every time. Raised Group Heads: Tall enough to put your 21oz. cup right underneath the group.
Specifications: 1 Group 
Length 16" Machine Height 22" Machine Depth 21"
Boiler Size 5 lt
Volts 110V Watts: 1500 Amp Draw 13 Power Input Nema 5-15
Water Connection Required Yes Drain Required Yes Specifications:
Specifications: 2 Group 
Length 31" Height 21"Depth 22"
Boiler Size 11 lt
Volts 220V Watts: 3400 Amp Draw 17
Power Input Nema 6-20
Water Connection Required Yes
Drain Required Yes
Specifications: 3 Group 
Length 40" Machine Height 21" Machine Depth 22"
Boiler Size 15 lt
Volts 220V Watts: 5000 Amp Draw 23
Power Input Nema L6-30T
Water Connection Required Yes
Drain Required Yes
Protect your warranty & investment.
Protect your factory warranty and machine from harmful hard water minerals that cause calcium build up, & damage to your boiler, heating elements, water passages, and moving parts. This all in 1 filter is the answer for most hard water conditions.
Help the taste of your coffee with a BMT Bestmax premium 5 stage filter with magnesium for improved coffee taste or the standard 4 stage protection filter. When selecting the premium line with magnesium, we recommend a water meter so you know when it's time to change your filter as magnesium will show as a solid on a test strip.
Dial in the setting 1, 2 or 3 on the BWT filter head to match your water hardness and brew system needs. to get the proper protection & longest life based on degree of water hardness. Just twist the all in one cartridge out of the self-closing valve in head and spin the new replacement one in when needed, no water to shut off or turn on before changing,
The BWT 0.5-micron cartridge can lie sideways, set on its base or hang from the wall bracket included,
Recommended sizes based on water hardness and usage.
See our compete BWT accessories discount packages.
Before finalizing your purchase, please contact us
Allow one of our professional commercial machine experts the opportunity to help guide you through your buying process and make sure you have selected the proper machine and options that best meets your needs.
Please Call Toll Free:
866-711-3456
or
973-687-5090
Enjoy free shipping on orders above $49 in the lower 48 states.
Additional shipping charges may apply commercial machine to residential address, and/or tail gate delivery required.
Please call (866)-711-3456 for any questions.
Competitive price matching is available for all our products.
Please complete this form when inquiring about best price for your item.