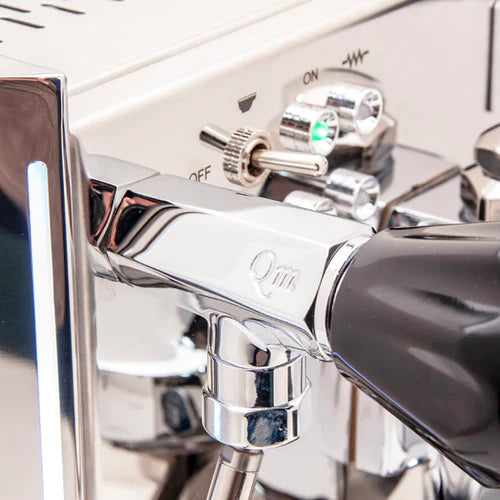 Quick Mill Vetrano 2B Dual Boiler PID
---
Share
---
Quick Mill Vetrano 2B Dual Boiler PID
Vatrano 2B Dual Boiler & Rotary Pump
Includs: Free shipping, Two-year factory parts warranty on defective parts
WHO'S THE VETRANO 2B FOR? The Quick Mill Vetrano 2B Evo is well suited for the home espresso machine user who is a traditionalist who loves the features of a modern home machine.
Following the latest trends in espresso machines the Vetrano 2B Evo now has large stainless-steel boilers adding even more longevity to your investment.
You'd be hard pressed to find a machine that you'll want to upgrade to with the Vetrano 2B. With its flexibility in features between the ability to use the in-machine water tank or directly plumb and drain due to its Rotary Pump.
, Your Quick Mill Vetrano 2B Evo never holds you back from the best drinks.
DUAL BOILERS In addition to your PID, dual stainless-steel boilers make temperature control between your coffee and steam nearly perfect.
No need for cooling flushes or compromising espresso quality.
Steam milk while you brew your espresso for ultimate efficiency and while you entertain allow the Vetrano 2B to ask you when you're making your next drink,
stop waiting for your heat exchanger or single boiler to recover. 1
5 AMPS VS. 20 AMP The Vetrano 2B can be run in 15 or 20 amps. During your selection process please select one of the two options, we will set your machine to whichever is your choice during the bench testing process. If you're unsure of which to select, please call us
HOW IT LOOKS The Vetrano 2B boasts some of Quick Mill's most beautiful components. The deep blue dual monometer provides both a clean and exceptional look to the machine but gives you all of the information that you need about the pressure of each of your boilers.
Just north of the dual monometer are the LED indicator lights next to your power switches for each boiler. The green indicator lights when the machine powers on is accompanied by two red heating indicator lights that let you know when the heating element for your brew or steam boiler has been activated.
As we work our way around the machine the latest PID from Quick Mill is packed full of features and looks great with its brushed aluminum faceplate and LED screen. Just like the monometer, the latest PID is just as functional as it is beautiful.
WHAT COMES WITH IT? • 2 Hole Steam Tip • 4 Hole Steam Tip • Single Spout Portafilter • Double Spout Portafilter • Drain Kit • Plumb Kit
CUSTOMIZATION At Absolute Espresso Plus, we want to offer "best in class" machines, ones that you'll have for many years to come! The ability to customize our curated selection of home espresso machines is imperative to make it your own. With the accessory kit, you get the following…
• All original knobs and portafilters included with the machine are also included.
• 1 Single and 1 Double Spout Portafilter with insert baskets
1 Matching Tamper 1 Brew Lever Knob in the color of your choice 1 Steam Knob and 1 Hot Water Knob in the color of your choice
Water Filter a Must
Protect your factory warranty and machine from harmful hard water minerals that cause calcium build up, & damage to your boiler, heating elements, water passages, and moving parts.
Help the taste of your coffee with a BWT premium with magnesium 4 stage filter or our standard Bestmax system. Dial in the setting for your water hardness and brew system needs. based on degree of water hardness
This all in one filter system is the answer to most espresso machine water condition problems. Just twist the all in one cartridge out of the self-closing valve in head and spin the new replacement one in when needed, no water to shut off or turn on before changing,
BMT valve in head, 4-stage water filter system with filtration to 0.5 micron. Cartridge can lie sideways, set on its base or hang from the wall bracket included, recommended sizes based on water hardness and usage M or L recommended.
see our compete BWT accessories package discount package. 
Before finalizing your purchase, please contact us
Allow one of our professional commercial machine experts the opportunity to help guide you through your buying process and make sure you have selected the proper machine and options that best meets your needs.
Please Call Toll Free:
866-711-3456
or
973-687-5090
Enjoy free shipping on orders above $49 in the lower 48 states.
Additional shipping charges may apply commercial machine to residential address, and/or tail gate delivery required.
Please call (866)-711-3456 for any questions.
Competitive price matching is available for all our products.
Please complete this form when inquiring about best price for your item.