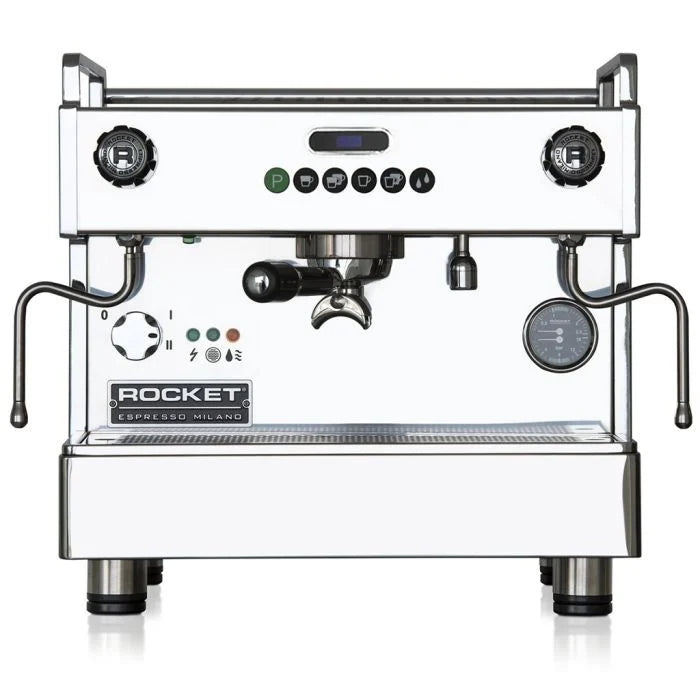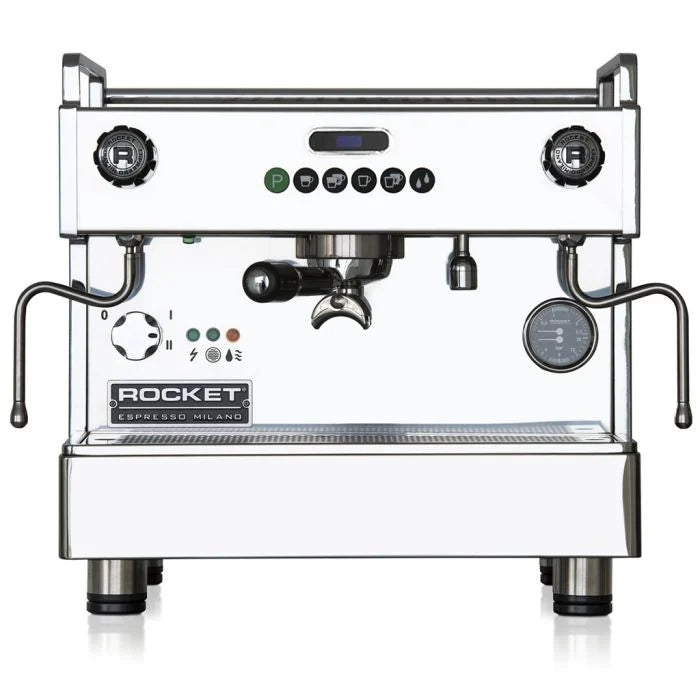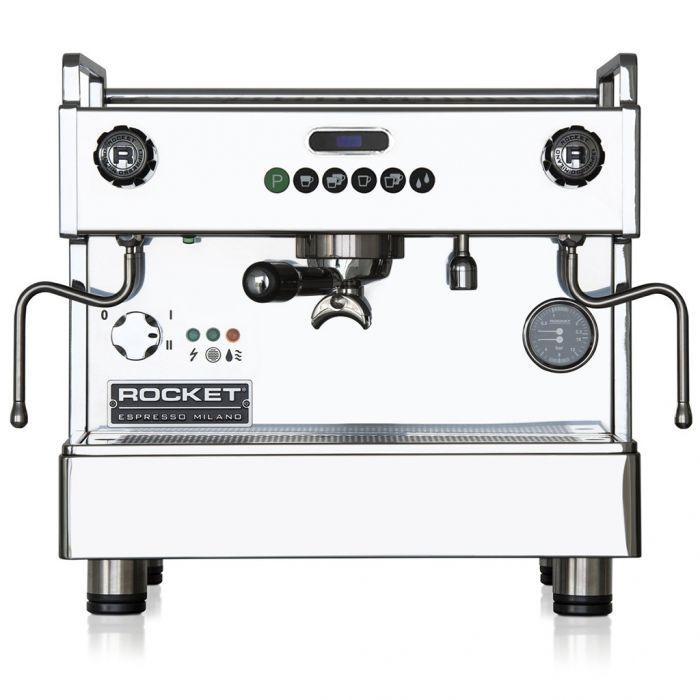 Rocket Boxer 1 Group Timer Commercial
---
Before finalizing your purchase, please contact us
Allow one of our professional commercial machine experts the opportunity to help guide you through your buying process and make sure you have selected the proper machine and options that best meets your needs.
Please Call Toll Free:
866-711-3456
or
973-687-5090
Enjoy free shipping on orders above $49 in the lower 48 states.
Additional shipping charges may apply commercial machine to residential address, and/or tail gate delivery required.
Please call (866)-711-3456 for any questions.
Competitive price matching is available for all our products.
Please complete this form when inquiring about best price for your item.
Rocket   Boxer 1 Group Timer Commercial
 Full factory 1-year parts (90-day labor) 
Overview
Quality coffee and breathtaking design don't have to cost an arm and a leg with the Rocket Espresso Boxer Timer. Built on the foundations of vintage Italian espresso machines, the Boxer Timer updates this heritage design with a modern featureset and a customer-friendly design that stands out on any barista bar. Packed with labor-saving features like volumetric controls, shot timers, insulated steam wands, and automatic backflush programming; the Boxer Timer lightens the load on your barista's workflow and makes maintenance a breeze. Even better, its all-chrome case and compact size make it a fits-anywhere machine for any style of shop or cafe
Features
Shot Timers: Help dial-in your shots by time and volume for higher consistency.

Automatic Shot Programming: Flow rate sensors ensure the same amount of water is pulled for each shot.

Low Profile: The Boxer's short height makes it easy for baristas to interact with their customers.
Cold Water Mixing: A hot water spout tempered by a cold water mixing valve keeps water below boiling for tea or americanos.

Automatic Backflushing: Clean up at the end of the day is easy thanks to simple backflush programming.

Insulated Steam Wand: Cool-touch wands make steaming safer and cleaner.

About Rocket Espresso

Rocket Espresso produces hand built espresso machines featuring classic elements of Italian design. With heated E61 groupheads that ensure even extraction, to elements like rotary pumps and PID controllers, Rocket Espresso machines are some of the most sophisticated on the market. These machines represent the closest you can get to bringing the Italian cafe to your countertop.

Specifications

Product Weight (lbs.)

70 LB.


Manufacturer

Rocket Espresso

Height

18.5 inches

Width

1 group: 19 inches | 2 group: 25 inches

Depth

19.5 inches

Watts

110 Volt 1,700/ 22= Volt 2300W

Volts

115V | 240V

Boiler Volume

8.3 L | 13.2 L

Absolute can coordinate the installation of your espresso machine with a trained, local representative. Includes, Hookup to buyer made ready water, electric & drink set up, demonstration. One-year parts & 90 day labor due to defective parts, note 220-volt machines come without plug. See option fee $500.00.

Installation Package includes up to 3 hours labor & 1 Hr. travel of certified technician service. 

Requirements:

Plumbing, drain, and electrical must be in placed and complete per the manufacturer's installation specs prior to installation.
Water filtration is required and not included in the installation package.
Water Requirements - 3/8" dedicated cold-water line with shut off valve and compression fitting - water hardness must be between 3-5 grains per gallon or 50-85 ppm - water softener and/or filter must be installed if it exceeds the limits - Minimum incoming water flow rate of 35 GPH and the maximum line pressure of 70 PSI / 5 BAR Drain Requirements -Open gravity drain of minimum 1.25 inches within 4 feet of the machine. Extended length is posable at extra hose cost 
note 220-volt machines come without plug.

The installation package does not include general construction services (including but not limited to electrical wiring, water and drain plumbing, drilling countertops, the installation of other equipment, etc.). Additional travel costs may be required for locations outside of 50 miles or 1 hr. travel time

Water Filter a must

Protect your factory warranty and machine from harmful hard water minerals that cause calcium build up, & damage to your boiler, heating elements, water passages, and moving parts.

Help the taste of your coffee with a BMT Bestmax standard or premium with magnesium 4 stage filter system.

When selecting the premium line with magnesium we recommend a water meter so you know when its time to change your filter as magnesium will show as a solid on a test strip.

Dial in the setting for your water hardness and brew system needs. based on degree of water hardness

This all in one filter system is the answer to most espresso machine water condition problems.

Just twist the all in one cartridge out of the self closing valve in head and spin the new replacement one in when needed, no water to shut off or turn on before changing,

BMT valve in head, 4-stage water filter system with filtration to 0.5 micron. Cartridge can lie sideways, set on its base or hang from the wall bracket included, recommended sizes based on water hardness and usage recommended.

See our compete BWT accessories package discount package.

Before finalizing your purchase, please call toll free 866 711 3456 or 973-687 5090 to allow us the opportunity to make sure you have selected the machine and options that best meet your needs.