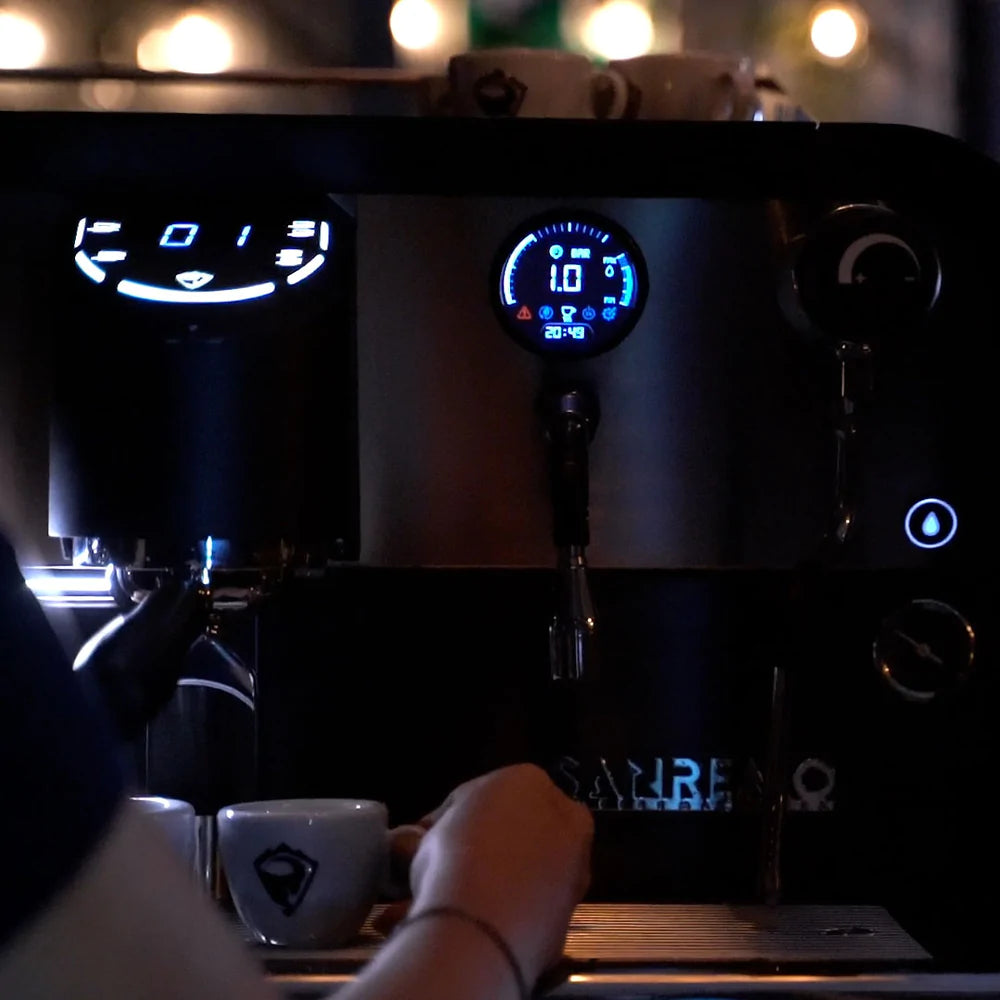 Sanremo 2 & 3 Group F18SB
---
Before finalizing your purchase, please contact us
Allow one of our professional commercial machine experts the opportunity to help guide you through your buying process and make sure you have selected the proper machine and options that best meets your needs.
Please Call Toll Free:
866-711-3456
or
973-687-5090
Enjoy free shipping on orders above $49 in the lower 48 states.
Additional shipping charges may apply commercial machine to residential address, and/or tail gate delivery required.
Please call (866)-711-3456 for any questions.
Competitive price matching is available for all our products.
Please complete this form when inquiring about best price for your item.
. F18SB- 2 & 3 Group Black/ Black White
Includes: Free shipping, Installation of your espresso machine with a trained, local representative. Includes, local installation to buyer made ready water & electric, drink set up, & demonstration. One-year parts & labor due to defective parts,
Ask about our machine, grinder & water filter packages.
Coffee is both science and art. the F18 SB delivers both.
Sanremo prides itself in setting high standards in the development and production of its coffee machines. Introducing the F18SB, Sanremo' s new creation, conceived and made to give you the perfect introduction into the world of coffee. Complete thermal and pressure stability, via a completely redesigned interface with PID temperature control, and outstanding usability in a heat exchanger model.
Primary difference between the Sanremo F18 and F18SB?

The FB18-SB is a heat exchanger single-boiler espresso machine, whereas The F18 is an independent boiler-boiler espresso machine. There are some similarities between the two espresso machines. However, based on standard features, the F18SB is placed between the Sanremo Zoe Competition and the F18 espresso machines.
Features
Energy Saving System:
Insulation and smart energy management to save more than 20% of energy
R61 Group Head:
Chromed brass group head with thermosiphon circulation system optimized to maintain the ideal coffee extraction temperature.
Multifunction Display:
Allows to monitor the right functioning of the machine and to program the main functions.
Aluminum Die-Cast Legs:
Machine support made in die-cast aluminum.
Pressure Gauge:
Allows to monitor the inlet and pump pressure during extraction
Electronic Auto-Level:
Through an electronic level probe, the boiler is automatically filled and maintained to the right filling level for continues steam and coffee water temps.
Static Relay Boiler Temperature:
Allows to regulate the temperature as accurately as possible thanks to the PID algorithm
Pre-Infusion: Allows control with 0.1-second tolerance of the flow of water that wets the coffee bed, with the programming of 4 different profiles for each group
High-Performance Volumetric Pump:
Pressure stability also with prolonged and contemporary use of more than one group
Group Head Flushing:
With a simple pressure of the button, a small quantity of water is dispensed to allow the group to be always clean.
Cup Warmer:
Mixed cold and hot Infusion Hot Water for Teas:
Immediate mixing of cold / hot water for a consistent hot water for Americanos or Teas.
Auto-On, Auto-Off, and Day-Off Function:
Programmable on-off timer for each day and/or daily timetables
Colors: Black or White
Water filtration, plug, and receptacle outlet required (sold separately
Technical data
Specifications 2 group 
voltage V max total absorbed power
stream boiler heating element kW 4.4/4.0 6.5/6.000 Watts 4.900 /4.500 watts
steam boiler capacity lt 11.3
pump power kW 0.15
cup-warmer power kW 0.20
net weight LB 180
Specifications 3 group 
voltage V max total absorbed power/
stream boiler heating element kW 4.4/4.0 6.5/6.000 Watts 4.900 /4.500 watts
steam boiler capacity lt 18.3
pump power kW 0.15
cup-warmer power kW 0.25
net weight LB 210
Protect your investment & warranty
Protect your factory warranty and machine from harmful hard water minerals that cause calcium build up, & damage to your boiler, heating elements, water passages, and moving parts. This all in 1 filter is the answer for most hard water conditions.
Help the taste of your coffee with a BMT Bestmax premium 5 stage filter with magnesium for improved coffee taste or the standard 4 stage protection filter. When selecting the premium line with magnesium, we recommend a water meter so you know when it's time to change your filter as magnesium will show as a solid on a test strip.
Dial in the setting 1, 2 or 3 on the BWT filter head to match your water hardness and brew system needs. to get the proper protection & longest life based on degree of water hardness. Just twist the all in one cartridge out of the self-closing valve in head and spin the new replacement one in when needed, no water to shut off or turn on before changing,
The BMT 0.5-micron cartridge can lie sideways, set on its base or hang from the wall bracket included,
Recommended sizes based on water hardness and usage.
See our compete BWT accessories discount packages.
Share