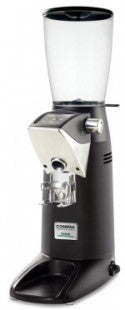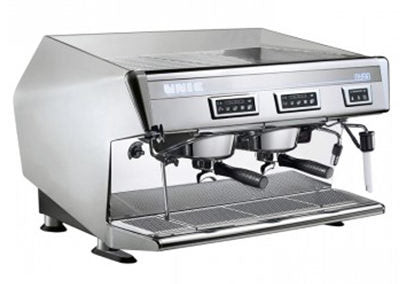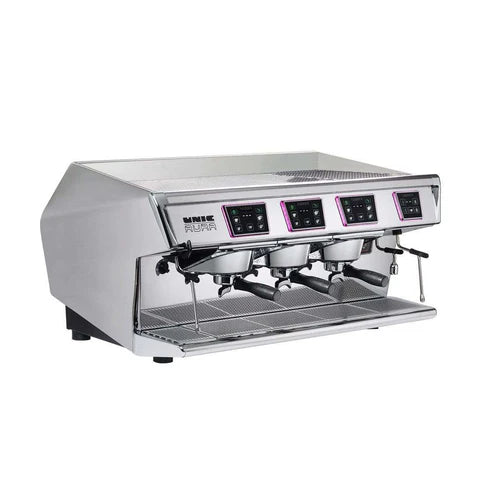 has Unic Aura 2 & 3 Group
Includes Free shipping & installation of your espresso machine with a trained, local representative. Includes, local installation to buyer made ready water & electric, drink set up, & demonstration. 1-year parts & 1 year labor due to defective part
Aura has a variety of standard features, An Upscale PID temperature controlled single Boiler with auto clean and auto temperature regulation. systems.
UNIC AURA3 Description: Good for coffee shops and cafes offering a variety of espresso options, in large to go cups.
the Unic AURA espresso machine has two or three groups. Each group has an LED-lit interface so users can choose its settings. Because this unit is automatic, it produces consistent beverages with minimal operator input. To further simplify operation, the AURA has USB functionality. Its boiler refills automatically, and for a durable, attractive finish, this unit is constructed of both stainless steel and chrome.
General features
Touch control boxes with LED lighting all around and digits display,
4 dosing selection, Start/Stop, programming, cleaning.
EASYLOCK system on the group for a perfect seal with minimal effort LED lighting on the group head to illuminate the tray grid
MAESTRO thermo-regulated brew groups
Large copper boiler with pressure sensor managing PID temperature control
Automatic refill with safety and alarm control
Integrated shot time display
Groups auto clean programming with «back-flush»
USB interface for update
RS-232 protocol for computer/cashier interface
Double paneled cup warmer 
large capacity Stainless steel and chrome bodywork
Overheating safety thermostat
Integrated motor pump
Safety valve on internal boiler Vacuum valve
Options Steam Air Auto foam and Auto temperature control
Teflon steam wand for easy cleaning of dried milk
L/C foamier with 2 positions -
L: for hot milk / C: for milk foam (side fridge required)
Pod baskets for 7 gram and 14-gram pods
Triple filter holder
Dosamat Filter Holder
Reading capability 18- or 21-gram
Stella filter baskets 15-, 18-, or 21-gram VST filter baskets
Customized front strip with logo Aura with its fully stainless and dynamic body and its unique contemporary figure adds a professional touch to any location.
This upscale heat exchanger machine with fast acting PID controlled thermal system with auto clean and auto temperature regulation.
Aura combines PID technologies in a highly responsive heat exchanger machine, oriented on coffee extraction performance, ergonomic and ease of use. Its great response times provides a coffee shop, or high-quality restaurant looking for reliability, quality, and pursuit for the perfect espresso with exacting professional coffee performance at a reasonable price.
Features & Functionality
PID temperature control
Easy Locking Portafilter: Each brew group is hydraulically assisted to achieve an ideal seal with minimal effort. those providing consistent good extraction.
Friendly Grip: Each portafilter handle is constructed of special rubber that conveniently absorbs shock and vibrations that may occur during a brew cycle.
Barista work lights Integrated shot time display, helps to maintain a consistent espresso taste by letting the operator know if the grinder needs grind or weight adjustment along with tamp.
Built in auto flush
Cup warmer for keeping those espresso shots hot
Options: - Steam Air Auto foam and Auto temperature control - Teflon steam wand for easy cleaning of dried milk - L/C foamier with 3 positions - option steam air - Pod baskets for 7 gram and 14-gram pods -
Triple filter holder
Sp3ecifiatios. 2 Group: 
 Heigh 23.00 inches Width: 31.00 inches Depth24: 
Watts Steam Boiler: 4400W Volts 230V
 Volume Steam Boiler: 10 liters
Sp3ecifiatios. 2 Group: 
Height 23.00 inches Width 39.00 inches Depth 24
Watts Steam Boiler: 5500W Volts 230V
Volume Steam Boiler: ),16.3 liters 
Protect your warranty & investment.
Protect your factory warranty and machine from harmful hard water minerals that cause calcium build up, & damage to your boiler, heating elements, water passages, and moving parts.
This all in 1 filter is the answer for most hard water conditions.
Help the taste of your coffee with a BMT Bestmax premium 5 stage filter with magnesium for improved coffee taste or the standard 4 stage protection filter. When selecting the premium line with magnesium, we recommend a water meter so you know when it's time to change your filter as magnesium will show as a solid on a test strip.
Dial in the setting 1, 2 or 3 on the BWT filter head to match your water hardness and brew system needs. to get the proper protection & longest life based on degree of water hardness. Just twist the all in one cartridge out of the self-closing valve in head and spin the new replacement one in when needed, no water to shut off or turn on before changing,
The BWT 0.5-micron cartridge can lie sideways, set on its base or hang from the wall bracket included.
Recommended sizes based on water hardness and usage.
See our compete BWT accessories discount packages.
Before finalizing your purchase, please contact us
Allow one of our professional commercial machine experts the opportunity to help guide you through your buying process and make sure you have selected the proper machine and options that best meets your needs.
Please Call Toll Free:
866-711-3456
or
973-687-5090
Enjoy free shipping on orders above $49 in the lower 48 states.
Additional shipping charges may apply commercial machine to residential address, and/or tail gate delivery required.
Please call (866)-711-3456 for any questions.
Competitive price matching is available for all our products.
Please complete this form when inquiring about best price for your item.