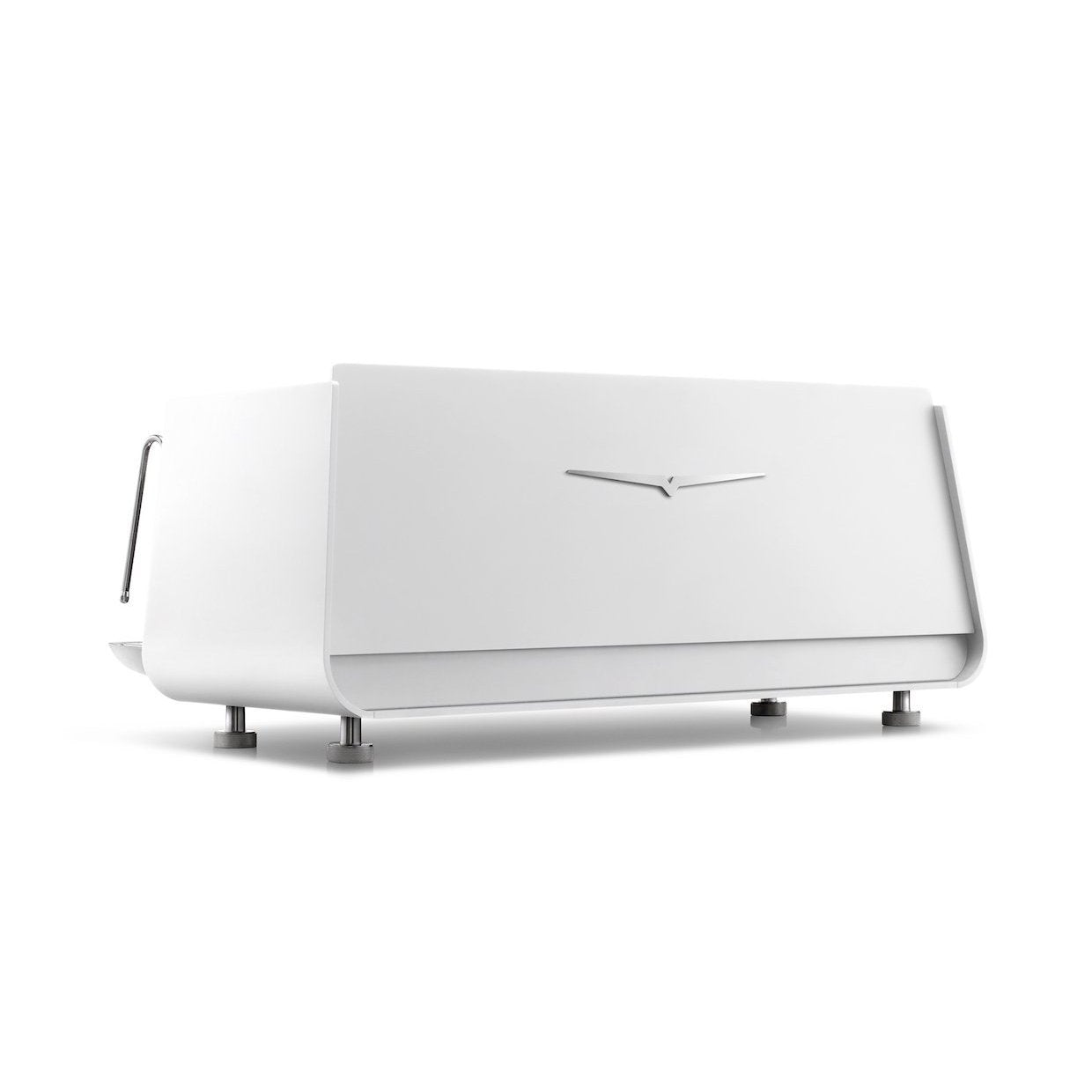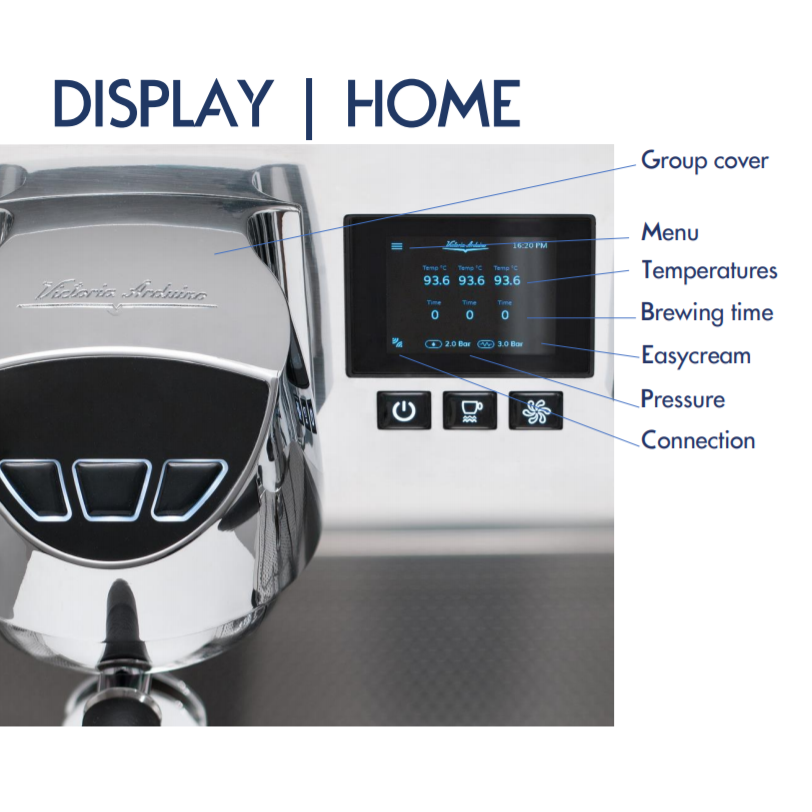 Victoria Arduino 2 & 3 Group Eagle One T3
---
Before finalizing your purchase, please contact us
Allow one of our professional commercial machine experts the opportunity to help guide you through your buying process and make sure you have selected the proper machine and options that best meets your needs.
Please Call Toll Free:
866-711-3456
or
973-687-5090
Enjoy free shipping on orders above $49 in the lower 48 states.
Additional shipping charges may apply commercial machine to residential address, and/or tail gate delivery required.
Please call (866)-711-3456 for any questions.
Competitive price matching is available for all our products.
Please complete this form when inquiring about best price for your item.
Victoria Arduino Eagle One 2 & 3 Group
Includes: Free shipping, installation of your espresso machine with a trained, local representative. Includes, local installation to buyer made ready water & electric, drink set up, & demonstration. two-year parts & labor due to defective parts,
The new Victoria Arduino Eagle One was developed to reduce environmental impact by embracing new technology. Carbon emissions from power consumption are minimized through the use of new materials and the unique design of the machine. This can save you money on your power costs when compared to other machines.
The steam system consists of a 7-liter boiler that can be set to as high as 2.5 bars of pressure for strong and dry output.
Baristas use electronic paddle switches to open and close solenoid valves controlling the hot water and steam, the respective temperature and pressure of which are adjustable through the machine's central screen interface. •
Ideal for specialty coffee shops, high volume locations, coffee chains, micro-roasters, demanding professionals, barista competitors
The boilers are made of steel and insulated with a unique material that guarantees extreme thermal insulation.
 Energy Optimization: the new engine with NEO (New Engine Optimization) guarantees high performance while reducing energy consumption.
 E.R.S.: the patent-pending system TERS (Thermal Energy Recovery System), uses discharged water to preheat the incoming water through a recycling method, thus minimizing wastes
 With the Display Touch (2.8"), it's possible to modify the settings even with the mobile APP.
Available functions: recipes, buttons and display, power and temperature management, dose programs, machine cleaning, and maintenance
 For coffee shops, the app My Victoria Arduino allows connecting more than one machine to keep track and modify their settings without interrupting the baristas workflow experiences and information.
 Includes T3 System and volumetric dosing.
 Includes the Gold Service plan.
 Custom colors available (+$625) 
Steam Features:
 Steam electronic control  Cool touch steam wand
 Ergonomic steam lever
 New steam wand design
 Steam wand designated position  EASYCREAM with 4 different settings
 Hot water with 2 programmable doses
Group Features:
 Ghost display: 3 different programmable buttons
 Stainless steel shower reinforced
 Stainless steel diffuser
 Auto Purge
 Standard group height (105mm)
2 Group Specifications

:

 Color: Steelux

 Power: 5000 watts

 Steam Power: 3000 watts

 Brew Power: 900 watts, 176-221°F

 Capacity: 7 lt

 Range: 0.8-3 bar (2.1 bar recommended)

 Regulation: Digital pressure gauge

 8"W x 22.6"D x 17.2"H  13" Group Height

 Water Connection and Drain Required
 3 Group Specifications: :
 Color: Steelux
 Power: 6500 watts  Steam Power: 3600 watts  Brew Power: 900 watts, 176-221°F
 Cup Warmer: 400 watts
 Capacity: 7 lt  Range: 0.8-3 bar (2.1 bar recommended)
 Regulation: Digital pressure gauge
 9"W x 22.6"D x 17.2"H  13" Group Height
 Water Connection and Drain Required
 Proper water filtration required (sold separately)
T3 Technology allows the barista to set three independent temperatures for the brewing group, the water infusion, and the steam. Giving control of the water supply's thermal accuracy that results in temperature stability and ultimately in a perfect espresso.
 Protect your warranty & investment
Protect your factory warranty and machine from harmful hard water minerals that cause calcium build up, & damage to your boiler, heating elements, water passages, and moving parts.
Help the taste of your coffee with a BMT Bestmax standard or premium with magnesium 4 stage filter or our standard system. When selecting the premium line with magnesium we recommend a water meter so you know when its time to change your filter as magnesium will show as a solid on a test strip.
Dial in the setting for your water hardness and brew system needs. based on degree of water hardness
This all-in-one filter system is the answer to most espresso machine water condition problems.
Just twist the all-in-one cartridge out of the self-closing valve in head and spin the new replacement one in when needed, no water to shut off or turn on before changing, BMT valve in head, 4-stage water filter system with filtration to 0.5 micron.
Cartridge can lie sideways, set on its base or hang from the wall bracket included,
Recommended sizes based on water hardness and usage.
See our compete BWT accessories package discount package. 
Share