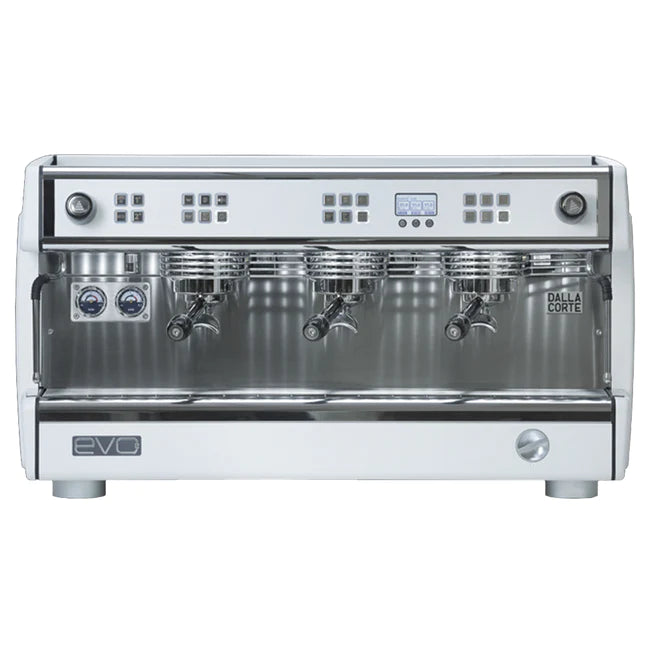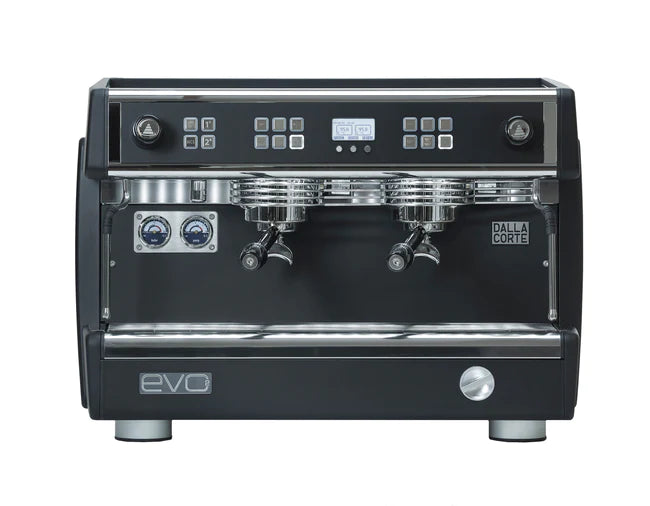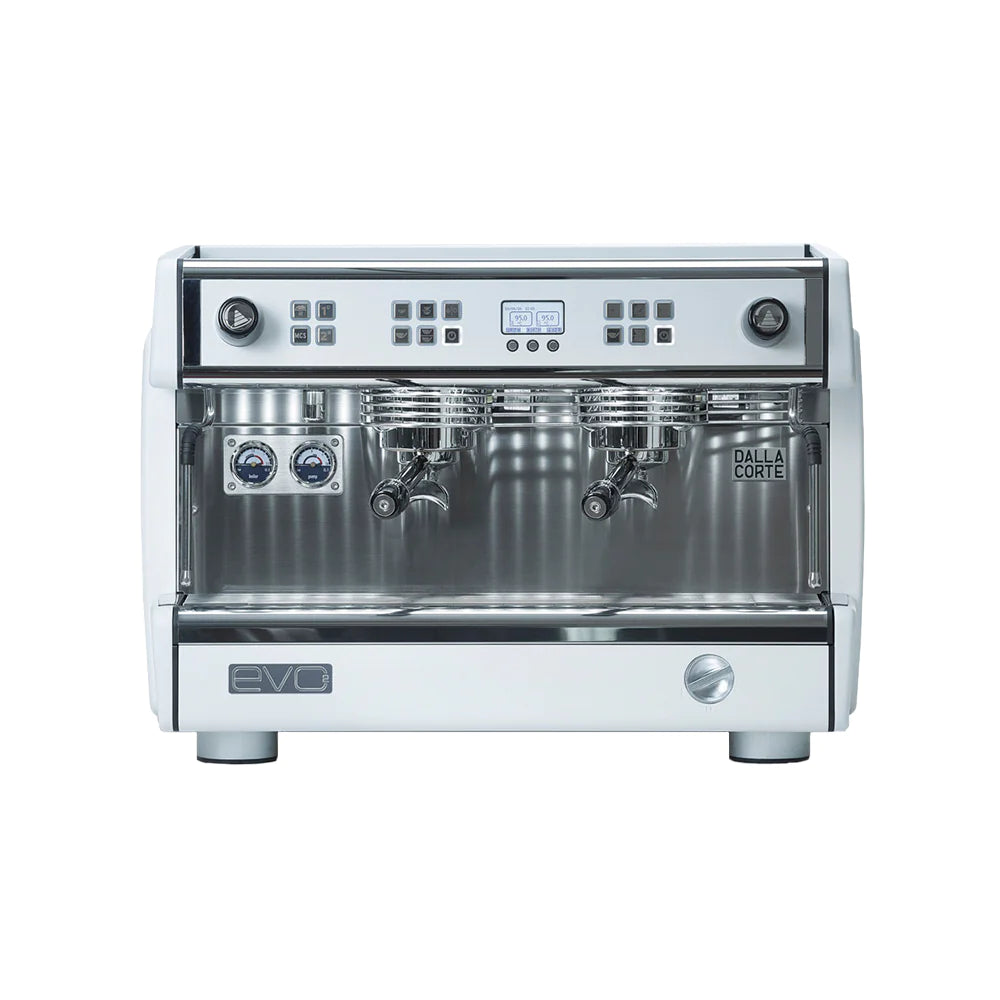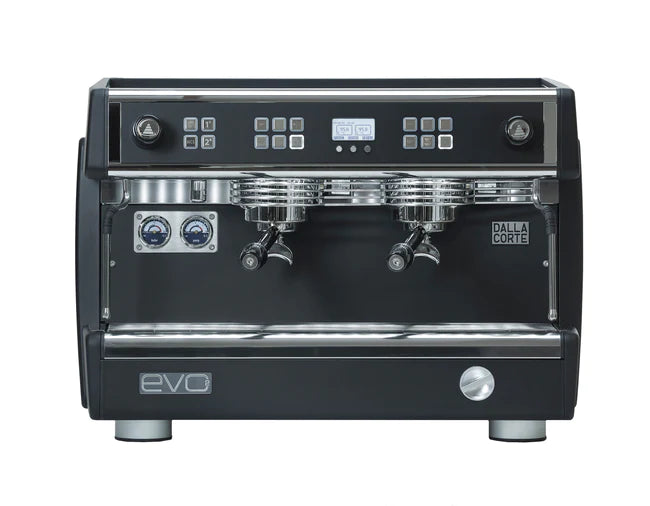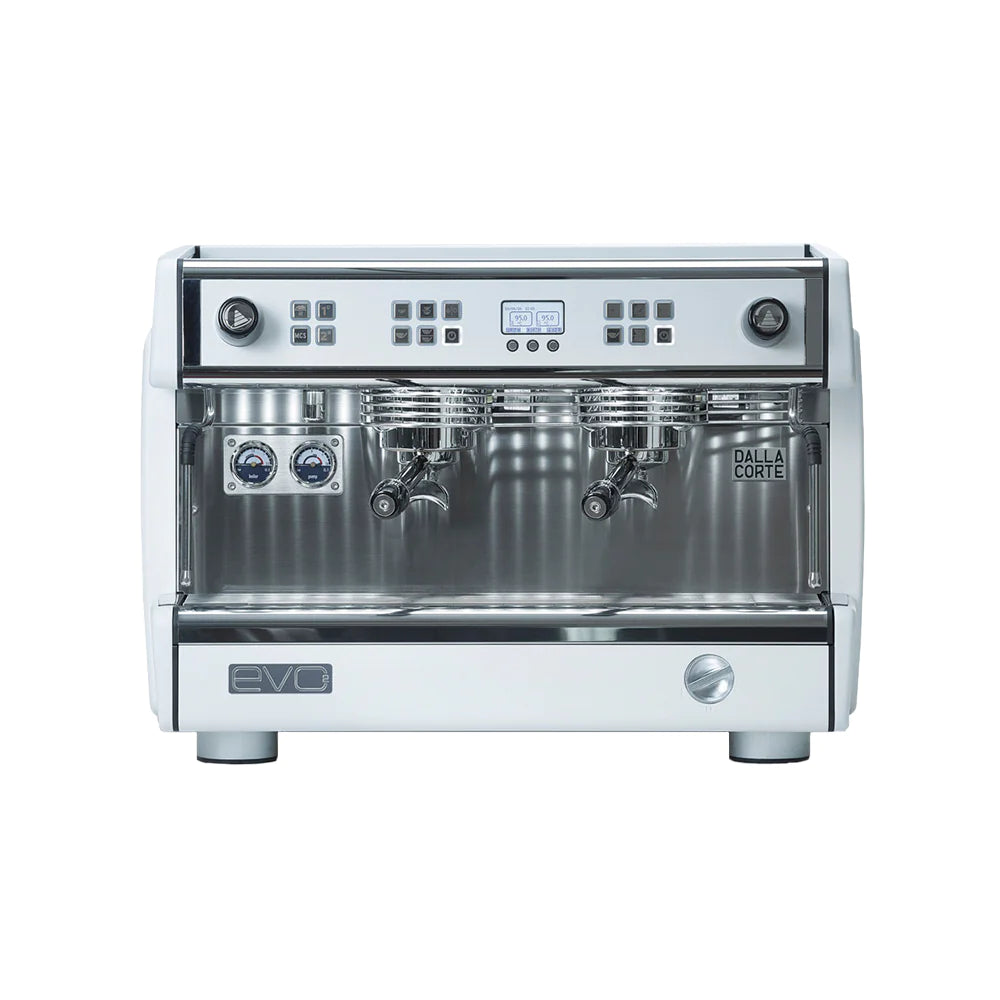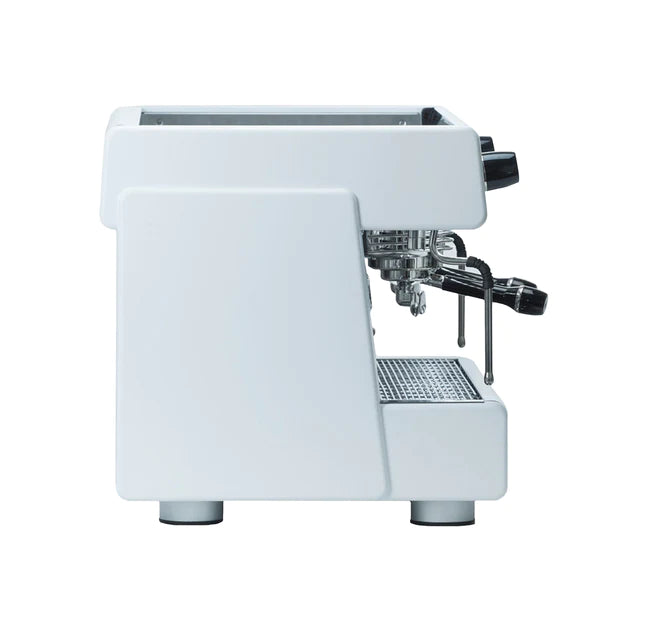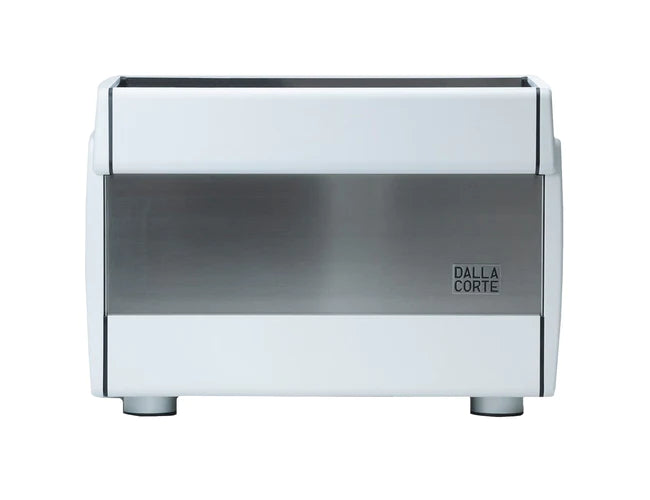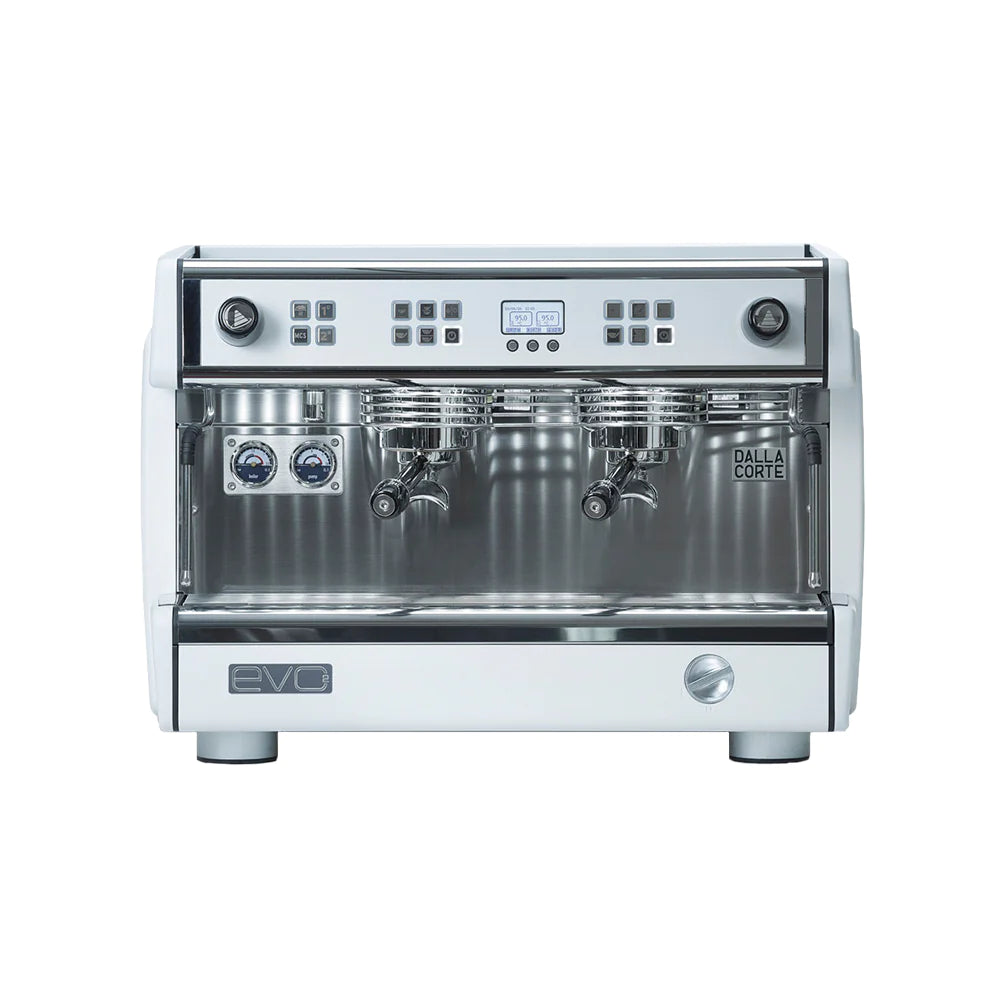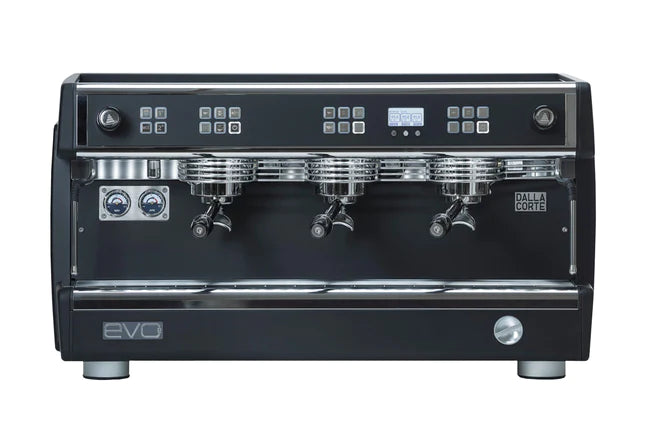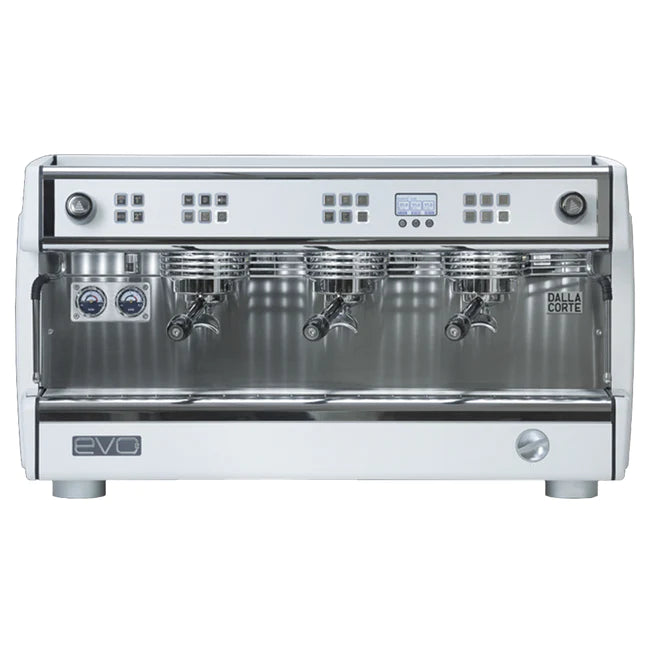 Dalla Corte 2 & 3 Group EVO 2
---
Share
---
Dalla Corte 2 & 3 Group Evo II
Includes Free shipping & installation of your espresso machine with a trained, local representative. Includes, local installation to buyer made ready water, electric, & carpentry drink set up, & demonstration. 2-year parts & 1 year labor due to defective parts.
Ask about our machine, grinder & water filter discount packages.
The Evo 2 is a mainstay of Dalla Corte's commercial lineup. Featuring their innovative Multi-Boiler System, the Evo 2's brew groups each house a 0.5L brew boiler to ensure maximum temperature stability and independent temperature control.
The modern Evo 2 is compatible with the full suite of Dalla Corte's productivity systems including the DCS and MCS for seamless integration into any cafe.
Dalla Corte's Evo 2 espresso machine is a commercial powerhouse. Utilizing their Multi-Boiler System, the Evo 2 guarantees stable brew temperatures so your baristas can focus on serving the best espresso possible.
Each group houses an independent 0.5L boiler and heating element while the 7.5L copper service boiler keeps pace in even the busiest cafe.
Temperature stability is guaranteed by the Dalla Corte's Multi-Boiler System. Each group can be set to its own unique temperature within 0.18° Fahrenheit, allowing you to vary group temperatures in the event that you are brewing with different coffees. Each brew boiler can be toggled on/off individually and is completely isolated from the steam boiler and other brew boilers.
This innovative design allows for the perfect marriage of high capacity and precision. For improved workflow, the Evo 2 is also compatible with Dalla Corte's productivity systems, the GCS (Grinder Control System) and MCS (Milk Control System).
The GCS connects your Evo 2 to a Dalla Corte DC One or DC Two grinder, feeding them information about the flow of your espresso to automatically recalibrate your grind as necessary.
The MCS is an automatic milk frothing system that can froth milk to your desired temperature, allowing your baristas to focus on other tasks. This optional feature must be requested prior to ordering.
The Dalla Corte Evo 2 delivers the precision control of the Multi-Boiler System at a price that is accessible to those opening a cafe or looking to upgrade aging equipment. For those looking to make it better, the Evo 2 is an ideal choice.
Multi-Boiler System Pioneered by Dalla Corte, the Multi-Boiler system grants precise temperature control of each group head. Each group is equipped with its own heating element and PID, making them independent from each other and from the steam boiler.
2 Group Specifications
Dimensions (W x H x D) 28 x 20 x 21
Weight 163 Lb.
Energy consumption 7,9 kW  / 24 Hr. Stand By 7,500 watts.
Maximum power 4,5 kW -4,500 Watts
Connected load 230/240 V 
Boiler capacity 7,5 l
Group capacity 0,5 l
Brew Group Size (mm) 54mm / optional 58mm
 Number of Boilers 3
Brew Boiler Volume (Oz) 0.5L
 Independent Temperature Control
Brew Unit Type Dalla Corte 
Back Flush Capable Yes
Brew Group Size (mm) 54mm / 58 mm optimal 
Group Type Dalla Corte 
Display Type LCD
 Drip Tray Cover Stainless Steel
Drip Tray Material Steel Housing
Color White
Housing Material Steel
Maintenance Alerts Yes
3 Group Specifications
(Lx H x W) 37.5-inch x 20.6-inch x 20.1 inch
Weight 194 Lb.
Energy consumption 11,3 kW
Maximum power 6,3 kW
Connected load 230/240 V 1 Ph, 200/230 V 
Boiler capacity 13 Liter
Group capacity 0,5 liter
Number of Boilers 4 
Brew Boiler Volume (Oz) 0.5L
Back Flush Capable Yes
Brew Group Size (mm) 54mm / 58 mm optimal 
Brew Group Type Dalla Corte 
Display Type LCD
Drip Tray Cover Stainless Steel
Drip Tray Material Steel
housing Color White
Housing Material Steel
Maintenance Alerts Yes
Protect your warranty & investment.
Protect your factory warranty and machine from harmful hard water minerals that cause calcium build up, & damage to your boiler, heating elements, water passages, and moving parts. This all in 1 filter is the answer for most hard water conditions.
Help the taste of your coffee with a BMT Bestmax premium 5 stage filter with magnesium for improved coffee taste or the standard 4 stage protection filter. When selecting the premium line with magnesium, we recommend a water meter so you know when it's time to change your filter as magnesium will show as a solid on a test strip.
Dial in the setting 1, 2 or 3 on the BWT filter head to match your water hardness and brew system needs. to get the proper protection & longest life based on degree of water hardness. Just twist the all in one cartridge out of the self-closing valve in head and spin the new replacement one in when needed, no water to shut off or turn on before changing,
The BWT 0.5-micron cartridge can lie sideways, set on its base or hang from the wall bracket included,
Recommended sizes based on water hardness and usage.
See our compete BWT accessories discount packages.
Before finalizing your purchase, please contact us
Allow one of our professional commercial machine experts the opportunity to help guide you through your buying process and make sure you have selected the proper machine and options that best meets your needs.
Please Call Toll Free:
866-711-3456
or
973-687-5090
Enjoy free shipping on orders above $49 in the lower 48 states.
Additional shipping charges may apply commercial machine to residential address, and/or tail gate delivery required.
Please call (866)-711-3456 for any questions.
Competitive price matching is available for all our products.
Please complete this form when inquiring about best price for your item.