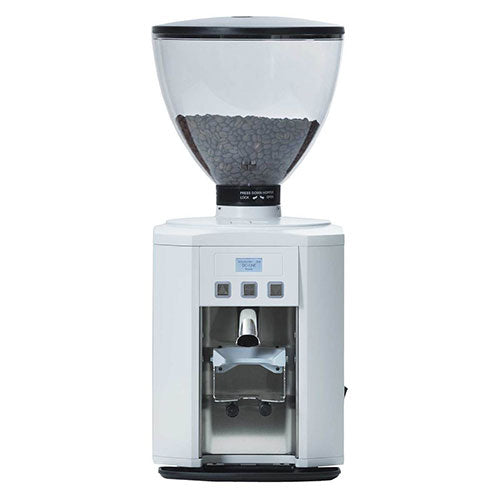 ---
Before finalizing your purchase, please contact us
Allow one of our professional commercial machine experts the opportunity to help guide you through your buying process and make sure you have selected the proper machine and options that best meets your needs.
Please Call Toll Free:
866-711-3456
or
973-687-5090
Enjoy free shipping on orders above $49 in the lower 48 states.
Additional shipping charges may apply commercial machine to residential address, and/or tail gate delivery required.
Please call (866)-711-3456 for any questions.
Competitive price matching is available for all our products.
Please complete this form when inquiring about best price for your item.
Dalla Corte DC 1 Grinder
ON DEMAND The 65 mm flat burrs provide an extremely precise cut.
Fully automatic detection of single or double shot.
CONTROL & PRECISION Grinding point with millimetric digital setting and exact grinding time, up to three digits after the decimal point. The automatic cooling system preserves coffee from overheating.
IT'S TIME TO CONNECT You can connect up to three grinders simultaneously to XT and one grinder to Evo2 and Icon with the GCS (Grinder Control System). The best control over your coffee.
Specifications
Grinder DC One
Dimensions (l x h x p) 235 x 570 x 300 mm
Grinding capacity approx. 4 g/sec
Hopper capacity 1500 g
Energy consumption 500 W
Connected load 230/240 V, 115 V R / Minute 1350 (200 V - 50 Hz) U/min
Burr diameter ø 65 mm
Weight 125 Lb.
GAS included.
BCS included.