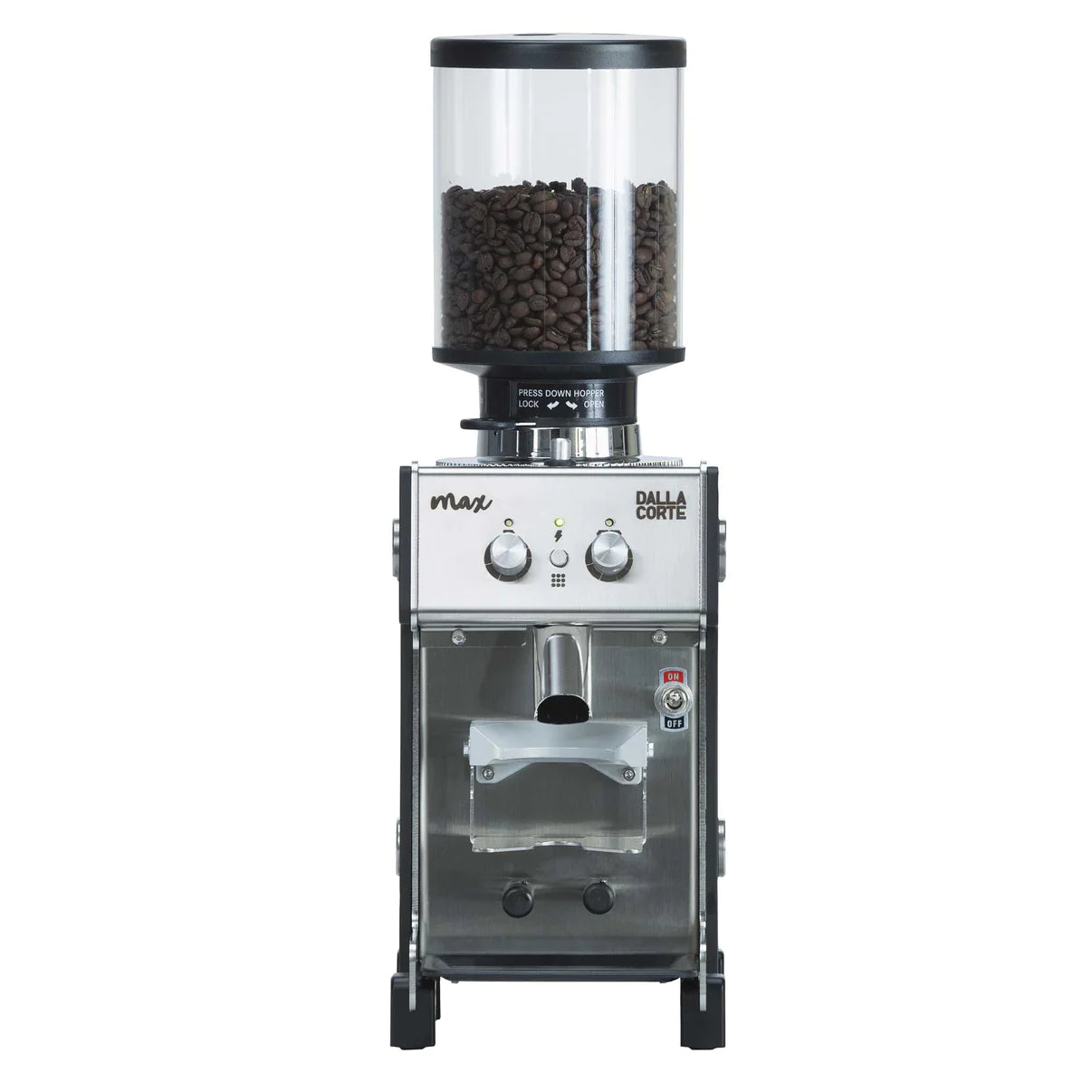 ---
Before finalizing your purchase, please contact us
Allow one of our professional commercial machine experts the opportunity to help guide you through your buying process and make sure you have selected the proper machine and options that best meets your needs.
Please Call Toll Free:
866-711-3456
or
973-687-5090
Enjoy free shipping on orders above $49 in the lower 48 states.
Additional shipping charges may apply commercial machine to residential address, and/or tail gate delivery required.
Please call (866)-711-3456 for any questions.
Competitive price matching is available for all our products.
Please complete this form when inquiring about best price for your item.
Dalla Corte Max Grinder
The Dalla Corte Max is a stylish, home oriented grinder with aesthetics that match the Dalla Corte Mina. Borrowing the same 500 W motor and 65 mm burrs from its siblings, the DC One and DC Two, the Max delivers the same 4g/s grinding speed in a much more compact package.
With automatic portafilter recognition for single and double shots, 1/10 of a second dosing, and 0.01 mm grind adjustment,
the Dalla Corte Max is perfect on your countertop or in your cafe.
Move over Romeo and Juliet and make room for Mina and Max! Designed as a companion grinder to the revolutionary Dalla Corte Mina, the Dalla Corte Max is a commercial grade espresso grinder that has been reimagined to feel at home, in your home.
Equipped with the same 500 W motor and 65 mm burrs found the DC One and DC Two grinders, the Max has an incredible 4g/s grinding speed that leaves other grinders in the dust. Its high-performance specs position the Max as both a premium home grinder and a boutique commercial unit all in one.
At just 6.3" wide the Max won't be competing for space on your countertop. That said, its commercial components are no laughing matter with 600g bean hopper and a grinding speed of 1350 rpm. The portafilter catch is also equipped with Dalla Corte's automatic dosing selector, technology that recognizes when a single or double spouted portafilter is inserted.
The Max will then begin dosing the corresponding amount of coffee automatically.
A manual "competition" mode is also available when baristas want direct control over the coffee being dispensed.
What is perhaps the most exciting feature of the Max are its customizable side panels. Available in 11 different styles, they perfectly harmonize with the panels of the Dalla Corte Mina. Whether it becomes the centerpiece of your kitchen, or helps you sling shots behind bar, the Dalla Corte Max is a compelling option for anyone looking to up their grinding game
Automatic Dose Selection
With a set of special pins located beneath the portafilter catch, the Max can identify if a single or double spout portafilter has been inserted and will automatically select and grind the corresponding dose. This unique innovation eliminates the need to select a dose before engaging the grinder.
.
.