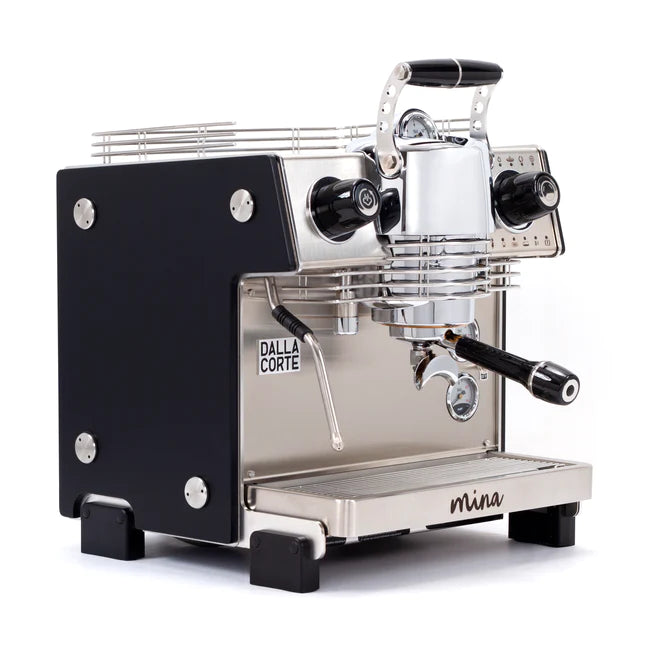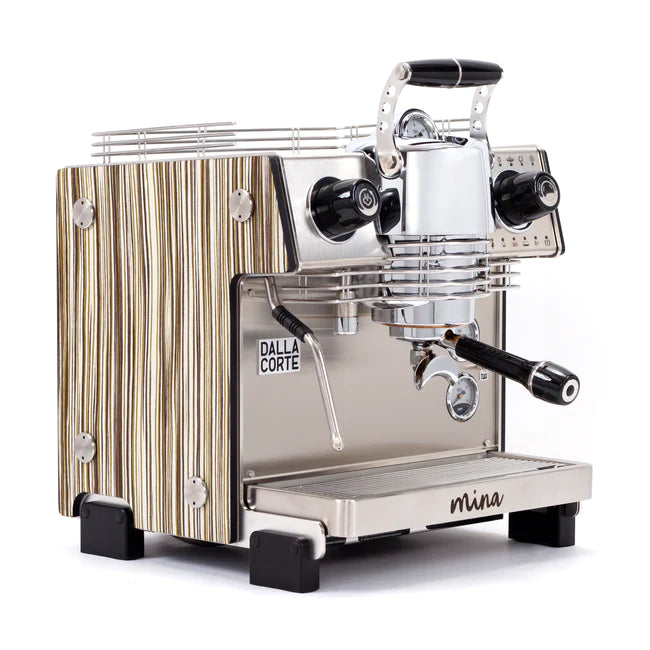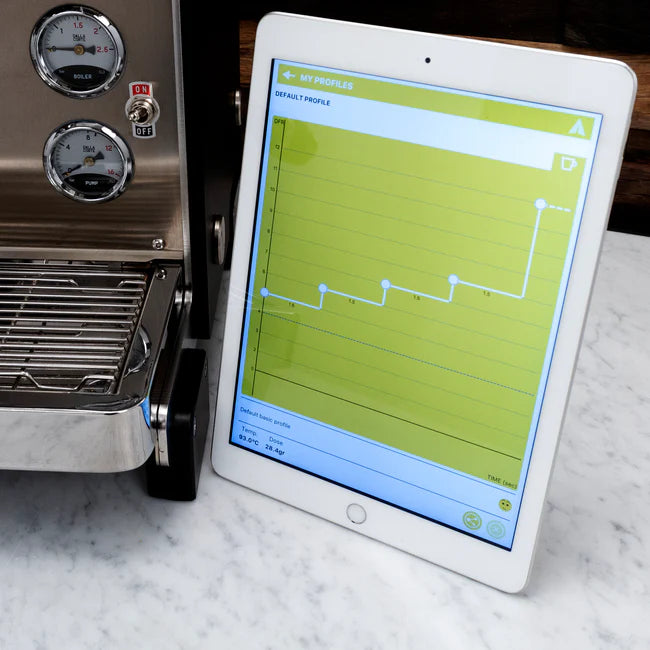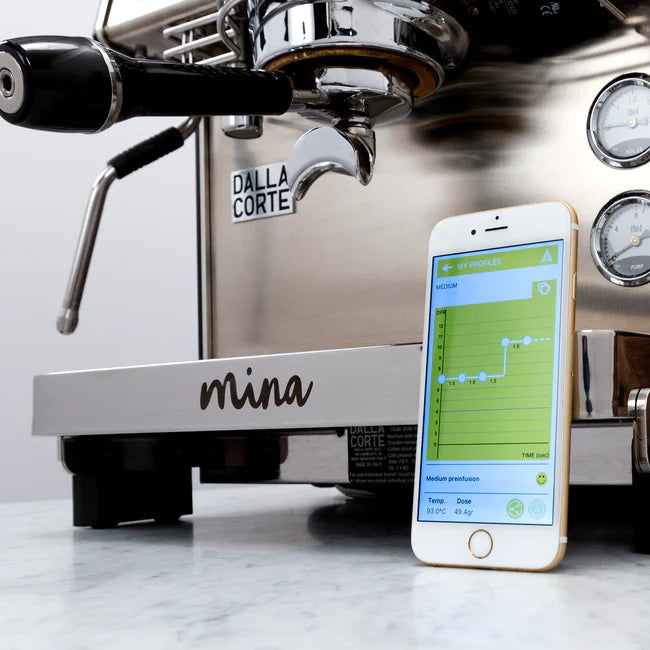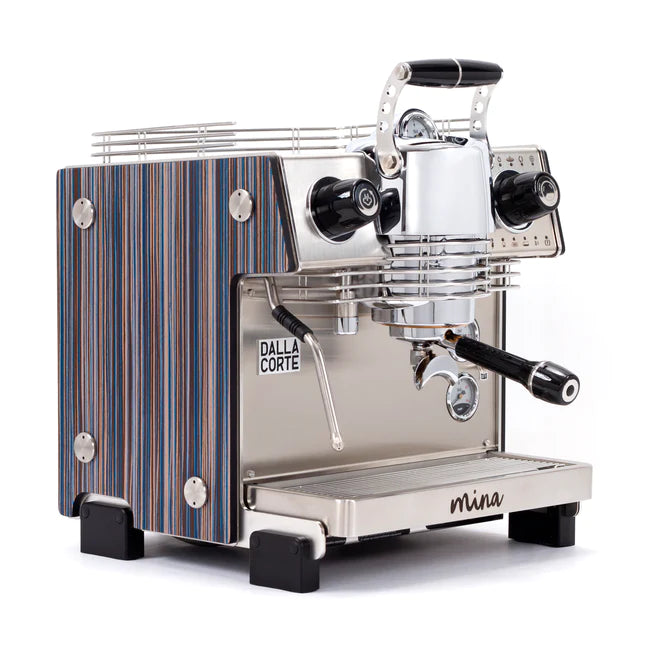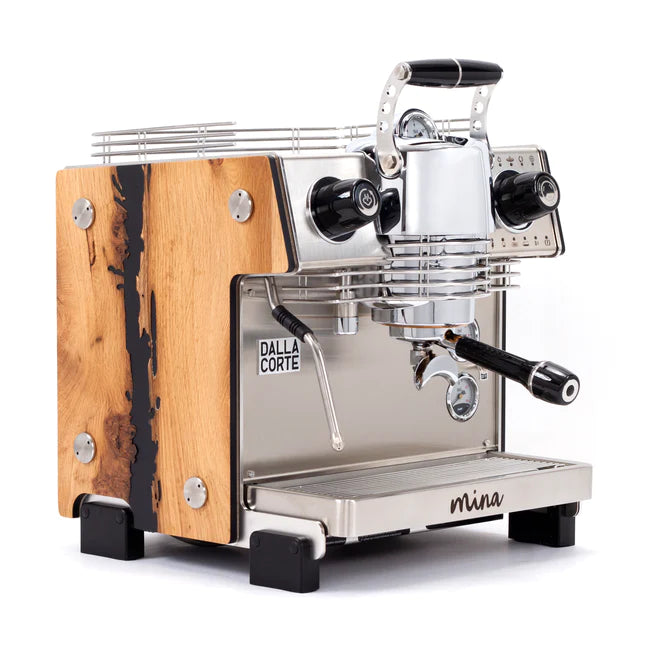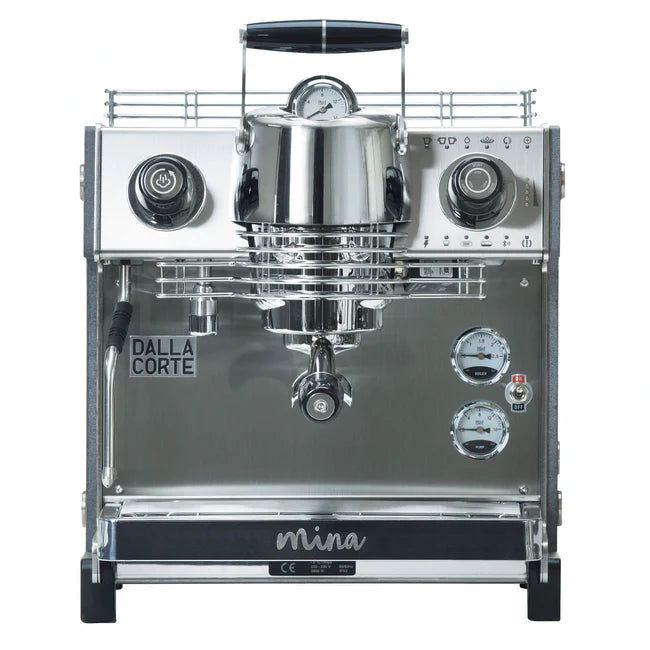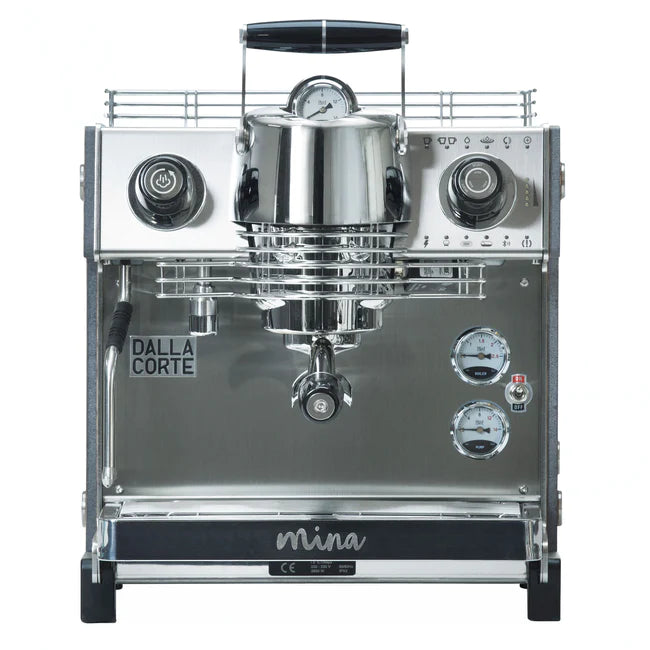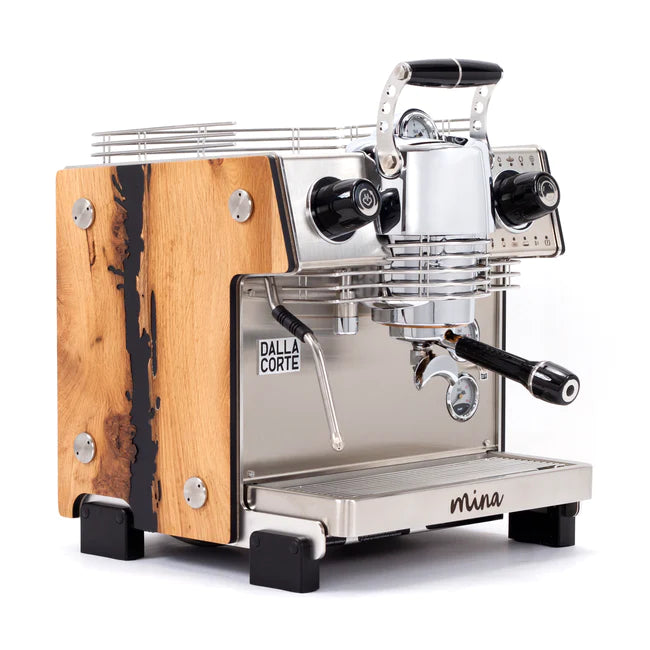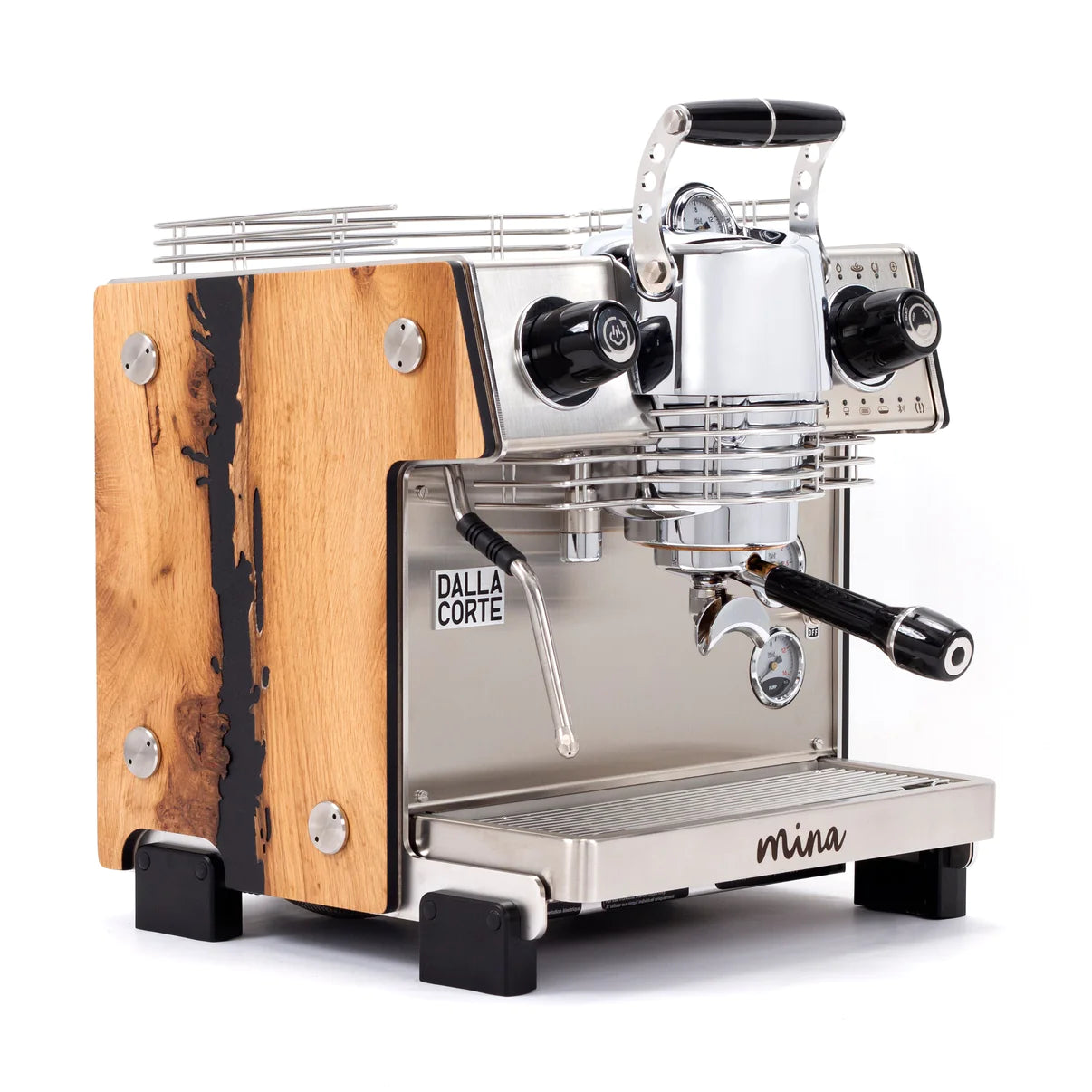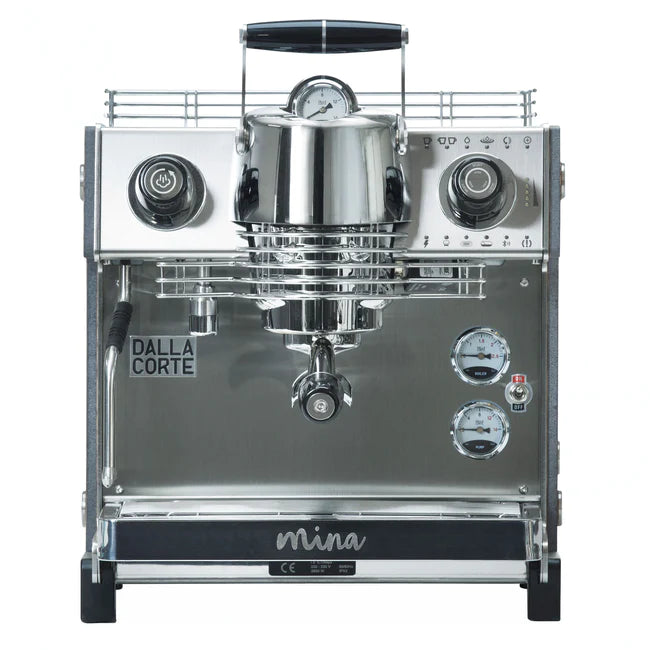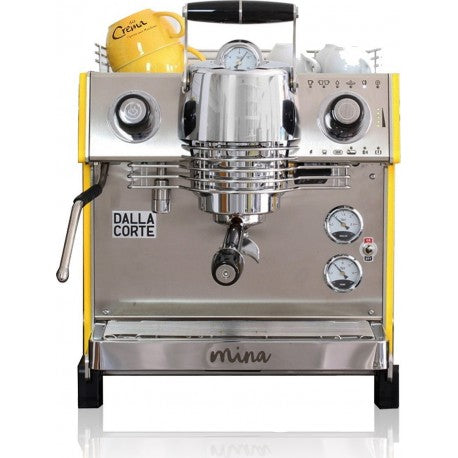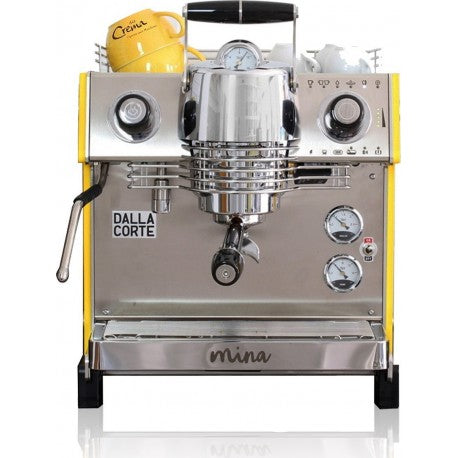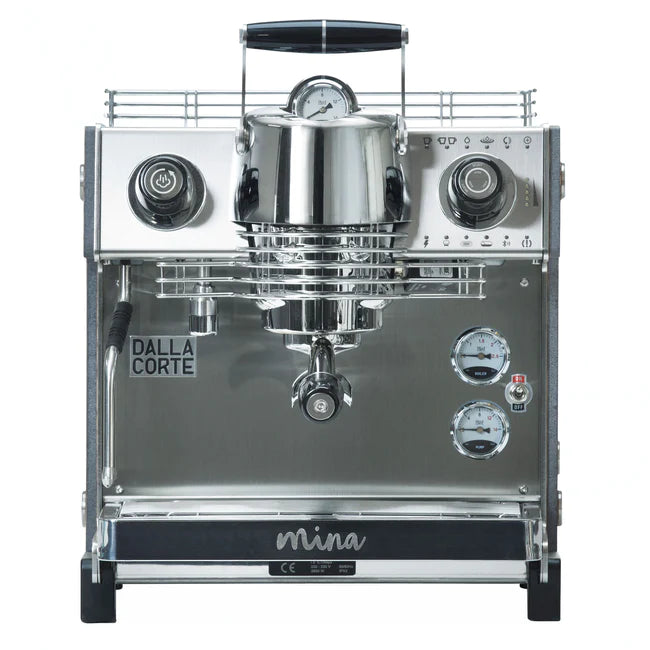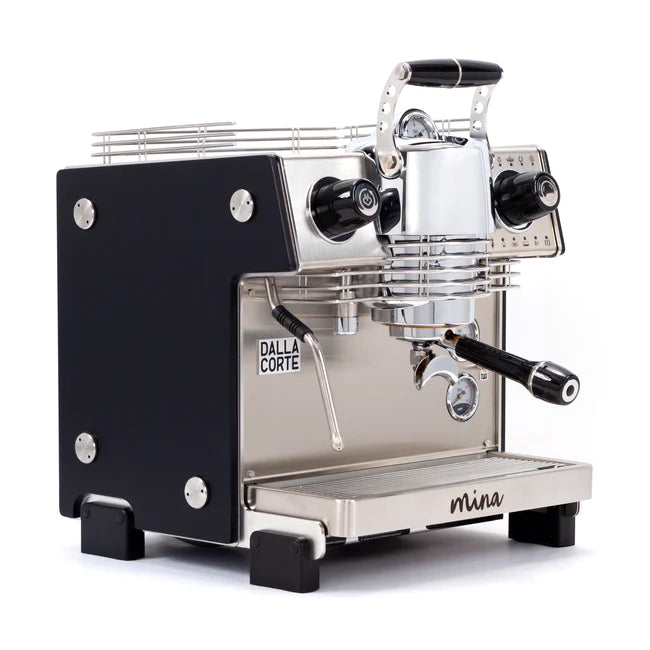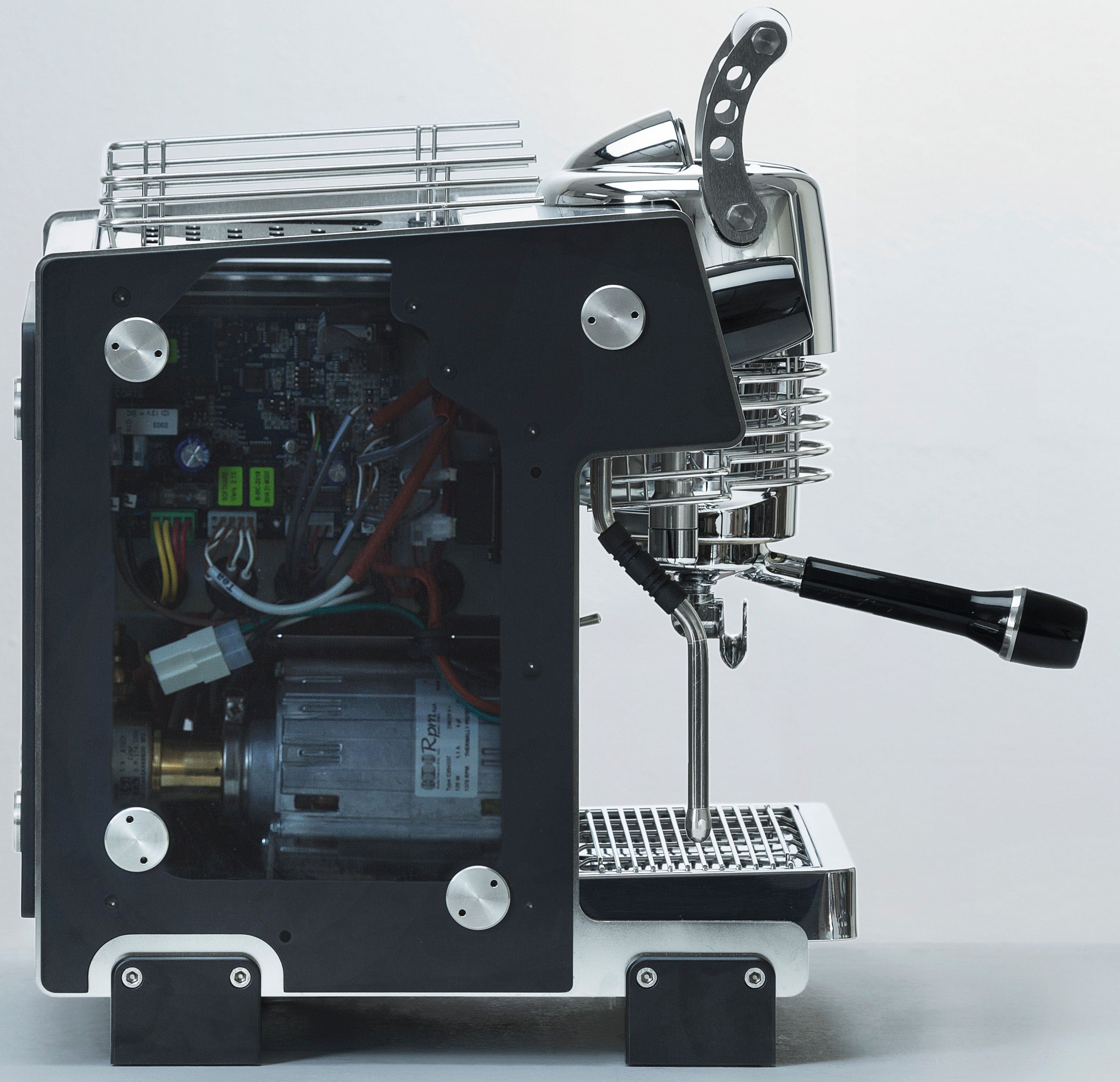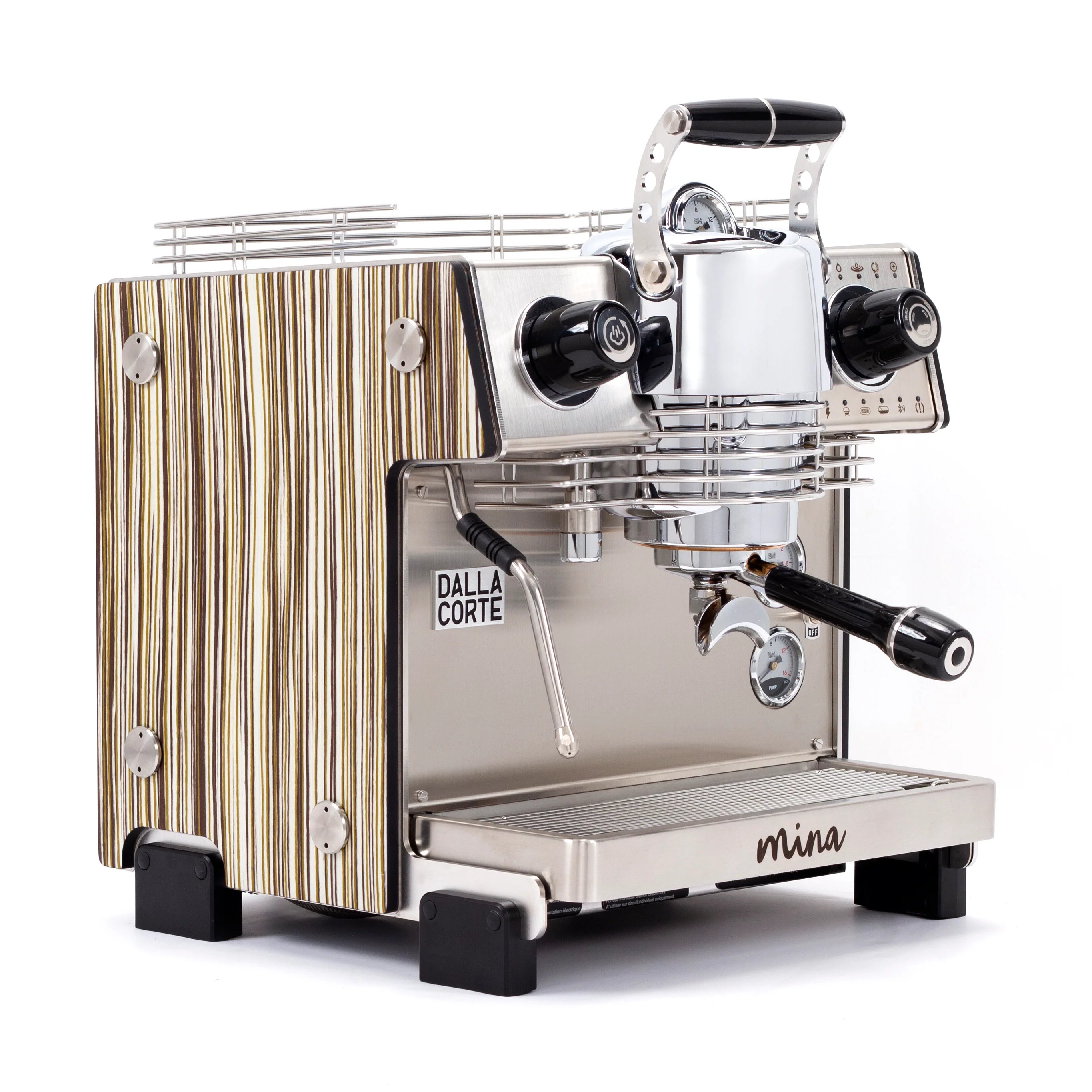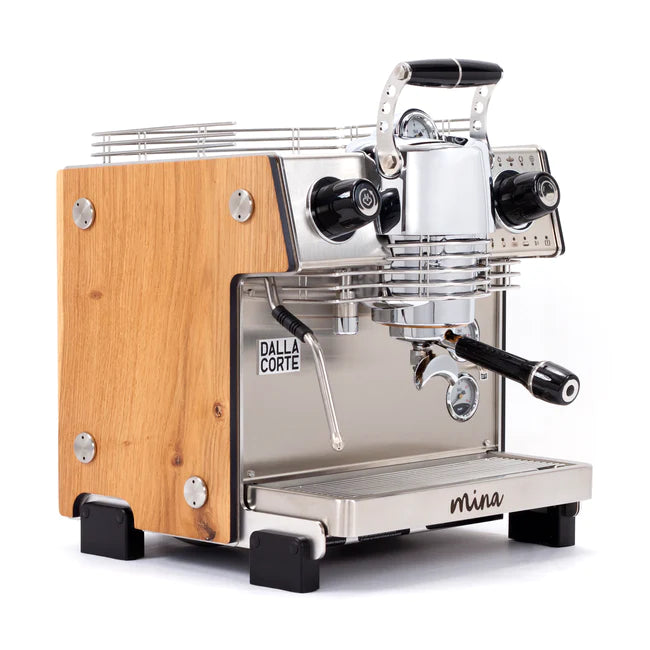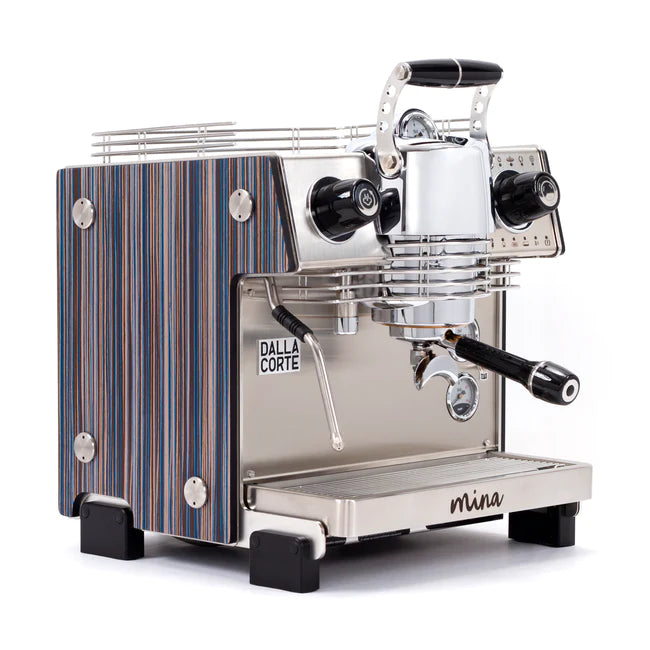 ---
Before finalizing your purchase, please contact us
Allow one of our professional commercial machine experts the opportunity to help guide you through your buying process and make sure you have selected the proper machine and options that best meets your needs.
Please Call Toll Free:
866-711-3456
or
973-687-5090
Enjoy free shipping on orders above $49 in the lower 48 states.
Additional shipping charges may apply commercial machine to residential address, and/or tail gate delivery required.
Please call (866)-711-3456 for any questions.
Competitive price matching is available for all our products.
Please complete this form when inquiring about best price for your item.
Dalla Corta Mina
ONE COFFEE, MANY PROFILES
Includes: Free shipping, of your espresso machinen One-year parts & bench labor due to defective parts,
The Dalla Corte Mina is a commercial dual boiler espresso machine with an acute focus on repeatable, consistent results. A manual lever offers control over flow rate, offering the ability to create fundamentally different extraction profiles based on your tastes. The Mina App opens the door to automatic brewing with flow control and a wealth of adjustable features.
The Dalla Corte Mina is a commercial dual boiler espresso machine with an acute focus on repeatable, consistent results. A manual lever offers control overflow rate, offering the ability to create different extraction profiles based on your tastes.
Owning the Dalla Corte Mina
The Dalla Corte Mina is emblematic of Dalla Corte's commitment to superb espresso and everything they have ventured to accomplish. With the arrival of the Mina, things have changed here at the office. There's a kind of frenetic pace, a sort of impatience caused by our excitement to share this machine with our customers. This, of course, may be due in part to all of the coffee it's made for us, but the Mina really is something else and we like it a lot. With it's flow profiling system and incredible ingenuity, we're positive you'll agree.
The key to understanding what the Mina has to offer is at its heart: the DFR (Digital Flow Regulator) and a custom made Flow Meter. This is the first flow meter designed for an espresso machine and it is so accurate that it can measure up to 80 pulses per second. Now, when approaching the Mina, perhaps the first thing you'll notice is the yoke above the brew group. The yoke works with the DFR and Flow Meter. You can use the yoke in both the manual and automatic mode and, when brewing coffee by using the control knob on the right, you will brew in the automatic mode only. This manual lever allows you to adjust flow rate in five stages during your extraction between 0 and 12 grams/second. Each stage of flow rate is represented by a series of lights on the right side of the machine as a visual aid. By adjusting flow rate, you're granted a new level of control over your extraction, essentially creating a unique extraction profile. With the Mina, Dalla Corte's mission was to offer control over your espresso's balance, acidity, sweetness—even it's aftertaste and texture. After testing it, we think Dalla Corte has achieved that mission in spades.
Another key strength of the Mina comes from the Dalla Corte Mina App which lets you control flow automatically. When connected to the Dalla Corte Mina App, you can save your favorite profiles, and select which you would prefer your Mina to perform. From here, you can create new profiles or edit existing ones by adjusting flow rate in grams/second and time at each step-in seconds for each of the five steps in your flow profile. With that in mind, we're proud to say our results from the Mina have been the most consistent we've ever experienced. 
On the App, you can find a shot timer, group temperature, and steam boiler temperature, as well as a litany of parameters you can freely adjust. Another intriguing feature of the App is its ability to upload flow profiles to any Mina. With multiple Minas, you can create specialized brewing stations, with each machine tuned to get the perfect cup out of a particular coffee. And, with the Mina's NSF certification, it stands to be a powerful addition to any cafe. You can even manage the entire group with a single smart device. 
Make your desired coffee profile by controlling every phase of extraction. Mina is the espresso machine you need to pull an espresso that's exactly as you want it.
PERFORMANCE The flow meter provides a perfect automatic dosing, but you can also control the extraction manually. Once you've found your ideal setting, you can pre-set an automatic dosing or you can extract in manual mode. With the Mina app you can easily set all parameters and connect Mina to the DC System (GCS, MCS, OCS)
. PATENTED TECHNOLOGY Our patented DFR (Digital Flow Regulation) controls the flow in each stage of extraction. The valve opening can be pre-set with a 0,01mm precision. Pre-infusion can start from 0 bar.
INFINITE POSSIBILITIES There are infinite ways to customize Mina. Wood, metal and glass, as well as single or multi-color coatings in opaque or transparent, matt or gloss. It's all up to you and your style!
Features & Specifications 
| | |
| --- | --- |
| Portafilter Material | Chrome Plated Brass |
| Number of Portafilters Included | 3 |
| Portafilter Type | Custom |
| Portafilter Weight (lbs) | 1.3 lbs |
| Portafilter Diameter | 54 mm |
| Self-Priming Pump | No |
| Pump Type | Rotary Pump |
| Warranty Service Provider Email | info@absoluteespresso.com |
| Warranty Service Provider | AEP |
| Warranty Service Provider Phone Number | 866-711-3456 |
| Manufacturers Warranty Period | 1-Year Parts and Labor |
| Amps | 12 A |
| Volt | 110V-120V (US) |
| Watts | 1437 Watt |
| Power Cord Length (inches) | 54 in |
| Power Cord Storage | No |
| Steam Boiler Auto-Fill | Yes |
| Steam Boiler Heater Location | Internal |
| Steam Boiler Insulation | No |
| Steam Boiler Material | Copper |
| Steam Boiler Orientation | Horizontal |
| Steam Boiler Volume (Oz) | 101 fl-oz |
| Steam Boiler Vacuum Relief Valve | Yes |
| Steam Wand Features | Automatic Steam Control,Insulated Grip,No-Burn |
| Steam Tip Hole Count | 3 |
| Steam Wand Material | Stainless Steel |
| Steam Wand Movement Type | Fully Articulated |
| Steam Wand | Automatic Frother,Commercial Style |
| Water Filter Included | No |
| Water Source | External Water Line (Plumbable) |
| Maximum Incoming Water Pressure (PSI) | 29 PSI |