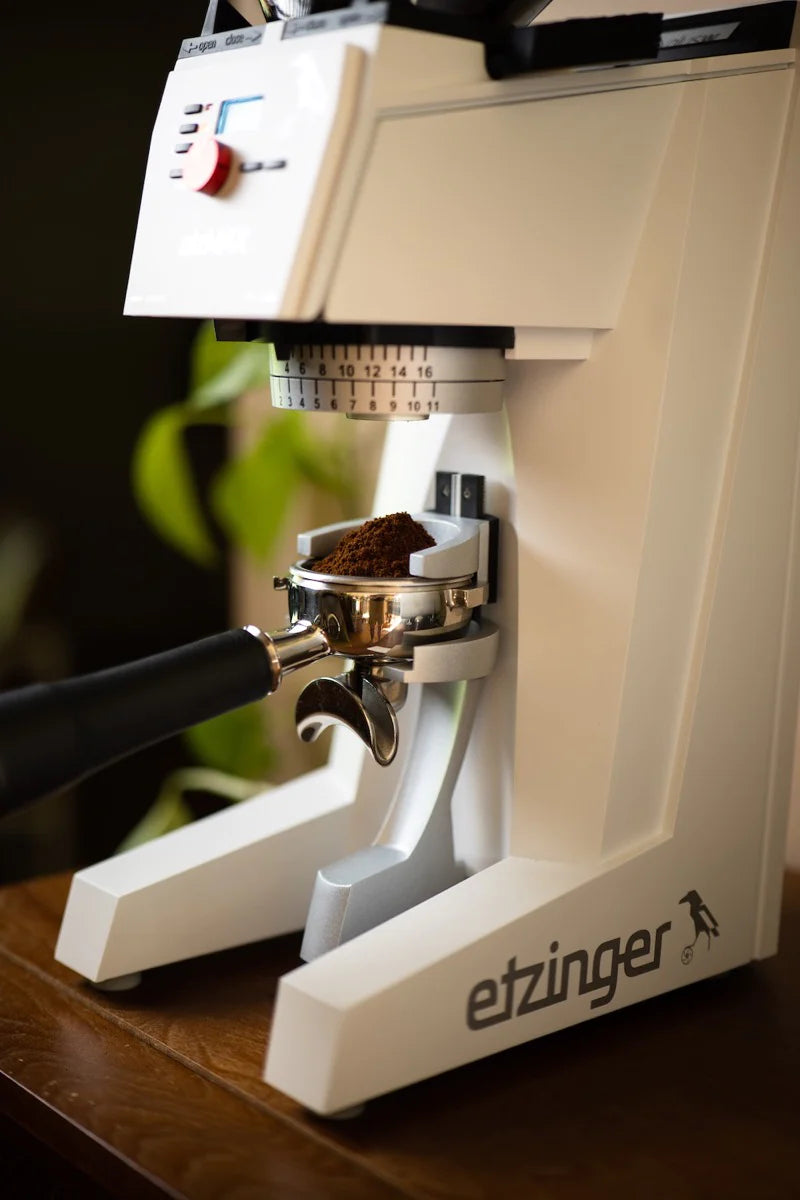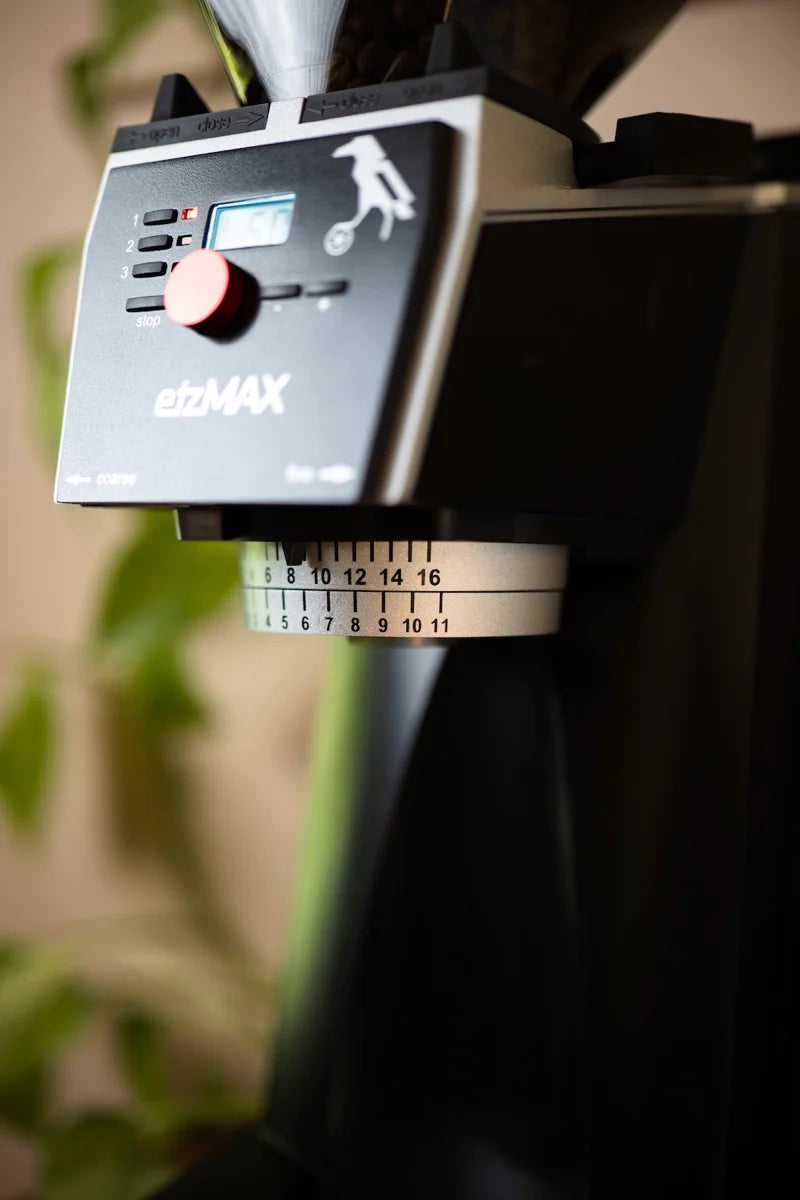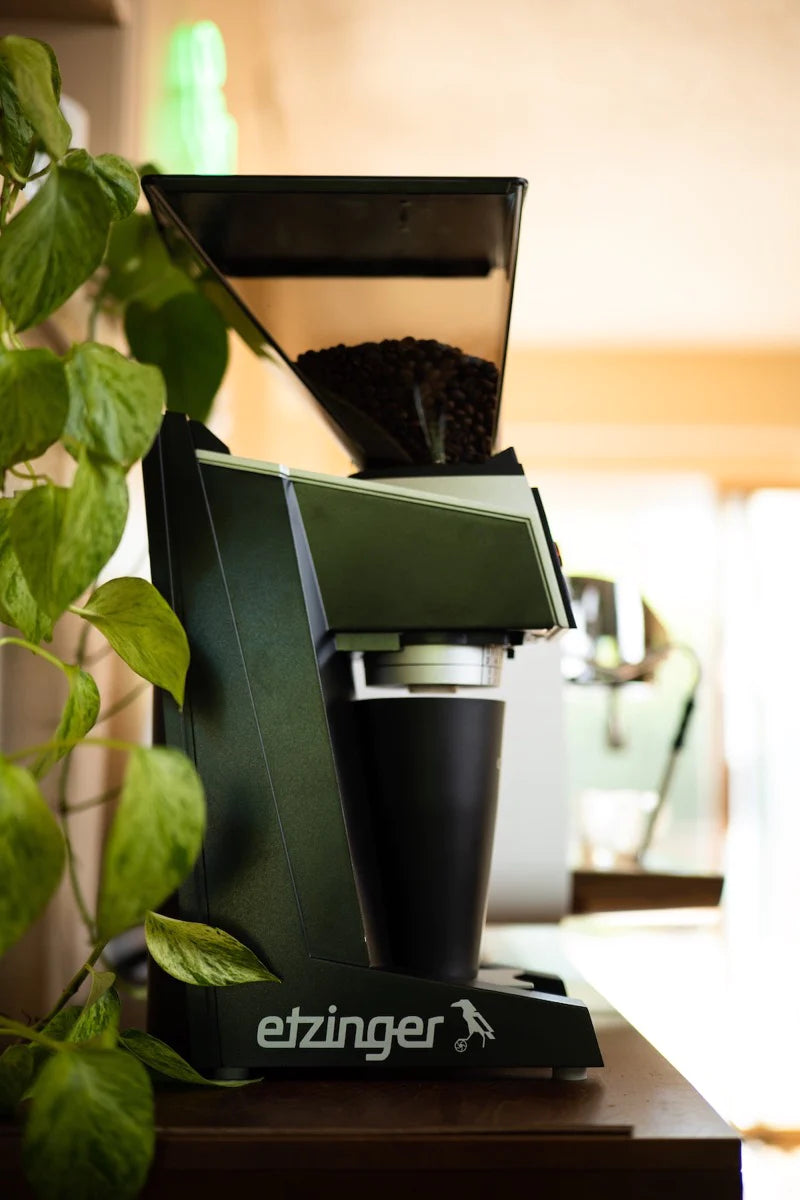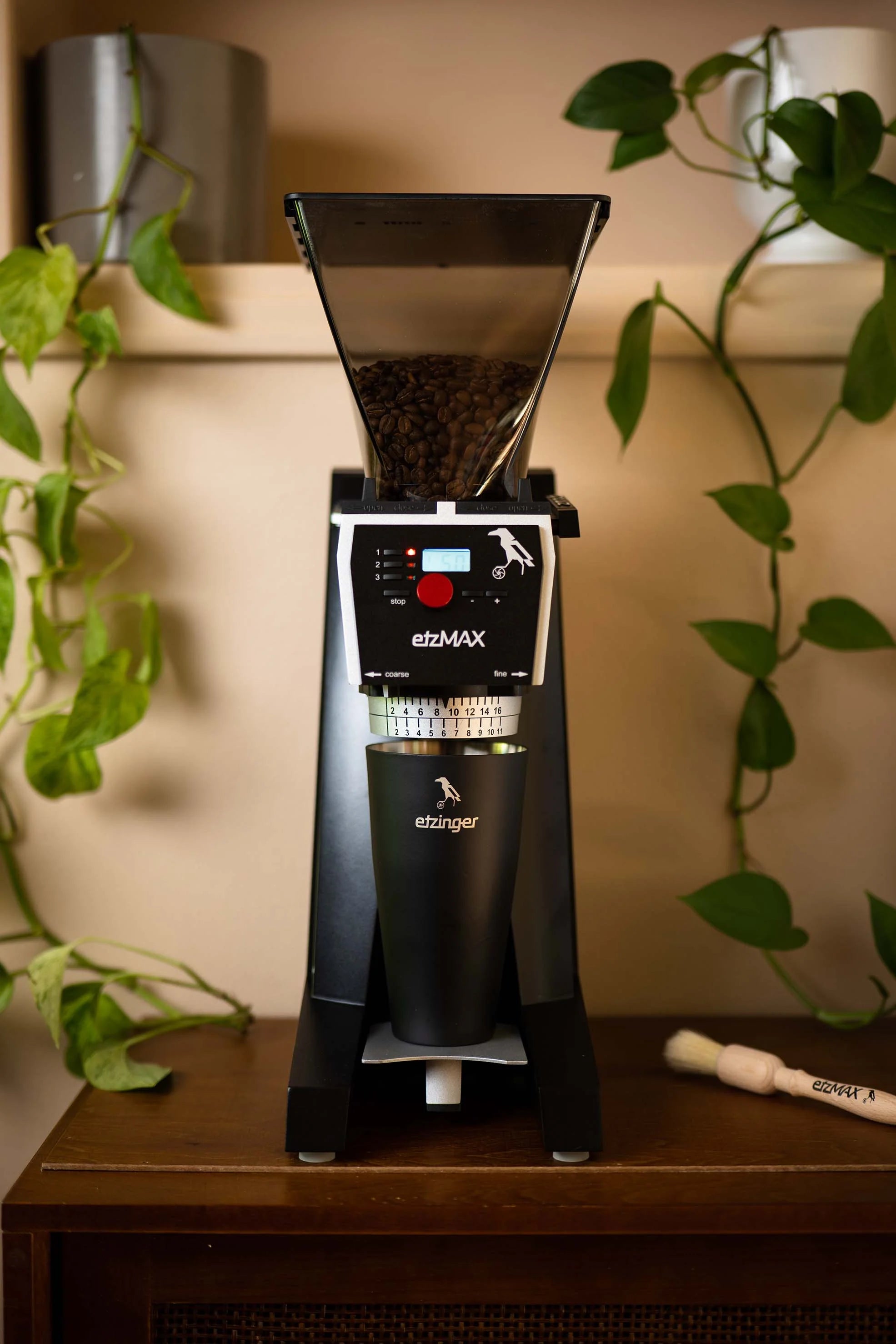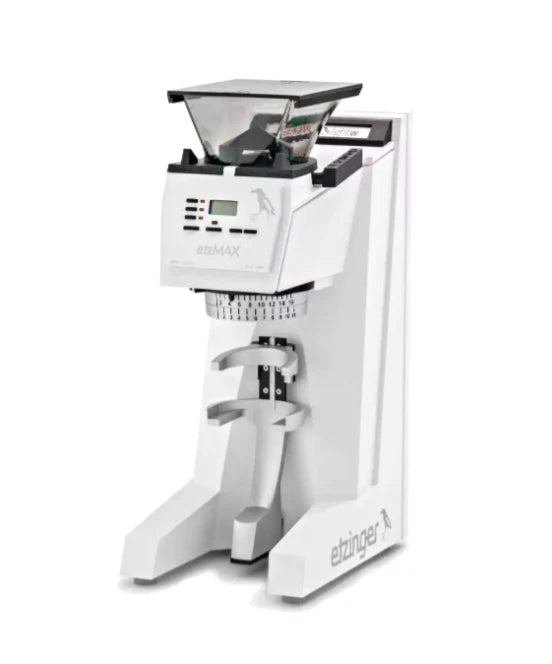 Etzinger etzMax Espresso GBW Grinder
---
Share
---
Etzinger  etz Max Espresso GBW Grinder
Includes Free shipping & full factory warranty.
An ideal companion for espresso machines, this grinder enhances the process with automation. The grinder includes a 2.2 lb hopper, which can be swapped for a 0.5 lb hopper to accommodate pour-over bar setups, making it an excellent choice for busy coffee shops, donut shops, and restaurants.
Great For Home or Cafés
✓ The Top Commercial Grade Espresso Grind-By-Weight Grinder Currently Available in USA

✓ Perfect for Coffee Shop, Restaurant, Home, or Anywhere You Want Great Tasting Espresso!

✓ Grinds at 3.8g-5.5grm per second. Recommended output 28grm (2 x1 4g shots) per minute.

✓ Built-in Cooling Feature for Busy Rush Hour

✓ Internal Scale Tares Up to 100s of Times Per Second for Extreme Accuracy

✓ Saves Time & Money, Increases Efficiency, Ensures Best Tasting Espresso

✓ 1-Year Parts & Labor Warranty + Phone Support
Extremely Accurate Save Money & Make Better Espresso
Introducing the etzMAX Plus, the ultimate commercial-grade espresso grind-by-weight grinder available in the USA. This groundbreaking grinder merges grind by weight technology with Acaia scale technology, delivering spot-on espresso doses for your enterprise.

Powered by proprietary software that tares the scale hundreds of times per second, the etzMAX Plus assures remarkable accuracy with every shot.

The Grind by Weight (GBW) technology eliminates any guesswork, providing you with the precise amount of coffee each time, saving time, money, and guaranteeing a top-notch quality espresso.
This grinder is the dream teammate for any espresso machine, streamlining the process and making it more automated.

The 2.2 lb hopper that comes with the grinder can be switched out for a 0.5 lb hopper to fit a pour-over bar setup, making it an outstanding choice for bustling coffee shops, donut shops, and restaurants alike.

Crafted with high-end materials, the etzMAX Plus showcases a zinc die-cast body and an aluminum housing. Its dimensions of 275 x 176 x 525 mm enable it to integrate seamlessly on any countertop.
Product Specifications
| Title | Details |
| --- | --- |
| Hopper Size | A 2.2 lb hopper comes with the grinder although a .5 lb hopper can be ordered as well |
| Materials | Zinc Die-Cast |
| Material Housing | Aluminum |
| Packaging | 590x390x290mm |
| Dimensions | 275 x 176 x 525 mm (10.8 x 6.9 x 20.7 in) |
| Gross Weight | 12.5kg / 27.6lb |
| Net Weight | 8.7kg/ 19.2lb |
| Bean Hopper Capacity | 1000g / 35oz (optional 200g / 7oz) |
| Burrs - Cone Burr (Material) | Machining Steel |
| Burrs - Ring Burr (Material) | High-Quality Tool Steel |
| Burrs (Diameter) | 32mm conical |
| Power North America | 120V AC 240W 50/60Hz 2.4 Amp |
| Extra Cooling Feature | Yes - Perfect for rush hour |

The grinder comes with a 1-year parts and labor warranty and phone support, offering you peace of mind with your purchase.

The etzMAX Plus is designed to optimize your espresso workflow, preserving valuable time and resources for your establishment.

 Its GBW technology ensures the ideal water to ground coffee ratio, delivering a delectable and satisfying espresso with every shot.

Whether you run a coffee shop or a restaurant, the etzMAX Plus will save your team time by eliminating the need to weigh whole beans and transfer them into the grinder and espresso machine.

The extra cooling feature guarantees that the grinder can handle peak hours without overheating.Investing in the etzMAX Plus means investing in the success of your business.

 Streamline the process of making espresso, boost efficiency, and achieve unparalleled precision with the etzMAX Plus.
Before finalizing your purchase, please contact us
Allow one of our professional commercial machine experts the opportunity to help guide you through your buying process and make sure you have selected the proper machine and options that best meets your needs.
Please Call Toll Free:
866-711-3456
or
973-687-5090
Enjoy free shipping on orders above $49 in the lower 48 states.
Additional shipping charges may apply commercial machine to residential address, and/or tail gate delivery required.
Please call (866)-711-3456 for any questions.
Competitive price matching is available for all our products.
Please complete this form when inquiring about best price for your item.