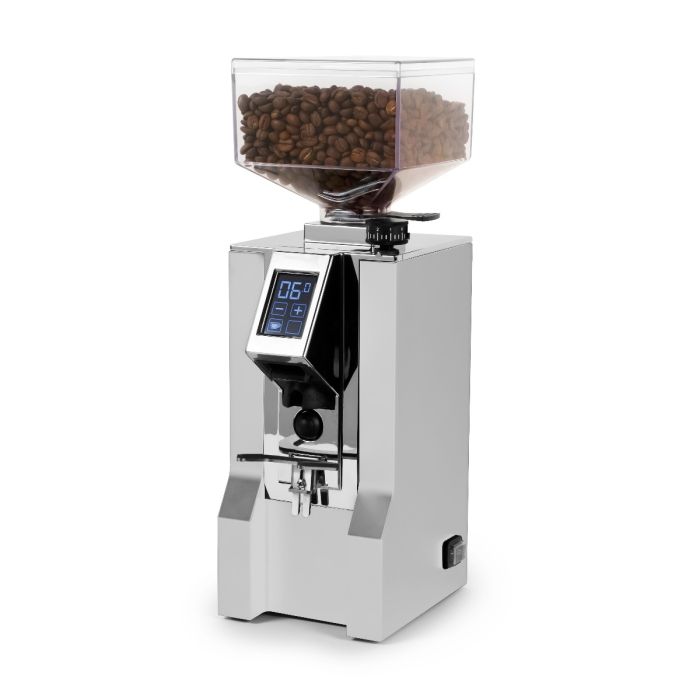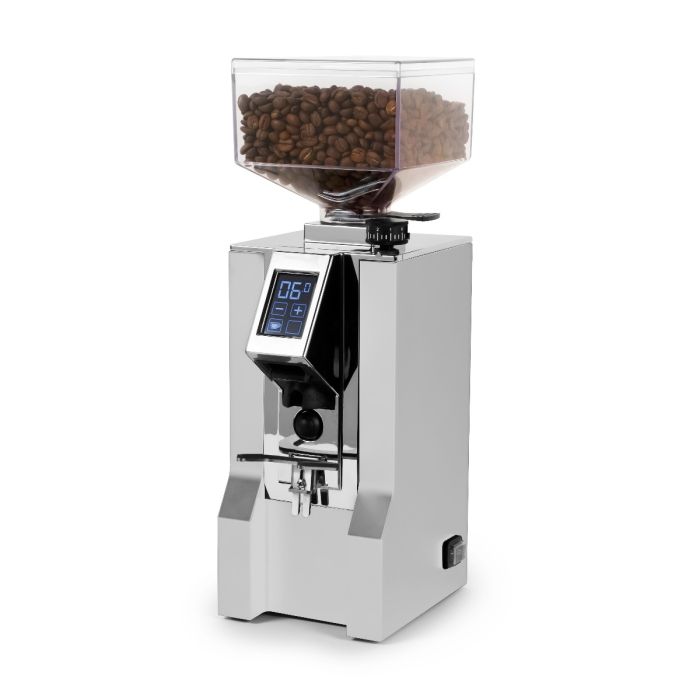 Eureka Mignon Oro XL 65 Black, White & Chrome
---
Share
---
Eurika Mignon Oro XL
Description Eureka Mignon Specialita Espresso Grinder
Indulge in better espresso with the Eureka Oro Mignon XL! The first under the premium Eureka Oro label, the Mignon XL borrows from the best, combining the silence and speed of the Atom series with the diminutive design of the Mignon line.
The Mignon XL packs in all the tech you've come to expect from Eureka—like touchscreen-timed dosing, a stepless grind adjust, and premium sound insulation—while also adding commercially-sourced 65mm burrs, a beefier motor, and a redesigned grind path.
Combined, these features make for a prosumer-pedigree grinder sized specifically for your home setup.
Make the coffee you love even better with the Eureka Mignon XL
Features and Functionality ·
65mm Burrs- Wide-format flat burrs with a motor to match; the Mignon XL grinds excellently.
· Stepless Grind Adjust- The Mignon XLs larger grind adjust knob offers precise adjustments and handy reference numbers for easy dial-ins.
· Programmable Dosing- Set and save 2 different dosing amounts on the high-contrast touchscreen.
· Compact Case- With the same footprint as the rest of the Mignon line, the XL adds just a hint of extra height to a tried-and-true formula.
· Made in Milan- Each Mignon XL is built by hand in Milan, Italy.
· Eureka Oro- A first for Eureka's new premium lineup, the Mignon XL offers extra refinement over other mignon grinders.
Specifications
Width 5.5 inches Depth 5 inches Height 14.5 inches
Product Weight (lbs.)
Volts 120 V Bean Hopper Capacity 12 Oz
Adjustment Configuration Stepless - Infinite Settings Grinder Style Burr
Flat Steel Burr Diameter 65 mm Size 65mm
Material Metal and Plastic
Warranty Information Length:
Home Use: 1-year parts and labor, Commercial Use: 1-year parts, 3 months labor
Care and Maintenance
• Wipe out hopper between refills.
• Brush out burrs as needed.
• Wipe down case with a soft cloth.
Before finalizing your purchase, please contact us
Allow one of our professional commercial machine experts the opportunity to help guide you through your buying process and make sure you have selected the proper machine and options that best meets your needs.
Please Call Toll Free:
866-711-3456
or
973-687-5090
Enjoy free shipping on orders above $49 in the lower 48 states.
Additional shipping charges may apply commercial machine to residential address, and/or tail gate delivery required.
Please call (866)-711-3456 for any questions.
Competitive price matching is available for all our products.
Please complete this form when inquiring about best price for your item.