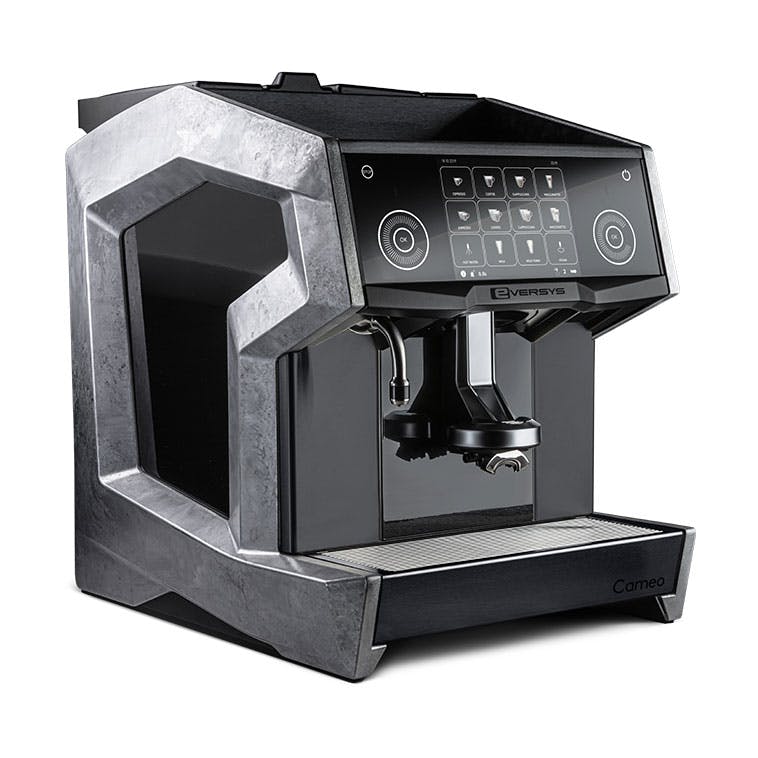 Eversys Cameo C2s ST 2 step + Paint Options
---
Before finalizing your purchase, please contact us
Allow one of our professional commercial machine experts the opportunity to help guide you through your buying process and make sure you have selected the proper machine and options that best meets your needs.
Please Call Toll Free:
866-711-3456
or
973-687-5090
Enjoy free shipping on orders above $49 in the lower 48 states.
Additional shipping charges may apply commercial machine to residential address, and/or tail gate delivery required.
Please call (866)-711-3456 for any questions.
Competitive price matching is available for all our products.
Please complete this form when inquiring about best price for your item.
Cameo C2/ST- 2 Step & Custom Paint Option.

Includes: Free shipping & installation of your espresso machine with a trained, local representative. Includes, Receiving, uncrate, inspection, drink set up, local installation to made ready water and electric & demonstration. 2-year parts & 1 year labor due to defective parts,
The C2S series is designee: Is a 2-step machine system, it is designed to steam the milk with its automatic Everfoam wand with a variety of operator adjustable heat and milk emulsion settings. The Coffee portion of the beverage selection is programed and selected from the large touch screen.
Cameo optional custom colors available; 'Earth" Black & Silver & "Tempest" Black & Copper is standard, Ocean is powder coated optional, .
Features include A modularity construction to allow quicker maintenance and ease of use. Lower chassis:
Cameo has a reduced footprint with resist bean hoppers which helps to promote easy customer engagement when placed on front counter. Variable Tea Temperature system: offers operators variable water temperatures.
The temperature can be adjusted from the screen's hot water wheel, so different types of tea always have a perfect infusion. Variable Milk Temperature system: offers operators variable milk temperatures. The temperature can be adjusted from the screen's hot milk wheel, so different types of milks always have a perfect infusion Integrated cup heater, found on top of the Cameo chassis, boasts a 50-cup capacity. A larger bean hopper:
Coffee bean capacity two times 2.5Lb. for two grinders incorporated inside the casing.
The Eversys early warning system alerts operators when to refill their hoppers.
e' Barista system: with grinding, tamping, temperature control, extraction time-controlled brewing, milk frothing and dispensing, the e' Barista system brings all the skill of a barista into a machine ensuring quality in the cup.
e' Connect technology: the leading-edge telemetry system lets operators track live data on their machine, control performance, manage decentralized stores, ensure transparency and allows for preventive maintenance, wherever they are in the world.

Cameo features user-friendly touch-screen interface, designed for intuitive navigation, ease-of-use and simple temperature control of coffee water, steam and hot water. Its sophisticated Electronic Milk Texturing (EMT) system allows operators to create the perfect milk foam texture and temperature from 65 to 160 F, for a comprehensive menu of milk-based drinks. 
Temperature Control - separate coffee and water/steam boilers to provide productivity and temperature stability (essential for all in-cup-quality).  equipped with two grinders allowing two parallel recipes to be set up at the same time.
Technology - machines built in modules, to ensure rapid access for technical intervention and reduced maintenance costs. Everfoam - introduces both steam and air to produce the macrofoam sought after by leading baristas, to create latte art while securing that the foam will be of premium texture and taste.
Connectivity - the ability to communicate with the machine via the brand's connectivity solutions such as connect, e´Connect API and, e'API
Features
Power (Amp)30
Rated Power (W)3500 Voltage (V) 220-240
200 Espresso's Per Hour (23s extraction) 
175 Milk Based Cups per Hour (120ml)
175 Auto-Steam Wand Temperature Controlled Yes
Specifications 
Brew Chambers1 x 24g
Coffee Boiler (L) 0.8L
Steam Boiler (L) 1.6L
Bean Hoppers (Kg) 2 x 1.2
Size W 16.7 x H 23.8 x D 23.4 mm
Net Weight (Kg) 65 =130LB.
Item number

SE-C2

SE-C2M

SEST-C2

SEST-C2M

Color choice

Tempest or Earth

Tempest or Earth

Raw aluminum

Raw aluminum

Steam wand with Everfoam

included

included

included

included

Tall cup hot water outlet

included

included

included

included

Adjustable hot water temperature (automatic)

included

included

included

included

Powder chute

included

included

included

included

Single hopper (no powder chute)

√

√

√

√

Bean hopper level alert

included

included

included

included

Red lid for cleaning ball dispenser

included

included

included

included

e'Levelling

included

included

included

included

CCI/CSI/API connection

included

included

included

included

e'Connect (Telemetry)

included

included

included

included
Specifications
| | |
| --- | --- |
| Dimensions (W/H/D) | 430 x 580 x 600 mm / (16.9 x 22.83 x 23.60 in) |
| Weight | 53kg |
| Brew chamber | 24g |
| Grinder | 2 x Ceramic burrs - 64 mm |
| User interface | Touch screen 400mm |
| Bean hopper | 2 x 1.2kg |
| Coffee cup height | 165mm |
| Interface | 1 x USB, 1 x SD-Card, 1 x Ethernet, 1 x CCI/CSI/API |
| Coffee boiler size | 0.8L |
| Grounds drawer | 400g |
| Machine ON | 1900-2500 W |
| Standby Mode | Less than 2 W |
Protect your warranty & investment.
Protect your factory warranty and machine from harmful hard water minerals that cause calcium build up, & damage to your boiler, heating elements, water passages, and moving parts. This all in 1 filter is the answer for most hard water conditions.
Help the taste of your coffee with a BMT Bestmax premium 5 stage filter with magnesium for improved coffee taste or the standard 4 stage protection filter. When selecting the premium line with magnesium, we recommend a water meter so you know when it's time to change your filter as magnesium will show as a solid on a test strip.
Dial in the setting 1, 2 or 3 on the BWT filter head to match your water hardness and brew system needs. to get the proper protection & longest life based on degree of water hardness. Just twist the all in one cartridge out of the self-closing valve in head and spin the new replacement one in when needed, no water to shut off or turn on before changing,
The BMT 0.5-micron cartridge can lie sideways, set on its base or hang from the wall bracket included,
Recommended sizes based on water hardness and usage.
See our compete BWT accessories discount packages.
Share