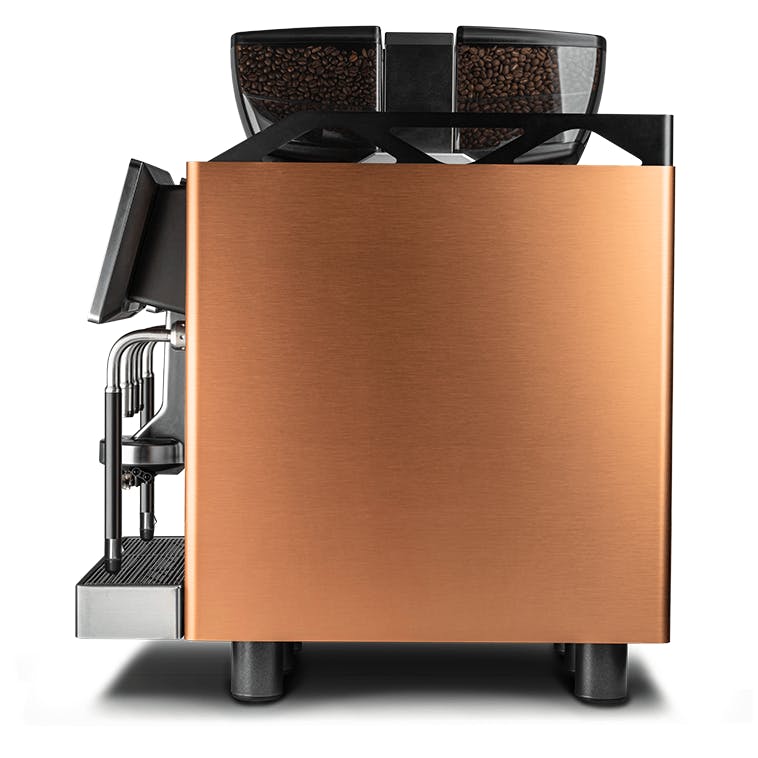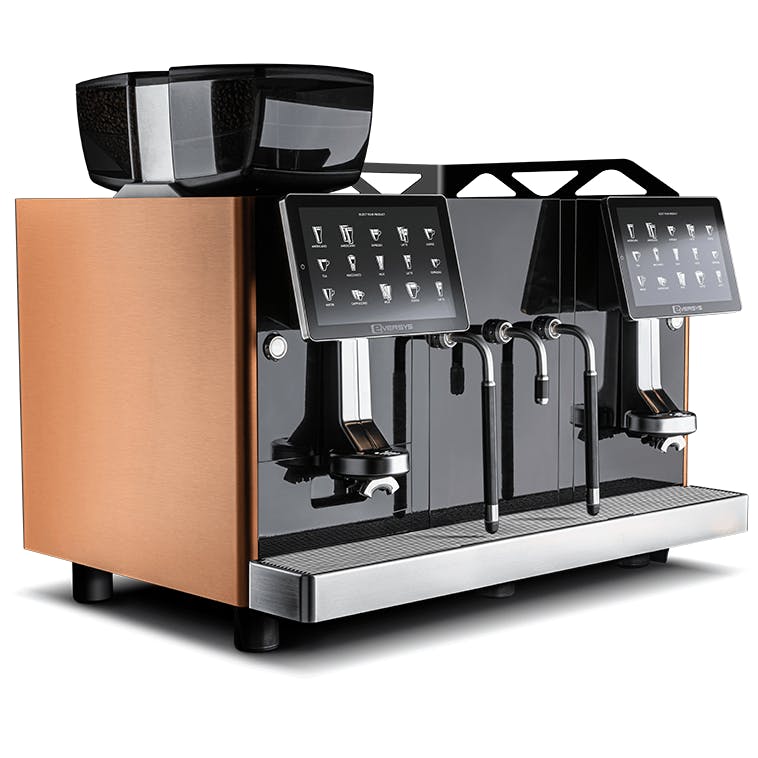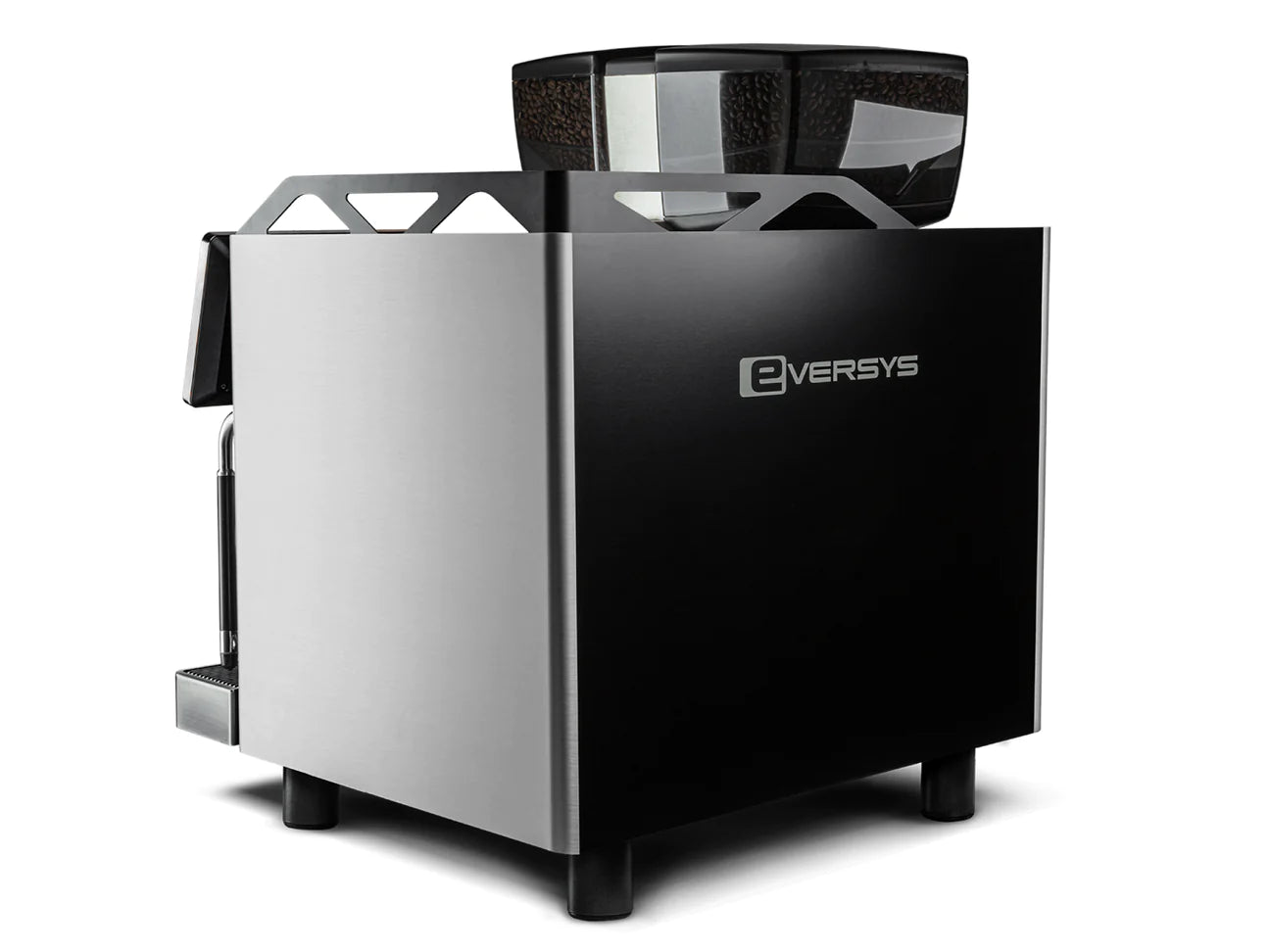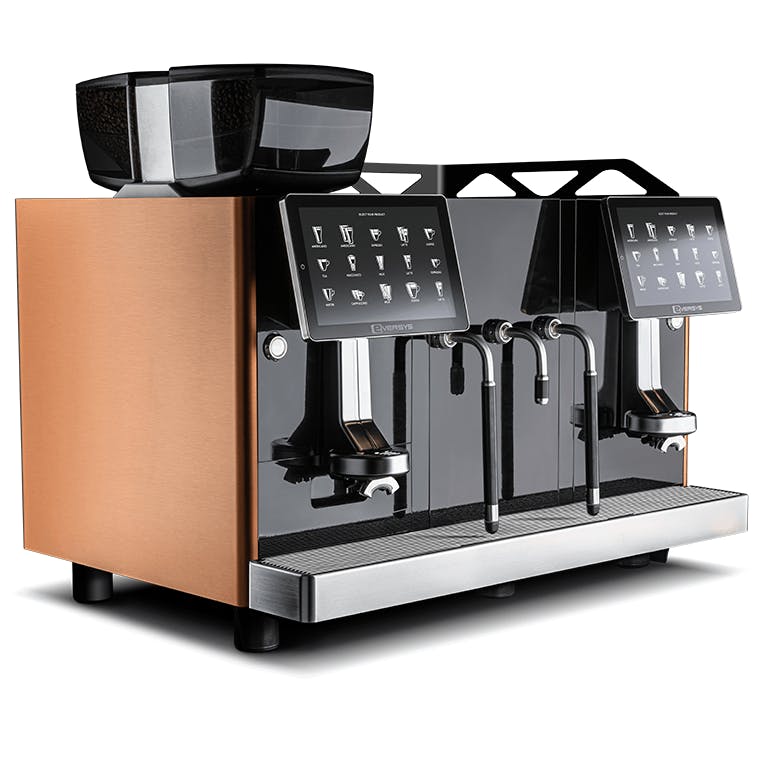 Eversys Enigma Classic E-4m 1 Step X Wide + Refrigerator Options.
---
Share
---
Enigma Classic E4m-1 step X wide. + Refrigerator Option.
 Includes: Free shipping & installation of your espresso machine with a trained, local representative. This service includes local installation to made ready water, electric & carpentry, check test start, drink set up, & demonstration. 2-year parts & 1 year labor due to defective parts
The M series is designed to operate with a side or under counter refrigerator. It has an automatic steam wand as well with more than four available settings at any given time for an expanded milk selection. The x wide comes with 2- 1.5 ever foam wands and 2 standards ever foam wands. A Twin Refrigerator holds 2 -1 gallons of milk.
You can draw from both of the same milks or have a switch-over valve and draw from 2 different milks. Use the ever foam wand for expanded milk selection,
When high speed Volume production is needed, Enigma is the answer with its twin brew groups. Designed to be authentic and timeless,
The Enigma line includes the E'4, modelled on a two-group espresso machine; with two coffee dispensing outlets;
The display screens 10.1-inches with a high resolution and wide viewing anglemake product selection easier. It also allows videos to run thanks to a more powerful central processing unit, run on a Linux platform.
The machine is available in Tempest and custom colors available at an extra charge, 
The top of the machine and the drip trays are made of resistant stainless steel. The bean hoppers and cup guards have darker hues, and the front. A light cup guard helps reduce the machine's perceived height, while the coffee outlet is designed with better ergonomics and haptics.
The Enigma Classic delivers the best of both worlds. With ability to have hands on operator simplicity of a manual automated milk steam system and the flexibility for filling the customer's request for a large verity of milks
Specifications.
Brew chamber 2 x 24 g
Grinder 2 x Ceramic burrs - 64 mm
User Interface 2 x T
ouch screen 256 mm (10.1")
Bean hopper 2 x 1.5 kg
Coffee outlet height* 190 mm max.
Hot water outlet height* 160 mm max. or 215 mm max.
(option) Interface 2 x USB, 1 x Ethernet, 1 x CCI/CSI/API
Cup heater surface Up to 64 espresso cups
Coffee boiler size 2 x 1.5 L
Steam boiler size 5.4 L
Grounds drawer 1 x 700 g
Drip tray Standard or Large without pitcher rinse
(option) ll dimensions
Datasheet E'4s E'4m
Weight 90 kg 94 kg
Performance (up to) Espresso / h (23 s)
350 Hot water / h (200 ml) 170
Cappuccino /h (23 s) - 350
Adjustable hot water temperature (Manual) Yes
Adjustable hot water temperature (Automatic)
Option e'Foam Micro Air Dosing
(MAD) system (controlled electronically) Yes
Milk system with EMT (Electronic Milk Texturing) - Yes
Voltage / Power Asia 200 V~, 50/60 Hz,
12A - JP 2100 W 200 V~, 50/60 Hz,30A
-JP 6000 W 1/N/PE, 220 V~, 60 Hz,25A - KR 5100
W 3/N/PE, 380 V~, 60 Hz, 16A - KR 7200 W
Protect your warranty & investment

.

Protect your factory warranty and machine from harmful hard water minerals that cause calcium build up, & damage to your boiler, heating elements, water passages, and moving parts. This all in 1 filter is the answer for most hard water conditions.
Help the taste of your coffee with a BMT Bestmax premium 5 stage filter with magnesium for improved coffee taste or the standard 4 stage protection filter. When selecting the premium line with magnesium, we recommend a water meter so you know when it's time to change your filter as magnesium will show as a solid on a test strip.
Dial in the setting 1, 2 or 3 on the BWT filter head to match your water hardness and brew system needs. to get the proper protection & longest life based on degree of water hardness. Just twist the all in one cartridge out of the self-closing valve in head and spin the new replacement one in when needed, no water to shut off or turn on before changing,
The BWT 0.5-micron cartridge can lie sideways, set on its base or hang from the wall bracket included,
Recommended sizes based on water hardness and usage.
See our compete BWT accessories discount packages.
Before finalizing your purchase, please contact us
Allow one of our professional commercial machine experts the opportunity to help guide you through your buying process and make sure you have selected the proper machine and options that best meets your needs.
Please Call Toll Free:
866-711-3456
or
973-687-5090
Enjoy free shipping on orders above $49 in the lower 48 states.
Additional shipping charges may apply commercial machine to residential address, and/or tail gate delivery required.
Please call (866)-711-3456 for any questions.
Competitive price matching is available for all our products.
Please complete this form when inquiring about best price for your item.