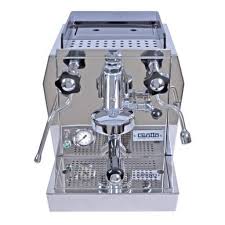 Rocket Giotto Evoluzione V * Holiday Discount $275)
---
Share
---
Rocket Giotto Type V Timer
One-year factory defective parts and bench warranty
Rocket Giotto V: A strong solid mid-Range home machine with a world famous E61 group and Vibration pump.
You can rely on a quality espresso from Rocket. Overview Bring Modern Milanese styling into your home with the Rocket Espresso Giotto Timer Espresso Machine.
A 'breathtaking' take on the classic E61 espresso machine, the Mozzafiato Timer adds cutting-edge technology to its clean design ethos with a drip tray masked PID controller and mirrored shot timer.
Making lattes is an exercise in ease with soft pre-infusion and a heat-exchange boiler that enables side-by-side brewing and steaming. Heat management is equally autonomous, with an electronic PID controller to keep temperatures at their ideal setting. Better, the machine's slim sides and unassuming front fascia make it easy to fit in any kitchen or bar setting.
Features
• Shot Timer: A minimalist shot timer adds extra functionality to Rocket's classic espresso machine design.
• PID Controller: Adjust boiler temp on the fly with the easy arrow button controls hidden behind the drip tray.
• Heat-exchange Boiler: At 1.8 liters, you'll have more than enough pressure for multiple drinks in a row.
• Made in Milan: Built by hand in Italy, each Rocket machine features prosumer components and careful construction.
• Classic Case: Ensconced in stainless steel, the Mozzafiato adds integrated cup rails to the Rocket lineup.
• PID controller
• Boiler and group pressure gauges
• E61 commercial group with automatic pre-infusion
• Finely crafted 304 stainless steel case
• Non-compression hot water and steam valves
• No-Burn stainless steel hot water and steam wands
• Two-hole steam tip
• Easy access to the water tank
• Removable stainless steel cup guard • Insulated copper boiler with brass ends 1.8 liters. • Resettable high limit
• Control board
• Vibratory pump
• Large 2.9-liter water reservoir
• Low water sensor
• Two complete 58 mm portafilters (one single and one double)
• Stainless steel backflush disk
• Informative DVD that explains how to make great espresso.
• User manual • 15 amp
• 3" clearance between the drip tray and the portafilter
• Free metal tamper
• Specifications
Model Number MOZZAFIATO CRONOMETRO V
o Manufacturer Rocket Espresso o
Width 11 inches o Depth 16.75 inches o Height 15.75 inches
o Product Weight (lbs.) 60.
o Watts 1200W o Volts 120V
o Programmability Temperature
o Case Material Stainless Steel
o Boiler Material Brass/Copper
o Cup Clearance 3.5 inches
o Boiler Volume 1.8L
o Reservoir Size 2.5L
o Solenoid Valve Yes
o Cup Tray Yes
o Portafilter Size 58mm o
Available Portafilters Non-Pressurized, Bottomless
o Warm Up: Brew Time 20 minutes
o Boiler Design Heat Exchanger o Pod Friendly No
o Water Sources Reservoir/Internal Tank
o Auto Shut Off No
o Auto On No
o Pre-Infusion/Aroma Yes
o Material Stainless Steel

Protect your warranty & investment.
Protect your factory warranty and machine from harmful hard water minerals that cause calcium build up, & damage to your boiler, heating elements, water passages, and moving parts. This all in 1 filter is the answer for most hard water conditions.
Help the taste of your coffee with a BMT Bestmax premium 5 stage filter with magnesium for improved coffee taste or the standard 4 stage protection filter. When selecting the premium line with magnesium, we recommend a water meter so you know when it's time to change your filter as magnesium will show as a solid on a test strip.
Dial in the setting 1, 2 or 3 on the BWT filter head to match your water hardness and brew system needs. to get the proper protection & longest life based on degree of water hardness. Just twist the all in one cartridge out of the self-closing valve in head and spin the new replacement one in when needed, no water to shut off or turn on before changing,
The BMT 0.5-micron cartridge can lie sideways, set on its base or hang from the wall bracket included,
Recommended sizes based on water hardness and usage.
See our compete BWT accessories discoun
Before finalizing your purchase, please contact us
Allow one of our professional commercial machine experts the opportunity to help guide you through your buying process and make sure you have selected the proper machine and options that best meets your needs.
Please Call Toll Free:
866-711-3456
or
973-687-5090
Enjoy free shipping on orders above $49 in the lower 48 states.
Additional shipping charges may apply commercial machine to residential address, and/or tail gate delivery required.
Please call (866)-711-3456 for any questions.
Competitive price matching is available for all our products.
Please complete this form when inquiring about best price for your item.