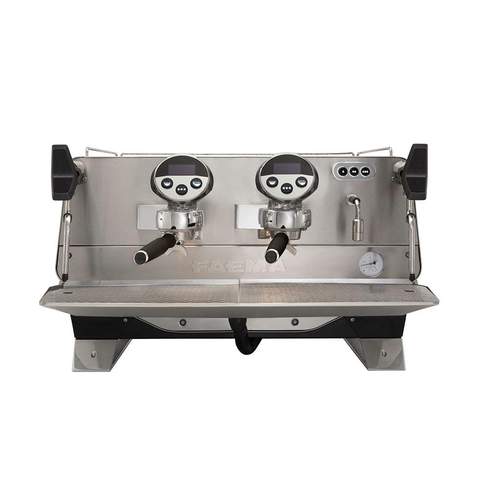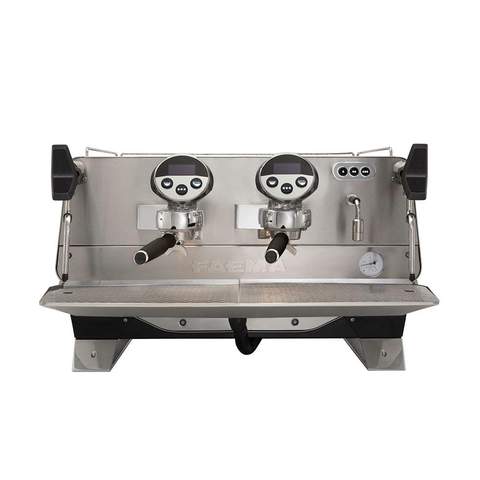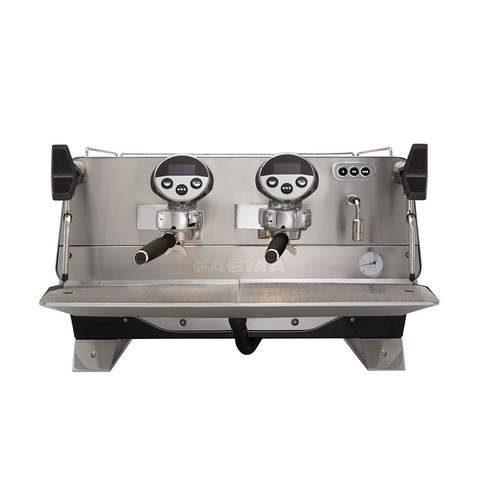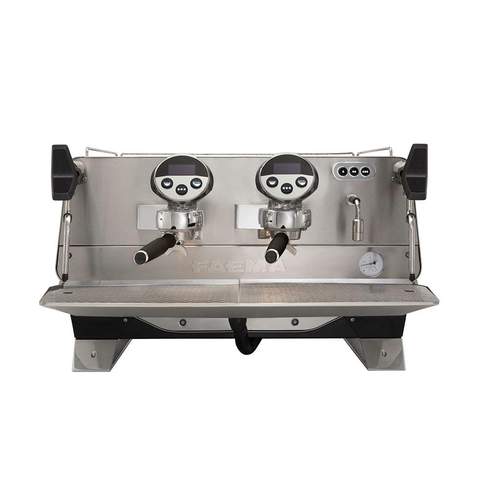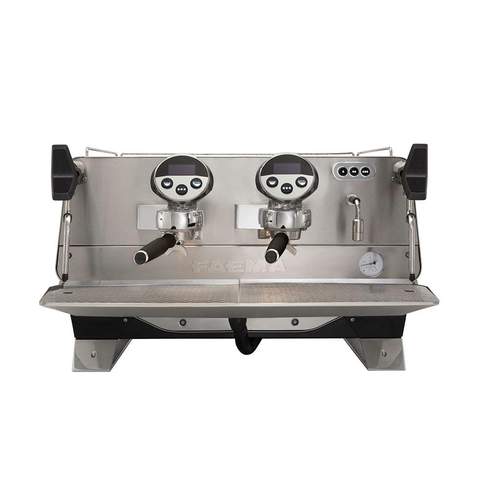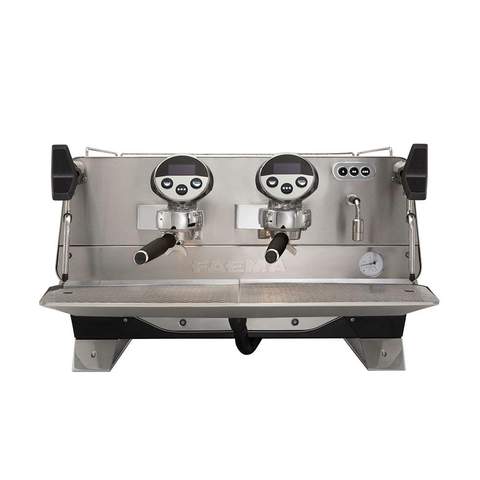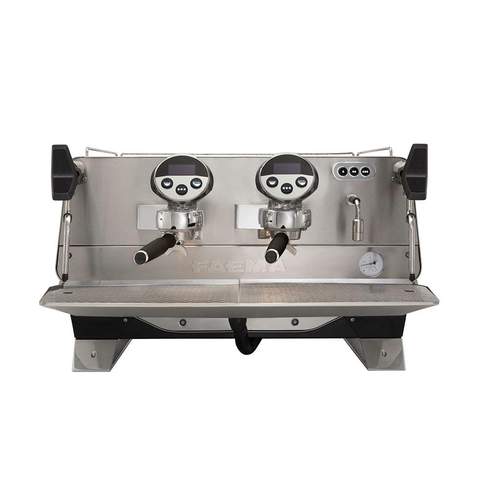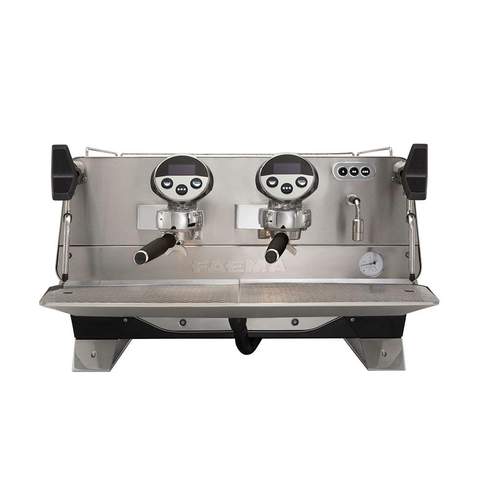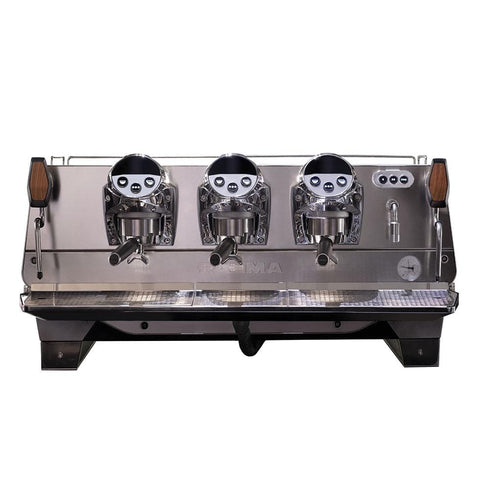 Faema 2 & 3 Group President GTI
---
Share
---
Faema President 2 & 3 Group
Includes: Free shipping & installation of your espresso machine with a trained, local representative. This service includes, local installation, to made ready water and electric & drink set up, demonstration. 1-year parts & 1 year labor due to defective parts,
Ask about our machine, grinder & water filter packages.
A distinctive design all its own President GTI uses heat-controlled, independent boilers with PID to manage coffee water temperature and infusion times for each group head.
Designed specifically with baristas in mind. President allows an experienced barista to fine tune temperature and pre-infusion at the touch of a button. With Faema's GTI technology, there won't be any need to adjust parameters, only for new coffee and sudden humidity changes.
The new Faema President is elegant in style using minimal and essential shapes. Elements of satin, chrome-plated steel, and pewter finishing can be seen in the GTI version.
The Faema President's new GTI system is designed to help the barista achieve optimal extraction. The process begins with a quick spurt of water at a high flow rate to allow the puck to bloom. After blooming, pre-infusion starts, and the President lowers the flow rate so the barista has greater control and can determine the length of pre-infusion.
The President has a new hydraulic circuit with GTi infusion control system that guarantees both high-precision infusion and perfect coffee brew time regulation.
The independent group heads allow baristas to manage different coffee blends that require specific extraction temperatures, ensuring thermal stability. All brewing parameters, including duration, can be under constant control. 
The rear panel can be characterized by playing with numerous materials and the most varied graphic designs to give your machine a truly original and unique touch.
Choose from a wide selection of panels kit: urban style, elegant, funny, and retro, with different graphics for a perfect coordination with the style of the coffee shop.
Smart Boiler, the Patented Smart Boiler technology increases the performance levels of hot water and steam while optimizing the water level in the boiler. This ensures thermal balance so you can consistently have a perfect cup even under conditions of maximum use.
Auto Steam Milk 4 (Optional) The Auto Steam Milk4 is a steam wand that, in addition to dispensing steam mixed with air like the traditional Auto Steam (patented), is characterized by a terminal that allows you to mount or heat even small amounts of milk (of approximately 50 cc). It allows 4 milk recipes. The temperature and emulsion level are established during the programming phase and can be modified directly by the barista to suit their needs for each of the 4 selections.
With all of these innovative features, it is clear that the President is one machine that blends great design, tradition, and innovation that never fail to assure a great quality in every cup..
Features
GTi Thermal System
Smart Boiler New Interface
New Stainless Steel Soft Touch Filter holders
Green Machine
USB Port
Optional: Auto steam Milk 4
Optional: Wi-fi Kit $350.00
Optional: Tall Cup Version
Specifications: A 2
2 cool touch steam wands.
1 hot water wand.
Boiler capacity (liters) 12
Hot water economizer YES
Width (in) 30.5 x Depth (in) 22.2 x Height with tall feet (in) 24
Weight (lb.) 180
Power at 220V~ 60Hz (W) 4,500 - 5,300
Specifications: A 3
2 cool touch steam wands.
1 hot water wand.
Boiler capacity (liters) 17
Hot water economizer YES
Specifications
Width (in) 40.5 x Depth (in) 22.2 x Height with tall feet (in) 24
Weight (lb.) 238
Power at 220V~ 60Hz (W) 6500 - 7,800
Preotect your warranty and investment
Protect your factory warranty and machine from harmful hard water minerals that cause calcium build up, & damage to your boiler, heating elements, water passages, and moving parts. This all in 1 filter is the answer for most hard water conditions.
Help the taste of your coffee with a BMT Bestmax premium 5 stage filter with magnesium for improved coffee taste or the standard 4 stage protection filter. When selecting the premium line with magnesium, we recommend a water meter so you know when it's time to change your filter as magnesium will show as a solid on a test strip.
Dial in the setting 1, 2 or 3 on the BWT filter head to match your water hardness and brew system needs. to get the proper protection & longest life based on degree of water hardness. Just twist the all in one cartridge out of the self-closing valve in head and spin the new replacement one in when needed, no water to shut off or turn on before changing,
The BWT 0.5-micron cartridge can lie sideways, set on its base or hang from the wall bracket included,
Recommended sizes based on water hardness and usage.
See our compete BWT accessories discount packages.
Before finalizing your purchase, please contact us
Allow one of our professional commercial machine experts the opportunity to help guide you through your buying process and make sure you have selected the proper machine and options that best meets your needs.
Please Call Toll Free:
866-711-3456
or
973-687-5090
Enjoy free shipping on orders above $49 in the lower 48 states.
Additional shipping charges may apply commercial machine to residential address, and/or tail gate delivery required.
Please call (866)-711-3456 for any questions.
Competitive price matching is available for all our products.
Please complete this form when inquiring about best price for your item.