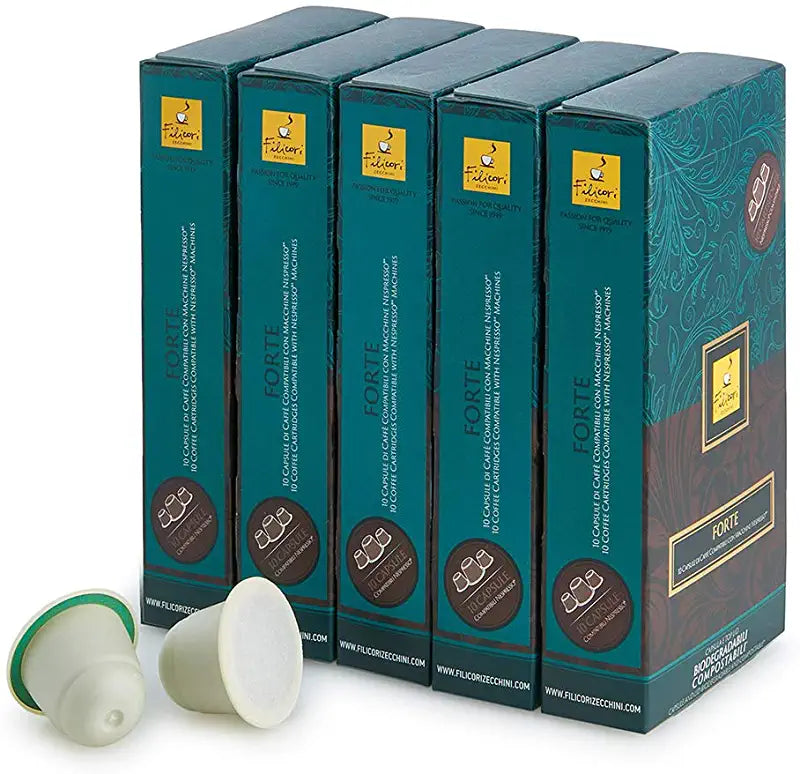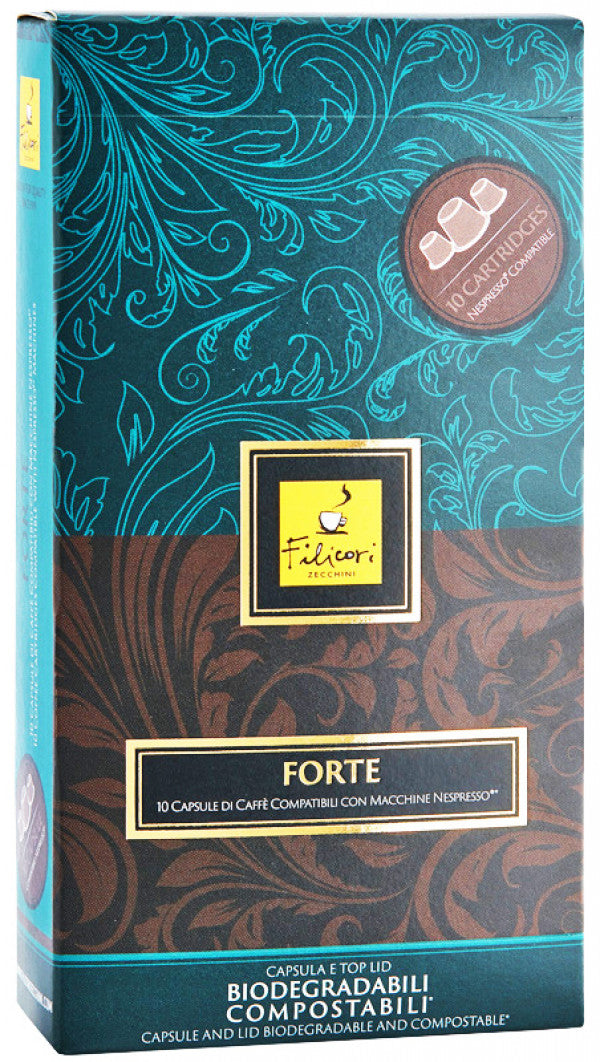 Filicori Zecchini Capsules Forte Espresso Lavazza Point 100 per Cs. Big discount on 2 and more
---
Share
---
Filicori  Zecchini Forta Lavazza Point Compatible Capsules.
10 x 10 =100 espresso capsules per case
COMPATIBILITY - These Single Serve Lavazza capsules can only be used in a Lavazza Point machine, or portafilter insert that we have available for most commercial Machines. 
100% BIODEGRADABLE and COMPOSTABLE – These Capsules are made entirely of bioplastic which is made of renewable raw (organic biomass sources materials); they are more eco-friendly than other plastic recyclable coffee pods; through the use of a biodegradable seal paper, the Filicori Zecchini bio capsules are completely free from aluminum! The composability (According to European Standard EN 13432) of these Capsules is certified as OK COMPOST by TÜV Austria / Vincotte.
Filicori Zecchini's Forte capsules contain a very complex blend, characterized by an exceptionally full body and intense flavor. You get exactly what you expect.
Filicori Zecchini Gran Crema Forte is a fine Italian espresso, made in the Italian tradition. Coffee from India, Brazil other South American origins have been individually roasted to preserve the distinct flavor and aroma characteristics of their respective areas. Forte is a bold Arabica-Robusta blend with medium acidity and complex aromas. It has been certified by the Italian Espresso National Institute, which recognizes quality coffee and espresso.
It provides an all-around coffee for Cappuccino, cafe Latte as well as Americano and straight espresso.
| | |
| --- | --- |
| Arabica Percentage: | 70% |
| Robusta Percentage: | 30% |
| Body: | 5 / 5 |
| Aroma: | 4 / 5 |
| Acidity: | 2 / 5 |
| Intensity: | 4 / 5 |
* The trademark is owned by Felicori Zecchini S.p.A. nor by companies related to it
FILICORI ZECCHINI | IN THE COFFEE BUSINESS SINCE 1919 - our coffee is served in more than 3,500 coffee shops all through Italy and we are recognized as "Espresso Specialist". The two families, FILICORI and ZECCHINI, still own and run the company in Bologna since 1919. We are one of the oldest and most recognized espresso coffee brands in Italy
Before finalizing your purchase, please contact us
Allow one of our professional commercial machine experts the opportunity to help guide you through your buying process and make sure you have selected the proper machine and options that best meets your needs.
Please Call Toll Free:
866-711-3456
or
973-687-5090
Enjoy free shipping on orders above $49 in the lower 48 states.
Additional shipping charges may apply commercial machine to residential address, and/or tail gate delivery required.
Please call (866)-711-3456 for any questions.
Competitive price matching is available for all our products.
Please complete this form when inquiring about best price for your item.