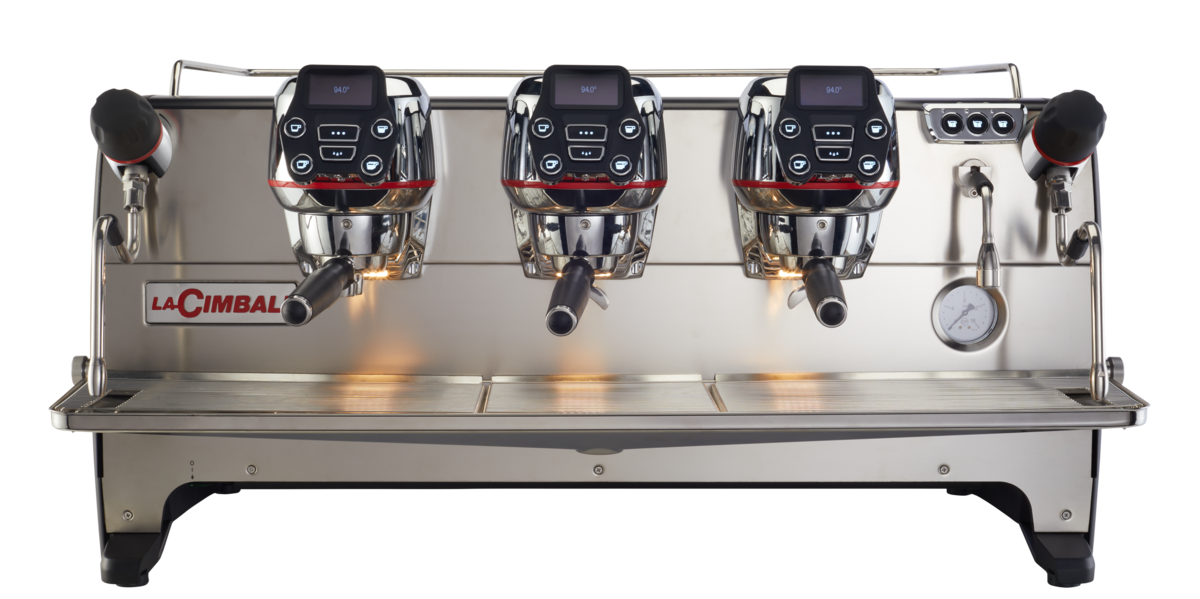 La Cimbali 2 & 3 Group M200 HD
---
Before finalizing your purchase, please contact us
Allow one of our professional commercial machine experts the opportunity to help guide you through your buying process and make sure you have selected the proper machine and options that best meets your needs.
Please Call Toll Free:
866-711-3456
or
973-687-5090
Enjoy free shipping on orders above $49 in the lower 48 states.
Additional shipping charges may apply commercial machine to residential address, and/or tail gate delivery required.
Please call (866)-711-3456 for any questions.
Competitive price matching is available for all our products.
Please complete this form when inquiring about best price for your item.
M200 2 & 3 Group HD Independent Boiler System
Includes: Free shipping & installation of your espresso machine with a trained, local representative. This service includes installation to made ready water and electric drink set up & equipment demonstration. 1-year parts & 1 year labor due to defective parts
Ask about our machine, grinder & water filter package discounts.
What is it?
A patented system that allows the barista to create a personalized pressure profile for every group selection button. The operator can design the profile that brings out the best in any blend by adjusting the level of acidity or bitterness. This optimizes the flavor and aroma features of the extracted coffee.
A special valve regulates water pressure throughout the coffee extraction stage.
Providing personalization of coffee blend
Optimization of the drinks' flavor and aroma profile
The M200 is top-of-the-line. Technologically innovative and highly functional, the shape of the machine was created to enhance performance, placing the needs of the barista first. The work area is illuminated to ensure an excellent view of espresso extraction. The brew groups are further apart from the steam wands, making them easier to use.
The incorporated Barista Driver System Automatically detects the correct amount of coffee, preventing mistakes and coffee waste in the fast-paced environment of the barista.
The M200 uses precious and robust materials making this new machine not only long-lasting but also ecological.
Every technology used in the M200 has been designed to strengthen and improve the barista's performance, where the machine becomes one with the professional, simplifying every step and activity.
Thanks to various ergonomic solutions – such as the adjustable drip tray, the slanted manual steam wands and the soft-touch materials, the M200 is a true extension of the barista's skills, improving the customer relationship, 
This machine is digital and innovative thanks to the touch interface and technologies, such as the independent boiler and PGS system, designed to enhance and improve product performance and to simplify work for all professionals.
The M200 diverse menu featuring milk-based drinks and specialty coffee makes it appealing to an international market.
Make it yours
Each of the m200 versions can be customized after purchase. The lights and graphic design on the rear panel and side panels can be subsequently customized, making each model unique.
Prepare the set(ting)
Configurations that are easy to use and intuitive to customize. A touch or button mode depending on personal preference. Faster preparations for consistently rapid and flawless performance
Features DT/2 
Hot water wands 1
Boiler capacity (liters) 7
Steam 1+TSMilk
4 Hot water selections 
Smart Boiler technology YES
Independent coffee boilers 2
Independent coffee boiler capacity (cc) 400
Coffee boiler resistor (W) 800
Specifications
Width x Depth x Height with tall feet (in) 33.1 x 22 x 25.6
Weight (lb) 209.
Power at 208 – 240 V~ 60 Hz (W) 5000-6700
Twin Heat Exchange (15 lite Boiler) Temperature Controller
Features DT/3
Hot water wands 1
Hot water selections 3
Boiler capacity (liter) 15
Smart Boiler technology YES
Thermo-drive YES
Front panel YES
Graphic display YES
Specifications
Width (in) 41.5 Depth (in) 22.4 Height with tall feet (in) 25.4
Weight (lb) 229.
Power at 208 - 240V 60Hz (W) 5400-7200
Twin Heat Exchange (15 lite Boiler) Temperature Controller
Protect your warranty & investment.
This all-in-one filter system is the answer to most espresso machine water condition problems.
Protect your factory warranty and machine from harmful hard water minerals that cause calcium build up, & damage to your boiler, heating elements, water passages, and moving parts.
Help the taste of your coffee with a BMT Bestmax premium with magnesium 4 stage filter or our standard filter system.
When selecting the premium line with magnesium we recommend a water meter so you know when it's time to change your filter, as magnesium will show as a solid on a test strip.
Dial in the setting for your water hardness and brew system needs. based on degree of water hardness
Just twist all in one cartridge out of the self-closing valve in head and spin the new replacement one in when needed, no water to shut off or turn on before changing,
BMT valve in head, 4-stage water filter system with filtration to 0.5 micron. Cartridge can lie sideways, on its base or hang from the wall bracket included, recommended sizes based on water hardness and usage.
See our compete BWT accessories package at discount prices.