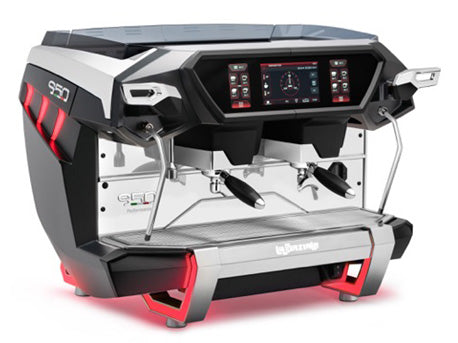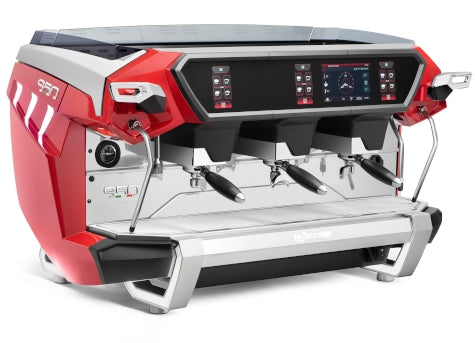 La Spaziale 2 & 3 S50 Performance Electronic
---
Before finalizing your purchase, please contact us
Allow one of our professional commercial machine experts the opportunity to help guide you through your buying process and make sure you have selected the proper machine and options that best meets your needs.
Please Call Toll Free:
866-711-3456
or
973-687-5090
Enjoy free shipping on orders above $49 in the lower 48 states.
Additional shipping charges may apply commercial machine to residential address, and/or tail gate delivery required.
Please call (866)-711-3456 for any questions.
Competitive price matching is available for all our products.
Please complete this form when inquiring about best price for your item.
La Spaziale  S50 2 & 3 Group Performance 
Absolute will coordinate the installation of your espresso machine with a trained, local representative. Includes, drink set up, local installation to buyer made ready water & electric demonstration. One-year parts & labor due to defective parts, 
The La Spaziale S50 Performance is an electronic espresso machine with innovative features and a distinctive design, such as independent boilers and Pressure Profiling. 
The S50 is available in three different versions in a standard or tall cup model
Based on your operation and coffee selections of single origin and blends along with roast profile the proper system is available for your operation and price point
1) The PERFORMANCE with Independent Boilers and Pressure Profiling,
2) The 3.0 Electronic with independent boilers
3) The Selectron with a heat exchanger PID system
Strong personality in design and performance, enclosed in new and captivating shape, The new professional coffee machine,
 

S50

 

is the jewel of La Spaziale.

This new machine with touch screen and innovative tools to manage the extraction profile and to maintain the results in a consistent way.

We selected the materials that compose it, from the massive use of aluminum alloys to steel. All materials are treated to be shocked and scratch resistant and to preserve aesthetics over time.

A LED system based on RGB technology that also illuminates the worktop and the high-resolution capacitive touch display with a customizable user interface that allows greater barista interaction.

As confirmation of the modernization of the look, numerous internal functions have also been designed, to embrace the new, expanding market trend; we then use the latest newest generation of ITC which allows different temperatures to be set and adjusted directly from the display for a single dose of each delivery group

 

(ITC 3.0).

To provide a deeper help to the coffee selections taste the machine provides pressure profiling, a system to modulate the pressure curve from the pre-infusion to the extraction phase, choosing with which pressure and for how long the water must pass through the coffee to be dispensed in order to enhance the organoleptic properties

 

(Pressure Profile). The machine then manages to modify the profile of the coffee extracted, leaving the possibility to personalize and enhance the quality in the cup.

The machine also manages the heating process in a very precise way and guarantees consistent energy savings. Specifically, the S50 manages to optimize energy efficiency based on workload and usage requirements, all according to 3 settings: ECO: 33%, NORMAL: 66% and BOOST: 100%

 

(Power management system of the machine).

capacitive graphic displays: main display TFT 7" and group displays 4.3
Steam delivery lever with 3 functions: On/Off/Purge
"Purge" function for coffee delivery groups
2/4/6 programmable buttons for coffee delivery
"Cool touch" steam wands
Preset/mixed hot water delivery (with adjustable temperature)
ECO function and energy consumption monitoring (Kw/H)
Independent control of boiler resistance heating elements
Worktop with led adjustable luminous intensity (0-100%)
RGB led lateral inserts and feet with colors and intensity variations (0-100%)
EGS function
Group and boiler semiautomatic cleaning cycle
On/Off timer
Coffee counter
Coffee extraction time monitoring
Electronic temperature regulation for the cup warmer tray with 4 different temperatures
Electronic sensor for boiler pressure
Pressure gauge for pump pressure (digital for 3.0 and Performance)
Alarm history
Prearranged for Bluetooth connection and USB port
   
             Length Height Depth Weight (Kg. Power supply, Power absorption 
2 GRP (mm) 836    619      601     86 90      230/400V 50/60Hz   4600W
3 GRP (mm)1069   619     601   105 110    230/400V 50/60Hz    6200W  
Installation Package includes up to 3 hours labor & 1 Hr. travel of certified technician service. 
Requirements:
Plumbing, drain, and electrical needs be in place and complete per the manufacturer's installation specs prior to installation.

Water filtration is required and not included in the installation package.

Water Requirements - 3/8" dedicated cold-water line with shut off valve and compression fitting - water hardness must be between 3-5 grains per gallon or 50-85 ppm - water softener and/or filter must be installed if it exceeds the limits - Minimum incoming water flow rate of 35 GPH and the maximum line pressure of 70 PSI / 5 BAR Drain Requirements -Open gravity drain of minimum 1.25 inches within 4 feet of the machine. Extended length is posable at extra hose cost 

note 220-volt machines come without plug
The installation package does not include general construction services (including but not limited to electrical wiring, water and drain plumbing, drilling countertops, the installation of other equipment, etc.). Additional travel costs may be required for locations outside of 50 miles or 1 hr. travel time.
Please Note: Images are for representation.
Water Filter a Most
Protect your factory warranty and machine from harmful hard water minerals that cause calcium build up, & damage to your boiler, heating elements, water passages, and moving parts.
This 4-stage all in one system is the answer for most water conditions. 
Help the taste of your coffee with a BMT Bestmax standard or premium with magnesium 4 stage filter or our standard system. When selecting the premium line with magnesium we recommend a water meter so you know when its time to change your filter as magnesium will show as a solid on a test strip.
Dial in the setting for your water hardness and brew system needs. based on degree of water hardness
This all-in-one filter system is the answer to most espresso machine water condition problems.
Just twist all in one cartridge out of the self-closing valve in head and spin the new replacement one in when needed, no water to shut off or turn on before changing,
BMT valve in head, 4-stage water filter system with filtration to 0.5 micron. Cartridge can lie sideways, set on its base or hang from the wall bracket included, recommended sizes based on water hardness and usage recommended.
See our compete BWT accessories package discount package.
Before finalizing your purchase,
Please call toll free 866 711 3456 or 973-687 5090 to allow us the opportunity to make sure you have selected the machine and options that best meet your needs and budget.
Share