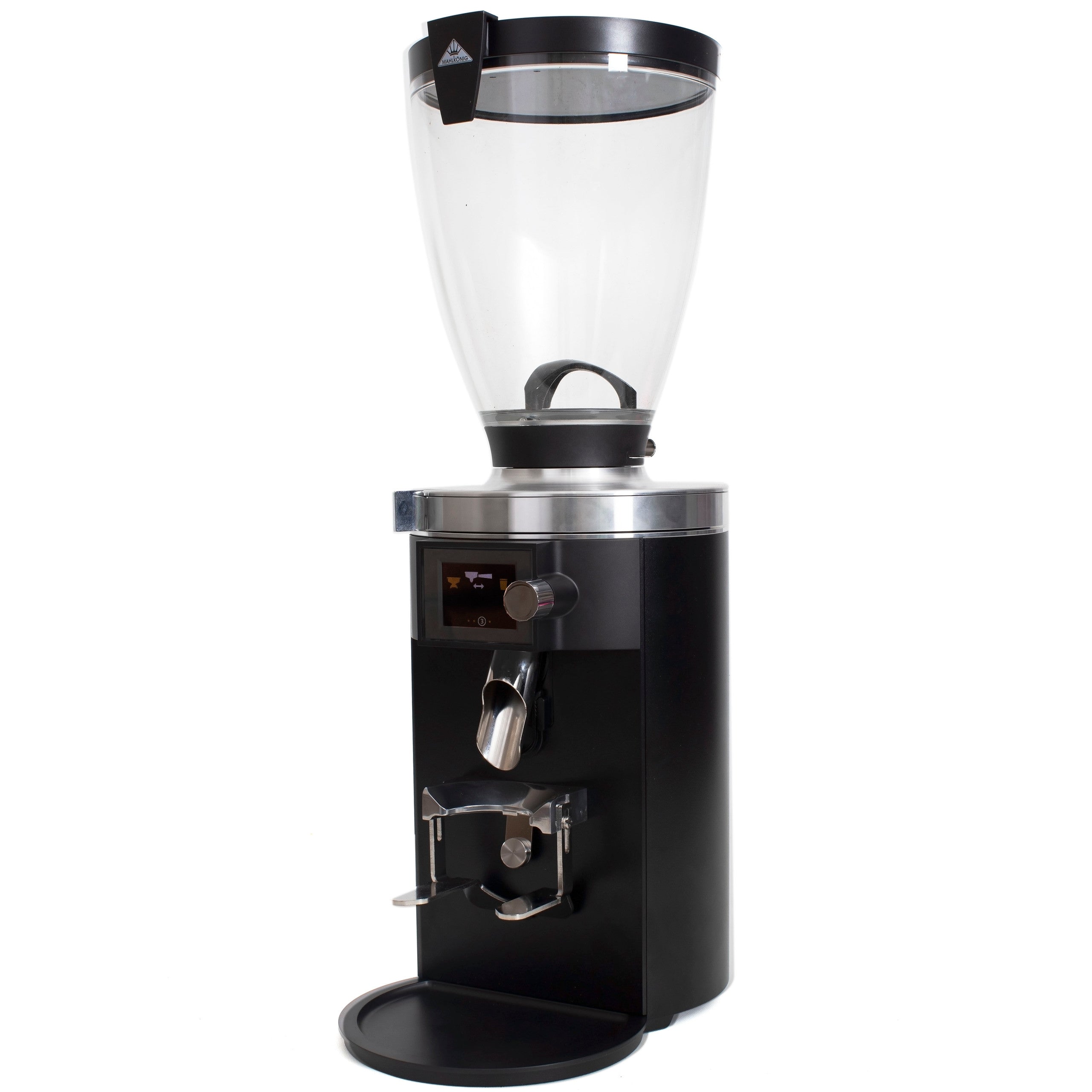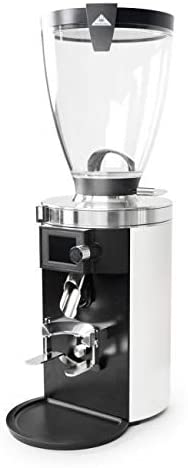 Mahlkonig E65 S GBW Grinder
---
Share
---
Mahlkonig E65 S GBW on Demand Grinder                                         
Includes free shipping within the continental US. & manufacturer's warranty 
Mahlkonig has proven again what gives them the confidence to call themselves The King of Grinders with the E65S GBW espresso grinder.
Building on the platform of the already feature-packed E65S, the E65S GBW adds new technologies to increase the consistency of both dosing and grind setting accuracy with Grind-by-Weight and Disc Distance Detection making their debuts.
Grind-by-Weight brings about the addition of a high-precision load cell tuneable to 0.1 gram settings, moving away from the grind-by-time auto-dosing of grinders past. This means better dose accuracy as you get away from relying on perfect and unchanging environmental conditions to keep your dose at its dialed-in setting, so no more worrying about temperature changes in the grinder, fluctuations in the grind fineness, or resetting your dose timer moving from one bag of beans to another.
Adding to the impressive accuracy featured in this espresso grinder is Mahlkonig' s Disc Distance Detection system, which calculates the physical distance between the burrs down to 0.001 millimeter (or 1 micron). Once you've dialed in you can save your grind fineness by this measurement, making it simple to monitor how your grind setting may float slightly throughout service and giving you an incredibly accurate way to get back to exactly where you found that delectable extraction. Using the fine-threaded stepless adjustment collar in concert with the new DDD technology makes staying dialed-in easier than ever.
Of course, you'll still get all of the features and functionality that have made the E65S a go-to option for cafes and coffee businesses. Its compact footprint makes it flexible for your counter space and workflow, and its quick grinding and quiet operation will keep baristas and customers happy. You still get proprietary 65 mm flat steel burrs, tuned by Mahlkonig for exquisite espresso extraction. The adjustable grinds chute with an improved DE clumper will give you fluffy doses situated perfectly in your portafilter basket; and that same chute is easily removable for easy cleaning. And all of this technology is controlled via a bright 3.5" display with intuitive single-knob controls, making adjustments a breeze even during your busiest shifts.
Questions & Answers.
Who is the E65S GBW for?

Specialty coffee shops, cafes, and mobile coffee carts are all great applications for this grinder. High volume environments in particular take advantage of the GBW function by removing the weighing step from the workflow. Meaning, you won't need an espresso scale.

What is the difference between the E65S and the E65S GBW?

The E65S standard

 

uses a programmed timer where you set an amount of time you want the motor to run for each espresso dose. The E65S GbW uses a programed weight instead, where you set the target weight you want the grinder to dose. 

Is Grind by Weight technology worth the extra cost?

It depends on the circumstances, but if precision is important to your coffee operation and you are either restricted on time, or counter space the GBW function is well worth the extra cost. However, it is also convenient to have the scale integrated with the grinder.
Mahlkonig E65S GBW Espresso Grinder
1200-gram standard hopper
Grinds catch tray
Product Manual
Features:
Grind-by-Weight technology with adjustment to 0.1 gram
Disc Distance Detection telling you how far apart your burrs are to the 0.001 millimeter for improved grind setting consistency.
Quiet operation and fast grinding speeds around 4–5 grams per second
Bright 3.5" high-resolution display with intuitive controls
65 mm flat steel burrs
Active internal cooling system maintains low grinding temperatures.
Adjustable illuminated grinds chute for center-distributed doses
Compact footprint
Before finalizing your purchase, please contact us
Allow one of our professional commercial machine experts the opportunity to help guide you through your buying process and make sure you have selected the proper machine and options that best meets your needs.
Please Call Toll Free:
866-711-3456
or
973-687-5090
Enjoy free shipping on orders above $49 in the lower 48 states.
Additional shipping charges may apply commercial machine to residential address, and/or tail gate delivery required.
Please call (866)-711-3456 for any questions.
Competitive price matching is available for all our products.
Please complete this form when inquiring about best price for your item.