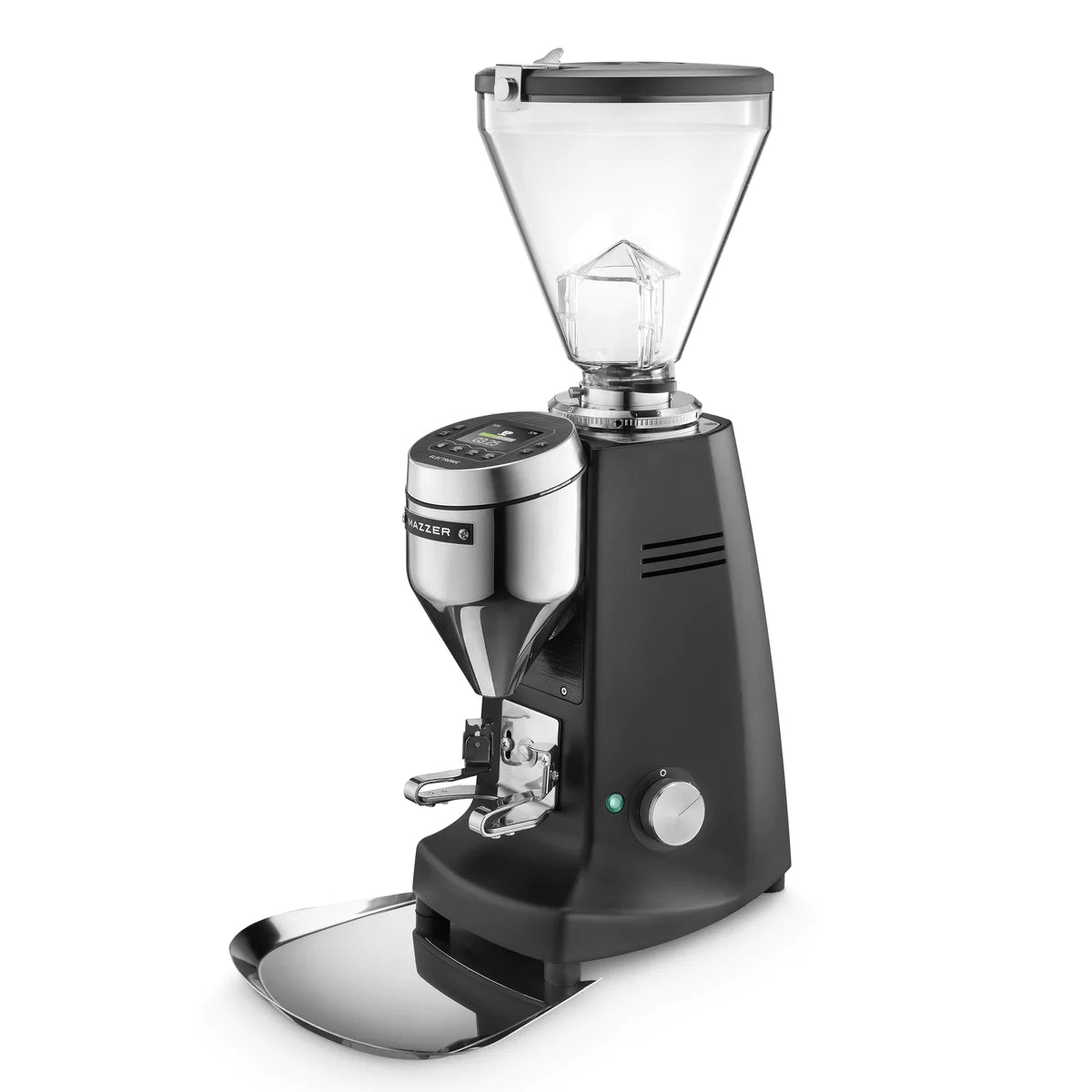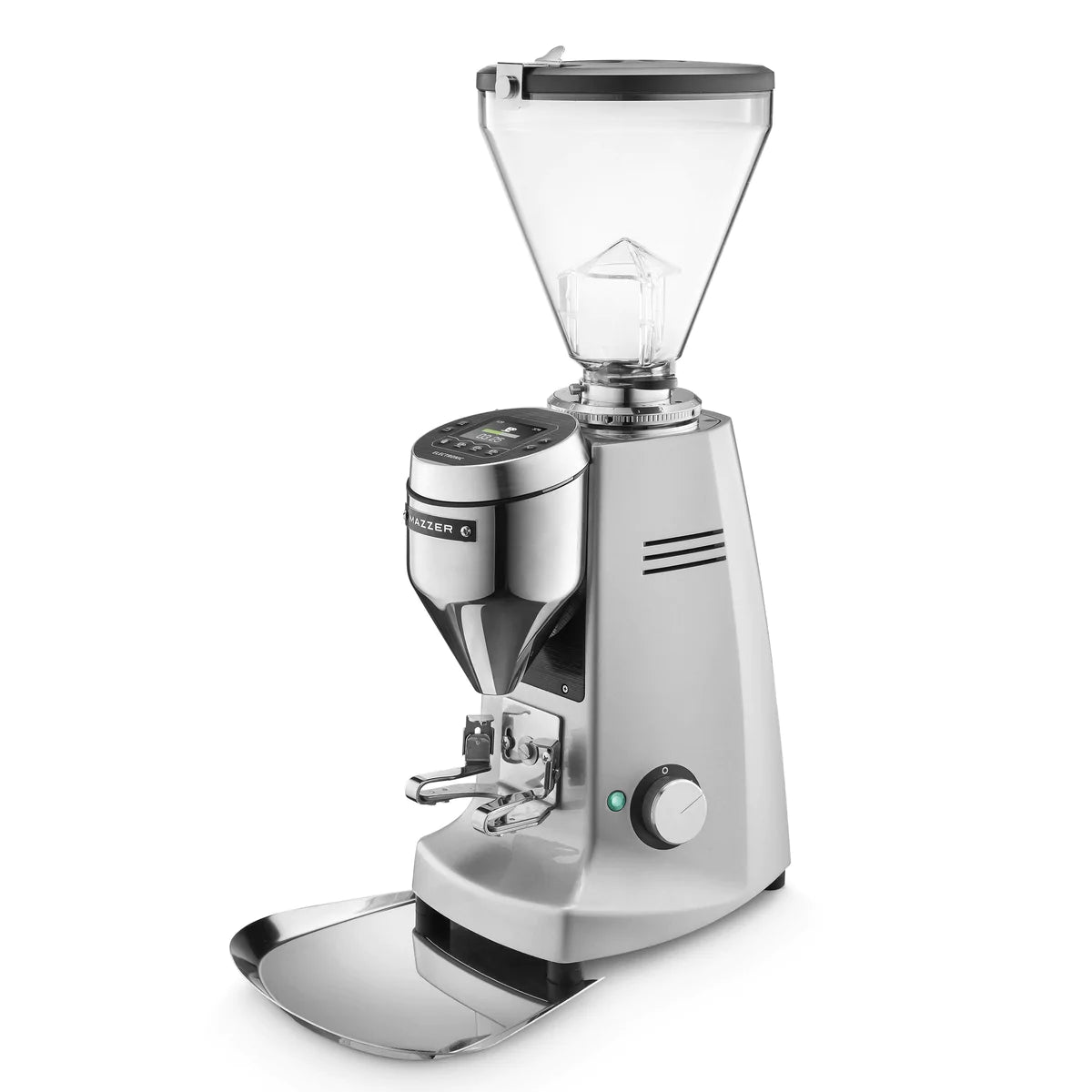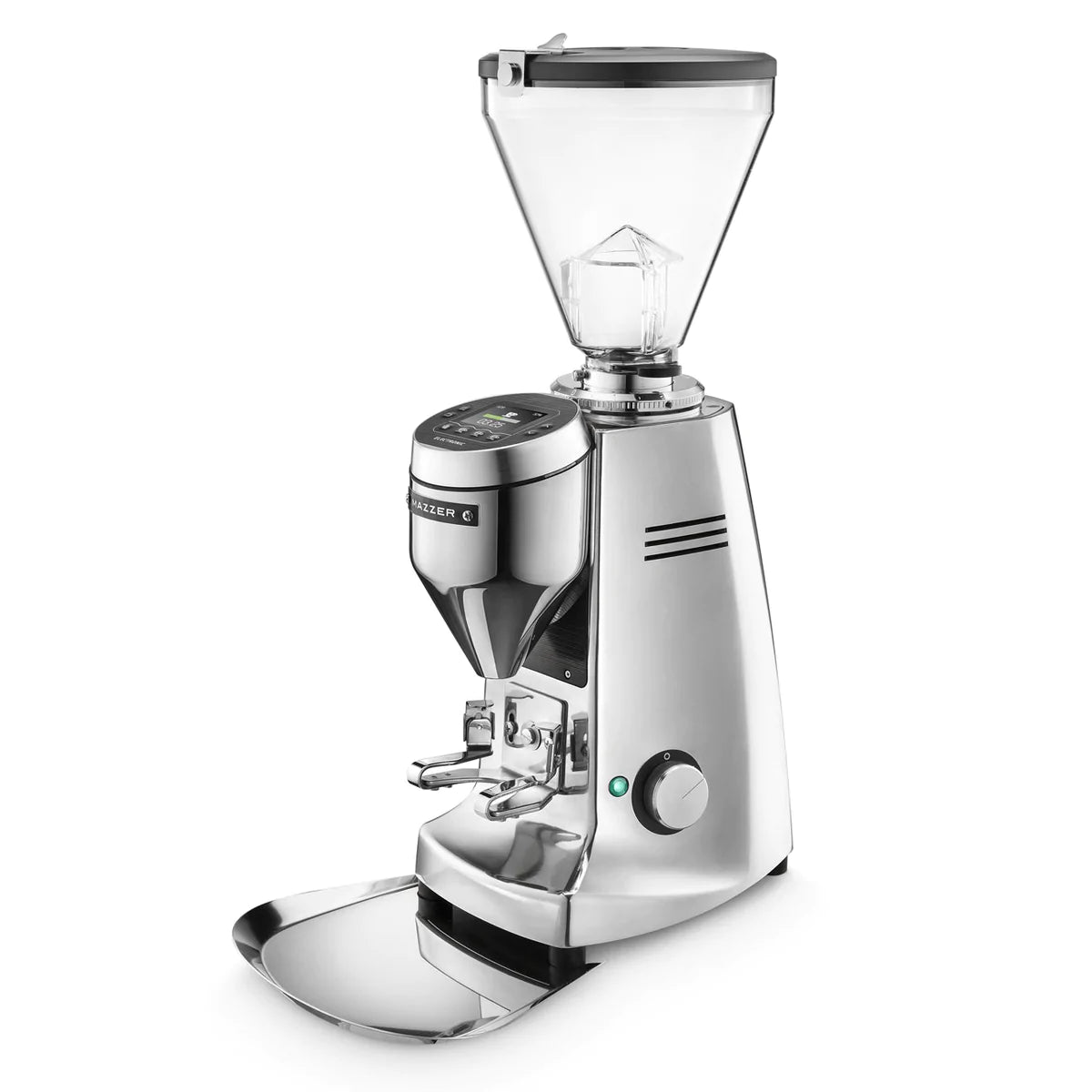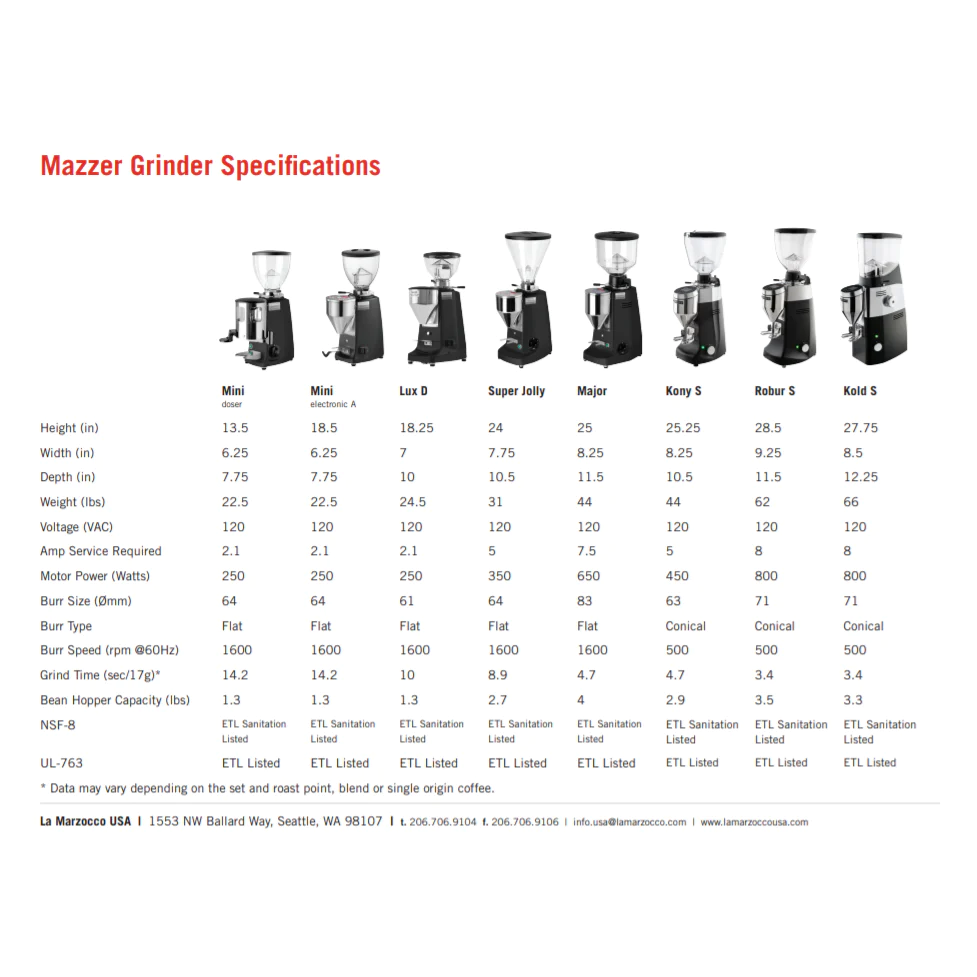 Mazzer Super Jolly V Pro Espresso Grinder
---
Share
---
MAZZER E Super Jolly V Pro
Electronic Espresso Grinder
The Super Jolly V Up is the newest offering from the Mazzer V line.  It's reliable, easy to use, and has everything you need to make excellent coffee in a small to medium-sized coffee shop and is the successor to the globally acclaimed Super Jolly Electronic, which has since been discontinued.  
New-style flat burrs with enhanced geometries, 64mm Burrs (233D)
Single damper GFC – Grind Flow Control
Easy to clean grinding chamber with no loss of grind settings
Statistics
Double-fan cooling system
Adjustable portafilter holder
On-demand grinding activated by the portafilter
Wider grinding adjustment range
2.4 lbs hopper
Single, double, and triple doses
Double-fan cooling system
Memory track
Adjustable portafilter holder
On-demand grinding activated by the portafilter
Tag holder
Wider grinding adjustment range
100% Satisfaction Guaranteed!
SPECIFICATIONS:
Power: 350 Watt
Grinding blades: Flat 64 mm - 2½ inches (ref. 233D)
Grinding blade speed:
1600 r.p.m. (60 Hz)
Coffee-bean hopper capacity: 2.4 lbs
Net weight: 33 lbs
The Super Jolly V Pro Electronics' 64mm flat burrs, manufactured in the company's factory in Venice, have been redesigned for greater productivity throughout what's a wider range of adjustability than found in the Super Jolly. The burrs are also accessible in the V Pro for cleaning without losing the grind setting. 
Mazzer says the new model also offers lower overall grind retention. A newly adjustable portafilter holder includes a grind activation button.
The V Pro also features the "memory track" settings collar, which the company has introduced on other models in recent years, allowing users to continually index the grind setting, positioning the numeral zero at the point where burrs touch (which naturally shifts over time as burrs break-in).
A dual-fan cooling system keeps the grinder's parts and coffee cooler, and a new digital display provides settings, usage stats, notifications, and optional connectivity with a smartphone app.
Grind Flow Control System – GFC 
Get uniform coffee grounds in your portafilter while keeping grounds from getting on the counter with the innovative GFC System. The GFC system consists of a removable aluminum outlet insert equipped with three interchangeable wire dampers. Choose the best wire damper for you according to the coffee origin, roast profile, weather conditions, or barista preferences.
Before finalizing your purchase, please contact us
Allow one of our professional commercial machine experts the opportunity to help guide you through your buying process and make sure you have selected the proper machine and options that best meets your needs.
Please Call Toll Free:
866-711-3456
or
973-687-5090
Enjoy free shipping on orders above $49 in the lower 48 states.
Additional shipping charges may apply commercial machine to residential address, and/or tail gate delivery required.
Please call (866)-711-3456 for any questions.
Competitive price matching is available for all our products.
Please complete this form when inquiring about best price for your item.