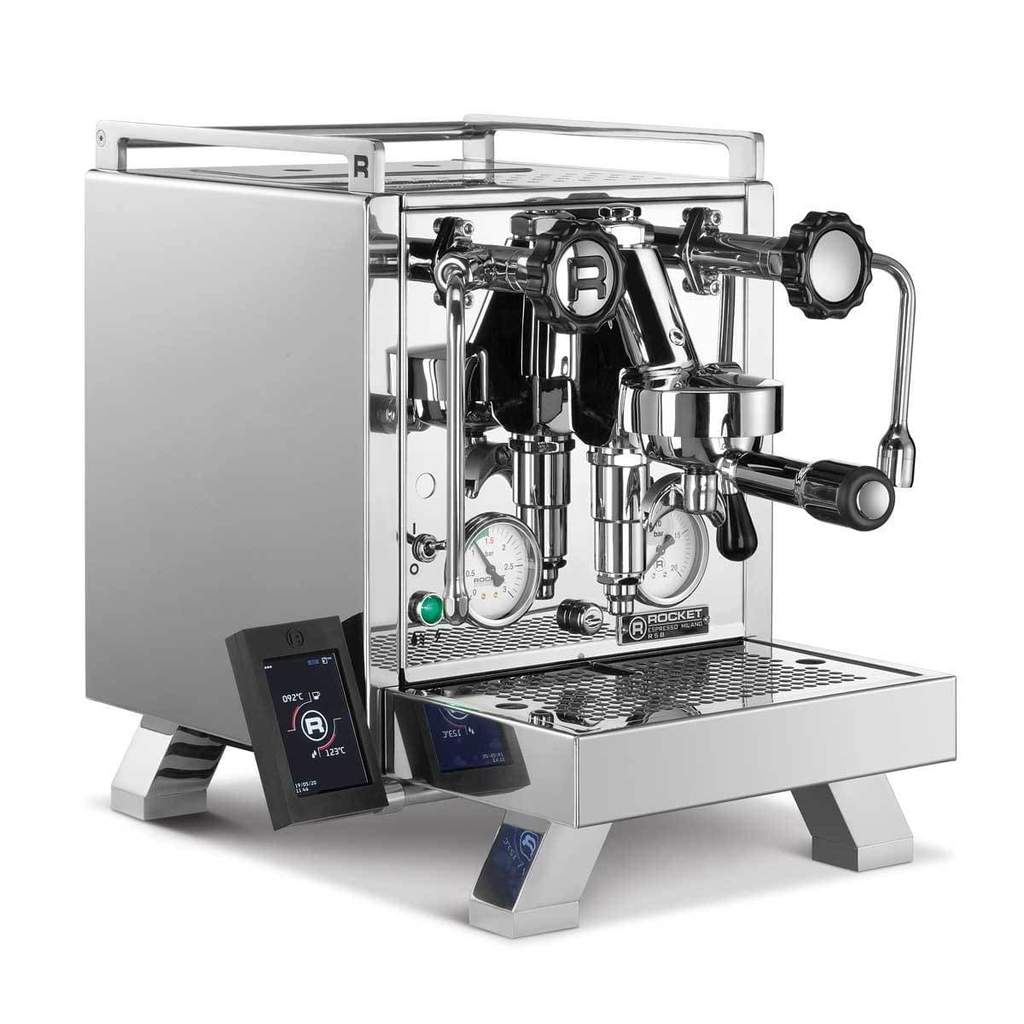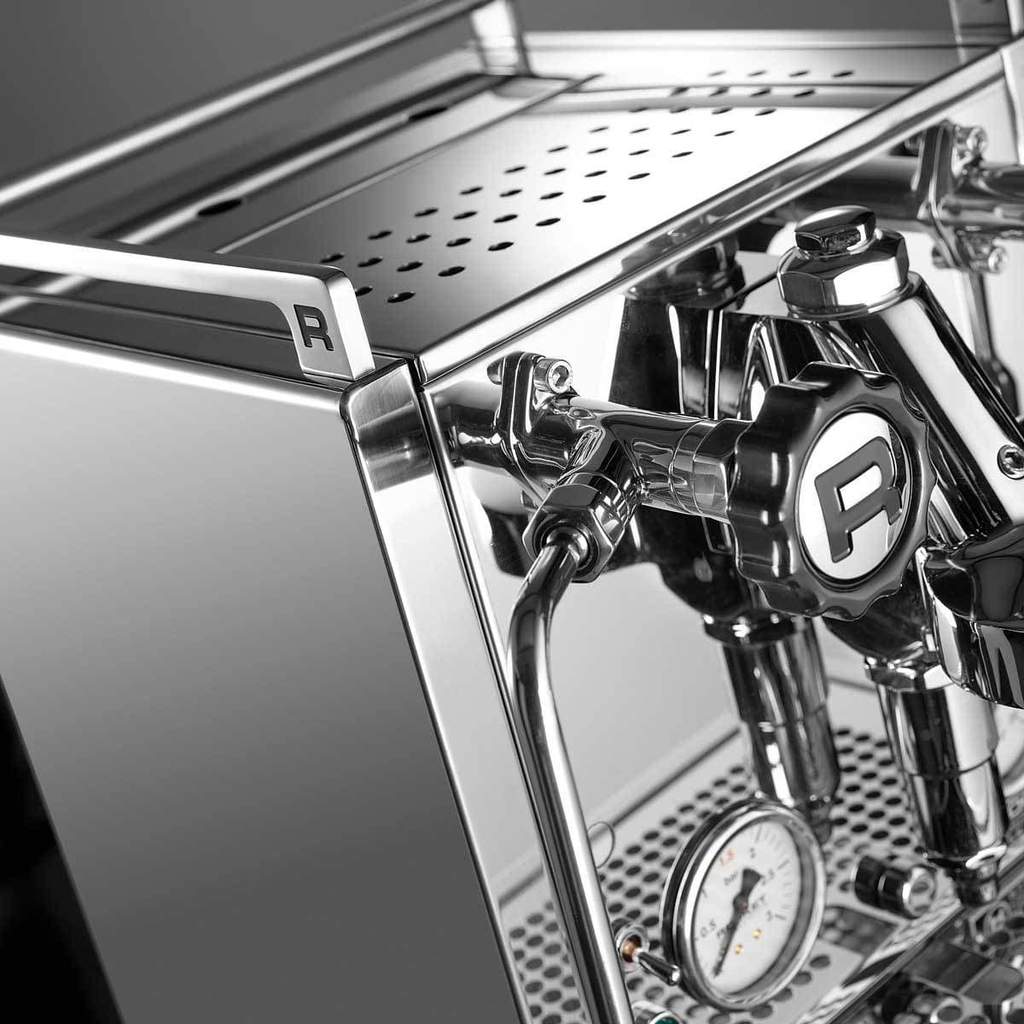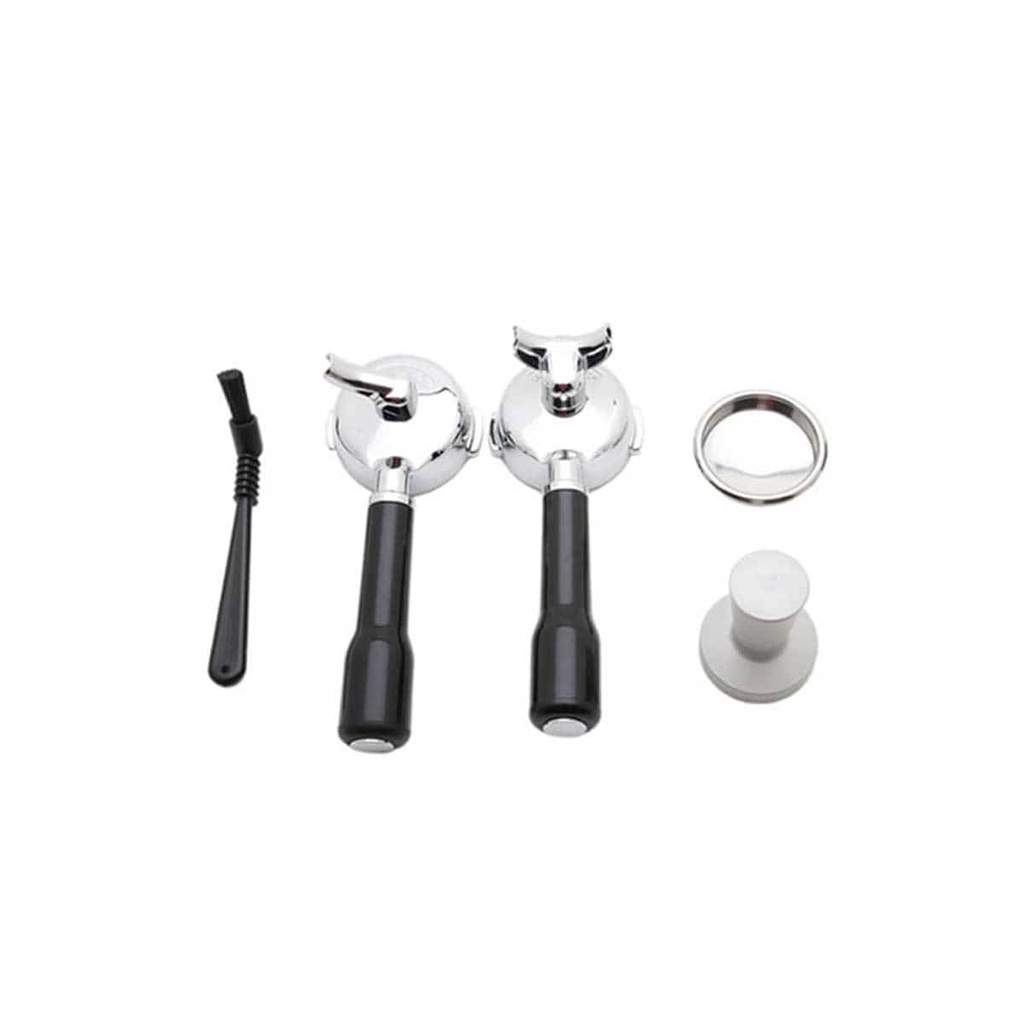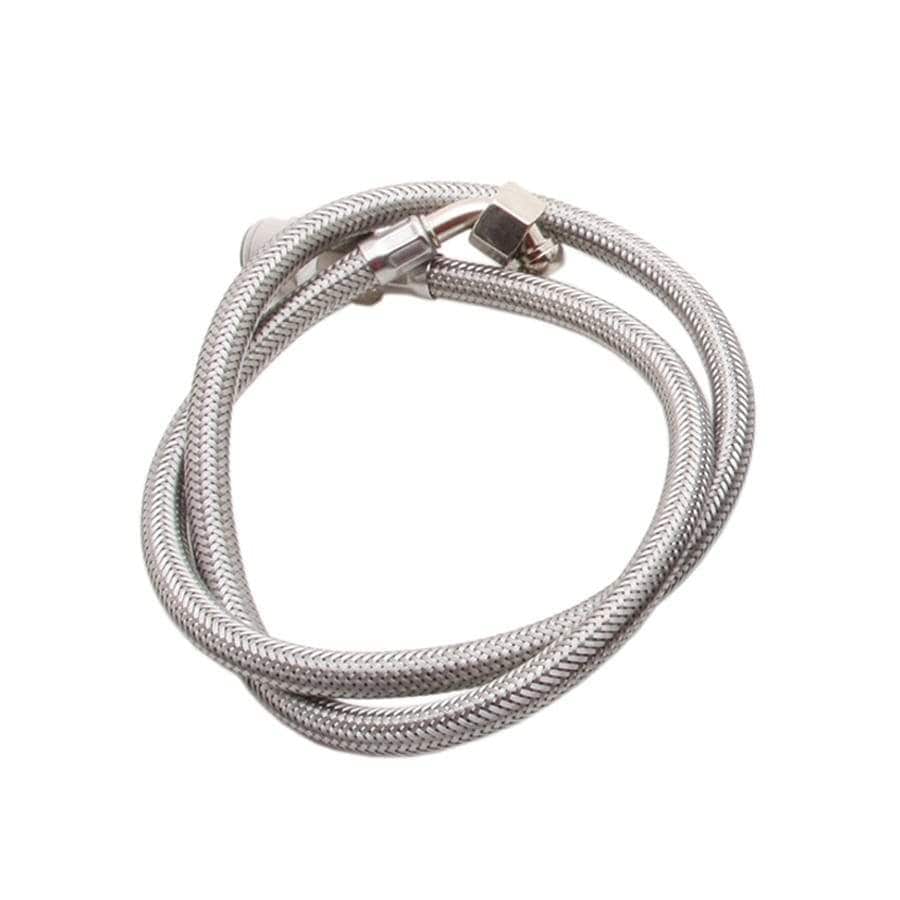 Rocket R58 Cinquantotto Dual Boiler
Full factory One-year parts warranty due to defective parts. and bench labor
Rocket very strong staple dual boiler R58 and gave it some enhancements to complete its new generation of the R58 in the dual boiler espresso machine. 
Why You Should Get It: This Rocket won't let you down. It's reliable, innovative and thoughtfully designed. The touchscreen display is a knockout addition, letting you control boiler temperatures with precision, turn off the steam boiler if you like, set on/off times at two different times. Example on at 6AM off at 9.00AM, on at 5PM off at 9:00PM for each day of the week, or 1.5 hr. after not using machine and a lot more.
Do I Need a Dual Boiler? Before we get into the newly designed R58, we encourage you to ask yourself if a dual boiler is necessary for your first or up grated espresso machine.
Dual boilers PID temperature-controlled machines shine in the brew temperature department for coffee consistency. Since each boiler is dedicated to one sole function (one for steaming, the other for brewing), you'll find zero loss of pressure between use on a dual boiler machine when compared to a single boiler heat exchanger espresso machine. You can also have the main steam boiler off until you need it, therefor saving emerge cost. If you only plan on making one or two drinks per day – a dual boiler can certainly be considered overkill and unnecessary for your specific needs, unless you drink different coffees that require different brew temperature water for their best taste. However, if you're going to be making drinks for the whole family, or entertain a lot, a dual boiler should be at the top of your list.
Steam Pressure on the Rocket R58: One of the greatest benefits of a dual boiler is temperature stability. One boiler solely dedicated to brewing shots of espresso, the other dedicated solely to steaming milk. What this means for you is zero loss of pressure for steaming and miner loss in brew temperature water for making consistent high-quality espresso without waiting. When brewing and steaming simultaneously in addition to zero recoup time in between shots. A single boiler heat exchanger machine will experience some pressure or brew temperature loss when performing both functions simultaneously. In addition to some required time to rebuild pressure after creating a milk drink or 2 on most home machines with limited 110-volt power and boiler size.
Dual Boiler vs. Heat Exchanger There are some more differences worth noting here. Home machines: Pump type – most prosumer dual boilers are going to contain a rotary pump (not all, but most) while most heat exchanger will be fitted with a vibration pump (again, not all, but most). Rotary pump vs. vibratory pump – you'll find rotary pumps to be more consistent, quieter, and allow you to plumb your machine directly to your water line (if you want).
Commercial Rotary Pump: The R Cinquantotto is equipped with a commercial grade rotary pump with external pressure adjustment controls, allowing users to fine tune pump pressure while viewing the dedicated pressure gauge.
Rocket reconfigured the internal architecture of the pump to increase efficiency and reduce noise creating the one of the quietest rotary pumps around. PID temperature control – while PID is not a necessity on a heat exchanger, it is convenient.
Most dual boiler will be fitted with PID to easily access and adjustment for both steam and coffee boiler temperatures.
Rocket R58 Cinquantotto – What's New A strong solid twin boiler machine, with the Rocket R58 independent e61 brew group and steam boiler system You can rely on a quality espresso from this twin boiler machine from Rocket every time. Touchscreen Communication Pod The included touchscreen device can be easily plugged into the side of the machine where it rests at a fixed position, angled up for easy reading.
Temperatures in the brew boiler and steam boiler are displayed individually and can be raised or lowered to your preference. Set on/off times for each day of the week, turn on ECO mode, or even turn off the steam boiler to save power.
We recommend incorporating a BWT water filter into the plumb line to remove scale building minerals from the water, thus improving the coffee taste and longevity of your machine.
Features & Functionality of the Rocket R58 Dual Boiler Espresso Machine - V2
• Dual Boilers: • Working independently for both brewing and steaming, the dual boiler along with e61 brew group thermosiphon system design allows for stability in the espresso boiler and increased levels of steam pressure and hot water from the service boiler.
The brewing boiler holds 0.58 liters while the hot water/steam boiler holds 1.7 liters.
• Dual PID Temperature Control: Program steam and brew boilers with an electronic remote-control PID that plugs into the side of the machine and does not interfere with the R58's classic styling.
• Commercial Rotary Pump: Quieter than most other rotary pumps, the R58's pump gives you the ability to adjust the pump pressure with the external pressure adjustment controls while monitoring through the pressure gauges.
• Pre-Infusion: To extract the full flavor and aroma when you brew your espresso, the R58 has a dual pre-infusion system encompassing a working piston and static pre-infusion chamber. • Pressure Gauges: With two pressures gauges on the face of the R58, one monitors the pump while the other monitors the boiler pressure.
• Commercial Parts: Keeping up to its high standards, Rocket made sure that the R58 was made of quality commercial parts, including the E-61 brew head, rotary pump and heavy weight portafilter (with single and double baskets).
• Plumb It! Standard with a 2.5-liter water reservoir, a control switch allows you to plumb the R58 right into your kitchen's water line.
• Upgraded and Additional Steam Tip: The steam tip now features a 1.2mm diameter hole, and you get a replacement tip for down the road!
• Handcrafted: Each machine is unique, and hand crafted in Italy. Small warps in the case are normal and part of each machine's unique assembly process. · Dual Boiler - Made of lead-free copper, these boilers guarantee consistent heat retention and faster brewing and steaming turnaround time. You'll be able to make more drinks in a quicker amount of time.
· Electronic Controls - No need to crack into the brain of this machine, the double PID maintains both boiler temperatures and can be programmed with an electronic remote-control box on the side of the machine.
· Rotary Pump - To give create ideal pressure, this quiet rotary pump has an external pressure adjustment control so you can adjust the pump pressure with the use of the visible pressure gauge.
· Stronger Chassis - The upgraded chassis ensures your R58 arrives in pristine condition! · External
PID: The PID controller is on the side of the machine, attached with a USB cord, Removable if wanted How Does it Compare? An electronic PID guarantees consistent temperature regulation for each boiler, handy when making a wide variety of beverages in a short time frame. An upgraded rotary pump eliminates back pressure from the boiler and makes this machine plumbable.
Manufacturer Rocket Espresso
Width 12.25 inches Depth 17.5 inches Height 16.25 inches
Product Weight (lbs.) 64 Watts 1400W
Programmability PID
Case Material Stainless Steel
Boiler Material Brass/Copper
Boiler Volume Steam: 1.7 liter
Reservoir Size 2.5 liter
Solenoid Valve Yes
Cup Warmer Yes
Portafilter Size 58mm
Available Portafilters Bottomless, Non-Pressurized
Warm Up: Brew Time 20 minutes
Warm Up: Steam Time 20 minutes
Boiler Design Double Boiler
NSF Certified
No Pod Friendly No
Water Sources Convertible - Internal Reservoir or Plumbed in
Auto Shut Off Yes Auto On Yes
Pre-Infusion/Aroma Yes
Material Stainless Steel
Protect your warranty & investment.
Protect your factory warranty and machine from harmful hard water minerals that cause calcium build up, & damage to your boiler, heating elements, water passages, and moving parts.
This all in 1 filter is the answer for most hard water conditions.
Help the taste of your coffee with a BMT Bestmax premium 5 stage filter with magnesium for improved coffee taste or the standard 4 stage protection filter. When selecting the premium line with magnesium, we recommend a water meter so you know when it's time to change your filter as magnesium will show as a solid on a test strip.
Dial in the setting 1, 2 or 3 on the BWT filter head to match your water hardness and brew system needs. to get the proper protection & longest life based on degree of water hardness. Just twist the all in one cartridge out of the self-closing valve in head and spin the new replacement one in when needed, no water to shut off or turn on before changing,
The BMT 0.5-micron cartridge can lie sideways, set on its base or hang from the wall The BWT 0.5-micron cartridge can lie sideways, set on its base or hang from the wall bracket included.
Recommended sizes based on water hardness and usage.
See our compete BWT accessories discount packages.
Before finalizing your purchase, please contact us
Allow one of our professional commercial machine experts the opportunity to help guide you through your buying process and make sure you have selected the proper machine and options that best meets your needs.
Please Call Toll Free:
866-711-3456
or
973-687-5090
Enjoy free shipping on orders above $49 in the lower 48 states.
Additional shipping charges may apply commercial machine to residential address, and/or tail gate delivery required.
Please call (866)-711-3456 for any questions.
Competitive price matching is available for all our products.
Please complete this form when inquiring about best price for your item.