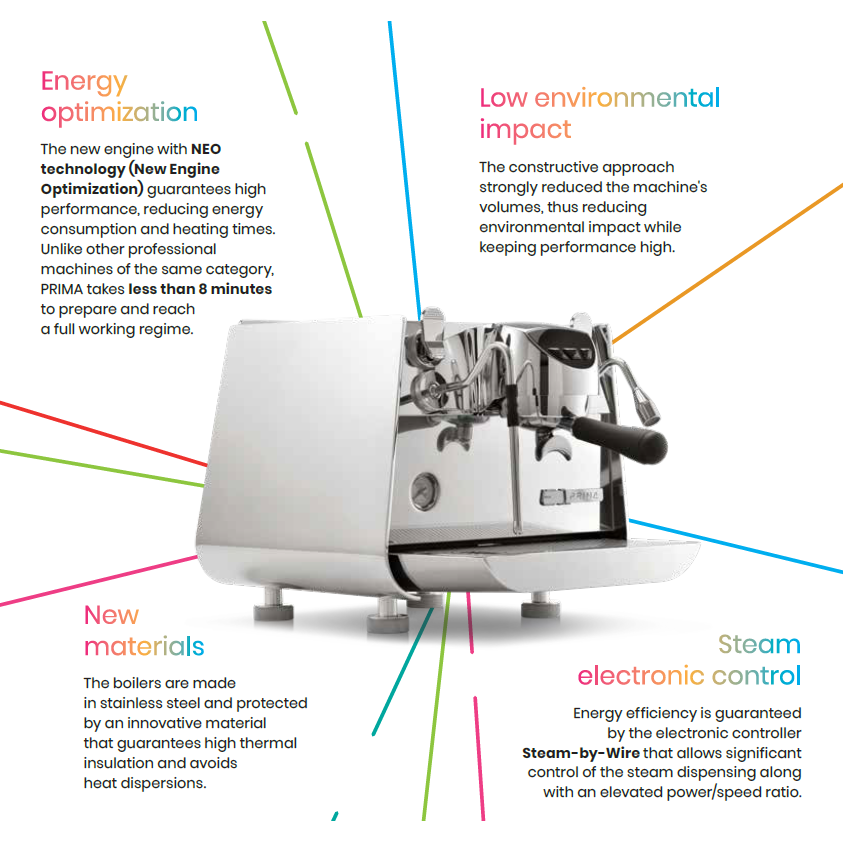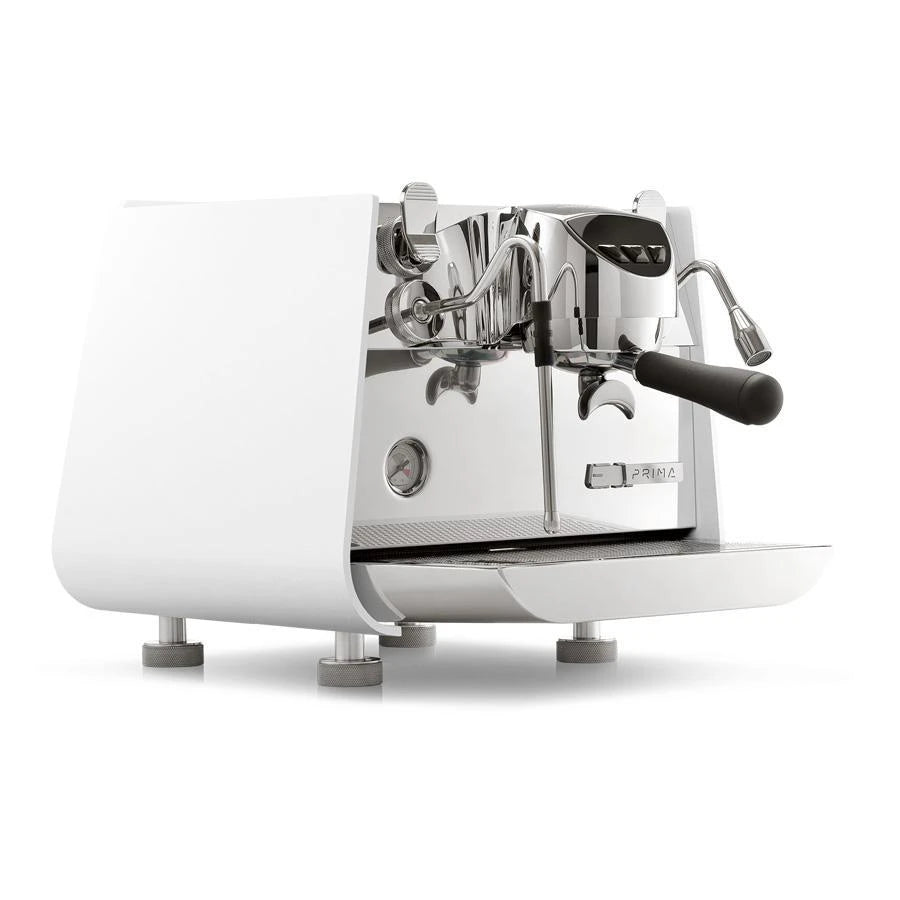 Victoria Arduino 1 Group e Prima One Easy Cream Wand
---
Share
---
Victoria Arduino E1 Prima One + Easy Steam Wand
Full factory warranty due to defective 2-year parts, & 1 labor at a Nuova Simonelli, Victoria Arduino certified service center.
Overview The Victoria Arduino E1 Prima with its Rotary Pump is a pour over or plumed machine.
Considered as a prosumer model therefor does not include installation or on-premises service.
Easy Steam is the cappuccino or Café Latte easy as 123
The E1 Prima from Victoria Arduino represents the best in home espresso technology and passion. Taking state of the art features from the flagship Eagle One, the E1 Prima features the NEO coffee engine which delivers unparalleled thermal stability, along with a companion app to fully customize the machine's parameters.
From novice to professional barista's alike, the E1 Prima is the ultimate in-home espresso and will allow you to perfect your art.
• Standard Colors: Matte White, Matte Black, Shiny Silver
Features
• Stainless steel body panels -
• Custom Colors -,
The E1 Prima can be custom ordered in Red, Light Blue, or Green, lead times will be extended for custom colors.
• NEO Engine Group head - The NEO engine is a instant heating system that precisely heats only the water needed for extraction with virtually no fluctuation. This results in improved thermals and reduced energy consumption.
• Companion App - Using the Victoria Arduino app, the E1 Prima can be controlled digitally. This app allows for shot timing, boiler temp setting, auto on/off, and much more.
• Programmable shot buttons -The E1 Prima has programable shot counters for automatic dosing along with a manual override button.
• Award winning steam tip - Pioneered by the Black Eagle, the steam tip on the E1 Prima is identical to the tip used to win countless barista world championships.
• Push pull steam wand- Compared to a traditional twist knob, the push pull lever features improved ergonomics and precision steam pressure control.
• Soft Infusion system - Simonelli' s SIS system monitors and gradually increases the extraction pressure to ensure a perfect shot. This helps compensate for imperfect tamping leading to a better shot for beginners and pro baristas alike.
Description
Welcome to the new era of espresso machine The Future of Specialty Coffee Eagle One is born in response to the new generation of coffee shops where DESIGN, PERFORMANCE, and SUSTAINABILITY are determining factors to create a pleasant and memorable experience.
• New Materials: the boilers are made of steel and insulated with a unique material that guarantees extreme thermal insulation
• Energy Optimization: the new engine with NEO (New Engine Optimization) guarantees high performance while reducing energy consumption
• T.E.R.S.: the patent-pending system TERS (Thermal Energy Recovery System), uses discharged water to preheat the incoming water through a recycling method, thus minimizing waste.
• With the Display Touch (2.8"), it's possible to modify the settings even with the mobile APP. Available functions: recipes, buttons and display, power and temperature management, dose programs, machine cleaning, and maintenance
• The SIS (Soft Infusion System) allows the water to make contact with the coffee with only water supply pressure and eventually ramps up to 9 bar once the chamber in the group-head fills to the top. This creates the best extraction – always – regardless of the user and/or tamp consistency. It's also shown to minimize channeling.
• Custom colors available (+$625)
 Group Features:
• Ghost display: 3 different programmable buttons
• Stainless steel shower reinforced
• Stainless steel diffuser
• Auto Purge
• Standard group height (105mm)
Features:
• Rear & Interior Lights
• Cold water mixing valve on the hot water wand
• Tank or Direct Connection: included
• Auto purge: Included
• Economizer: Included
• Cool Touch Steam Wand: Included
• Boiler Insulation: Included
• Stainless Steel Portafilter: Included
• Dimensions: 16.9"W x 20"D x 14.9"H • Group Height: 3.75"Height •
Volts: 110 (range of 110-115) • Watts: 1600
• Amp draw: 15
• Receptacle: NEMA 5-15
Protect your warranty & investment.
Protect your factory warranty and machine from harmful hard water minerals that cause calcium build up, & damage to your boiler, heating elements, water passages, and moving parts.
This all in 1 filter is the answer for most hard water conditions.
Help the taste of your coffee with a BMT Bestmax premium 5 stage filter with magnesium for improved coffee taste or the standard 4 stage protection filter. When selecting the premium line with magnesium, we recommend a water meter so you know when it's time to change your filter as magnesium will show as a solid on a test strip.
Dial in the setting 1, 2 or 3 on the BWT filter head to match your water hardness and brew system needs. to get the proper protection & longest life based on degree of water hardness. Just twist the all in one cartridge out of the self-closing valve in head and spin the new replacement one in when needed, no water to shut off or turn on before changing,
The BWT 0.5-micron cartridge can lie sideways, set on its base or hang from the wall bracket included,
Recommended sizes based on water hardness and usage.
See our compete BWT accessories discount packages.
Before finalizing your purchase, please contact us
Allow one of our professional commercial machine experts the opportunity to help guide you through your buying process and make sure you have selected the proper machine and options that best meets your needs.
Please Call Toll Free:
866-711-3456
or
973-687-5090
Enjoy free shipping on orders above $49 in the lower 48 states.
Additional shipping charges may apply commercial machine to residential address, and/or tail gate delivery required.
Please call (866)-711-3456 for any questions.
Competitive price matching is available for all our products.
Please complete this form when inquiring about best price for your item.