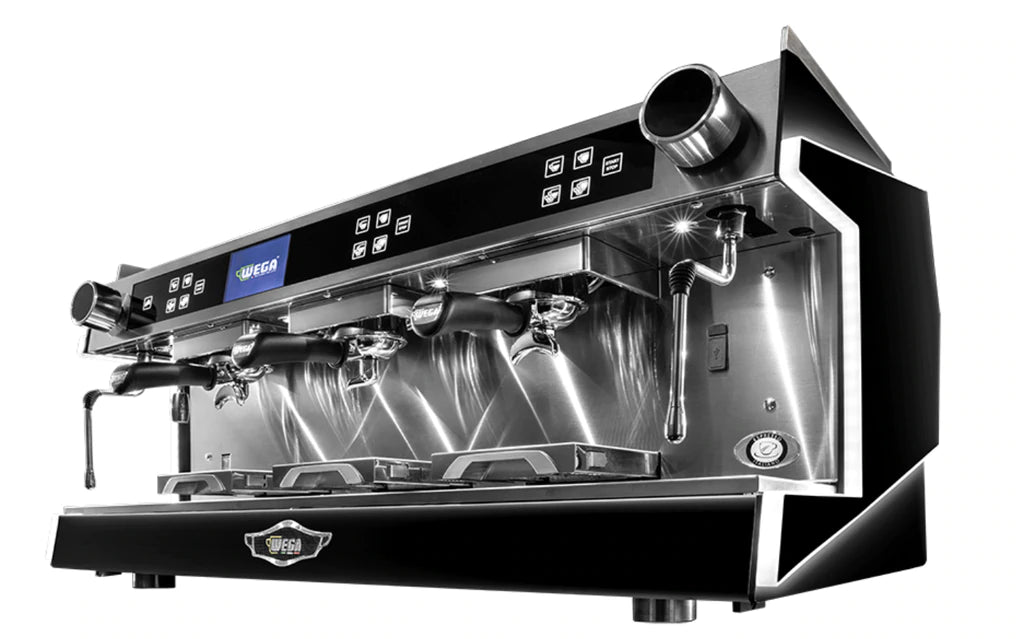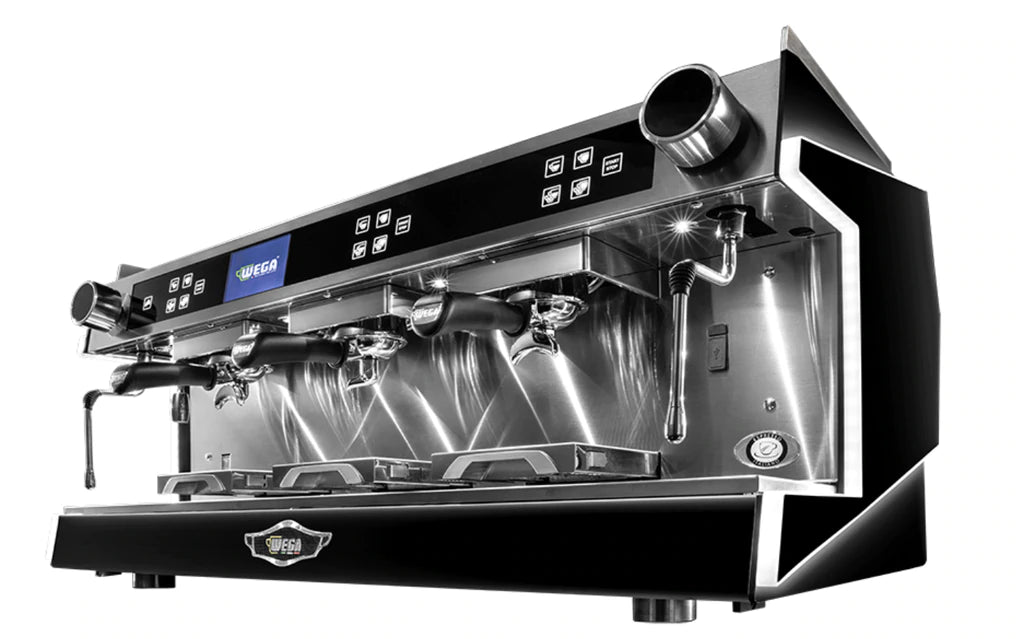 ---
Before finalizing your purchase, please contact us
Allow one of our professional commercial machine experts the opportunity to help guide you through your buying process and make sure you have selected the proper machine and options that best meets your needs.
Please Call Toll Free:
866-711-3456
or
973-687-5090
Enjoy free shipping on orders above $49 in the lower 48 states.
Additional shipping charges may apply commercial machine to residential address, and/or tail gate delivery required.
Please call (866)-711-3456 for any questions.
Competitive price matching is available for all our products.
Please complete this form when inquiring about best price for your item.
Wega Urban 2 & 3 Group 
Green line with cool touch steam wands
Includes: Free shipping & hook up of your espresso machine with a trained, local representative.1-year parts & 90-day labor due to defective parts
Modern lines, cutting edge technology, the ability to adapt to any need. These are the characteristics of Urban, the latest creation from Wega, inspired by our designers and now a reality thanks to the efforts of our R&D team. Professionals who have skillfully interpreted the demands of a constantly evolving market, based on an ongoing dialogue with selected baristas from across the world.
The result is a machine with a distinctive, "urban" story inspired by urban design. In keeping with the movement's philosophy, Urban aspires to a systematic, multidisciplinary approach to design in which attention to aesthetics does not detract from functionality and sustainability. Urban not only adapts to its setting, it enhances it and makes it more efficient thanks to its own unique style.
New steam tap with a dedicated rotative knob for quick and easy selection of off and on. • Dry steam function for the ultimate foam. • Service boiler boost function for busy periods to guarantee even better performance. • Ability to connect directly to Customer Service. • Optional pre-order of Wi-Fi management packet to allow remote control (from laptop, tablet, smartphone) of all machine functions and settings. • Accurate temperature monitoring of electronic components for accurate, real-time diagnostics. • Enhanced thermoregulators with high resolution PWM for precision temperature control. • Separated hydraulic circuit to maintain consistent pressure as coffee is dispensed. • 5" interactive capacitive touchscreen display positioned flush with the control panel with a protective tempered glass cover. • "Mobile-like" interface • Instant upload of photos and images to the machine's display. Users can personalize their machine in just a few simple steps. • Shot counter. • Option of lowering 122mm raised group heads to 82mm at any time using a stainless-steel pull-out grid. • Easy-to-use tutorial
2 Groups Specifications
Voltage 230 / 240 
Total Power W 4.000 / 4.790
Electric per group W 150 x 2 / 165 x 2
Power of coffee water tank element for each group W 1.000 x 2 
Steam boiler power W 3.000 / 3.270
Steam boiler capacity Lt / US 8

Width L 31.50 / Depth 23.63 / Height H 23.23 
Net Weight lb. 209 / Gross Weight lb. 231 
3 Groups Specifications
Voltage 230 / 240 
Power 5.600 / 6.100 
Steam boiler power W 3.000 / 3.270 Steam boiler capacity Lt 8
Power of coffee water tank element for each group W 1.000 x 3 
Coffee water reservoir capacity Lt 8
Width 40.95/ Depth 23.63 / Height 23.23 
Net Weight/ lb. 257 Gross Weight Lb 283 
PLEASE NOTE - This equipment should be installed by a factory-certified technician with proper water filtration to validate the factory warranty.  
One-year parts & 120-day labor due to defective parts are standard.
Protect your warranty & investment.
Protect your factory warranty and machine from harmful hard water minerals that cause calcium build up, & damage to your boiler, heating elements, water passages, and moving parts. This all in 1 filter is the answer for most hard water conditions.
Help the taste of your coffee with a BMT Bestmax premium 5 stage filter with magnesium for improved coffee taste or the standard 4 stage protection filter. When selecting the premium line with magnesium, we recommend a water meter so you know when it's time to change your filter as magnesium will show as a solid on a test strip.
Dial in the setting 1, 2 or 3 on the BWT filter head to match your water hardness and brew system needs. to get the proper protection & longest life based on degree of water hardness. Just twist the all in one cartridge out of the self-closing valve in head and spin the new replacement one in when needed, no water to shut off or turn on before changing,
The BMT 0.5-micron cartridge can lie sideways, set on its base or hang from the wall bracket included,
Recommended sizes based on water hardness and usage.
See our compete BWT accessories discount packages.
Share